American Equity's Waugaman passes away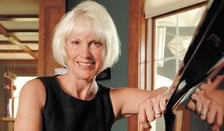 Wendy Waugaman, president and CEO of American Equity Investment Life Holding Co., passed away Monday evening after a "courageous battle with cancer," the company confirmed today. American Equity had announced on June 8 that Waugaman had begun a medical leave of absence.
Waugaman, who was 51, succeeded American Equity founder David Noble as president and CEO in January 2009. Under Waugaman's leadership, the West Des Moines-based underwriter of indexed annuity products has grown to more than $33 billion in assets.
"We are deeply saddened by the loss of our respected colleague and friend," said Noble, American Equity's executive chairman, in a press release. "Wendy was dedicated to the success of American Equity and was an industry leader in the fixed annuity business. On behalf of everyone at American Equity we offer our condolences to her friends and family, and our thoughts and sympathies are with them at this difficult time."
John Matovina, who was named the company's interim CEO and president earlier this month, said funeral arrangements are still being finalized. Matovina has served as chief financial officer and vice chairman of the company's board of directors since 2003.
A graduate of Drake University, Waugaman earned a law degree from the University of Notre Dame and was an attorney with Whitfield & Eddy PLC prior to joining American Equity as chief counsel and chief financial officer in 1999.
Waugaman, who was honored by Business Record readers last year as a 2011 Woman of Influence, served in numerous community leadership positions, among them the board of trustees of Buena Vista University and president of the Des Moines Metro Opera Foundation board of trustees. She had also served on the boards of the YMCA of Greater Des Moines, Willkie House, Eyerly Ball Community Mental Health Services, Civic Music Association, Visiting Nurse Services of Iowa and the Ding Darling Foundation.
One of her longest commitments was to the Bright Foundation and its co-founder, Lois Bright. Waugaman first met Lois Bright and her late husband, Dale Bright, in the late 1980s when they were seeking an attorney to replace their longtime counsel, who was retiring.