Apple project in Waukee moving forward
Construction expected to begin by summer on massive data center campus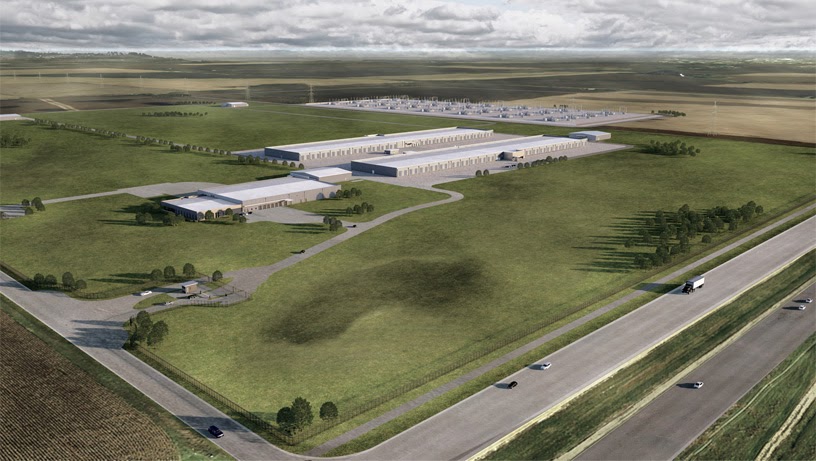 An architectural rendering of Apple's planned data center in Waukee that was released in 2017 when the project was announced.
Apple Inc. has begun infrastructure improvements at the site in Waukee where it announced in 2017 that it planned on constructing a massive data center, a Waukee city official said.
The city has approved construction drawings for public improvements and the Waukee City Council is expected to approve the site plan in April or May, said Brad Deets, assistant city administrator. Construction will likely begin in the summer, he said.

"We've been working with them very closely the last five years," Deets said. "We recognize that it's a huge decision on their part. At some point you've just got to decide that 'this is right, let's move forward.' They are there now."
Apple, the Cupertino, Calif.-based company behind products like iPhones, iPads and Apple Watches, announced in 2017 that it would construct a state-of-the-art data center in Waukee on about 2,000 acres in the northwest section of the city near the intersection of Hickman Road and S Avenue.

At the time of the announcement, the project was valued at $1.3 billion.

Construction of the first phase of the center was expected to be completed by 2020. However, in late 2019, Apple announced the project was being delayed so that more time could be devoted to its design.

The Planning and Zoning Commission in February approved the preliminary and final plats for the project's first phase as well as the site plan. The various pieces of the project must be approved by the council before construction can begin.

The first phase of the Apple project will be built on 529 acres and will include:

• A 315,773-square-foot data center building.
• A 63,349-square-foot administration building.
• A 10,511-square-foot maintenance building.
• Four network distribution buildings.
• A guard building.

Future data center buildings are planned. Construction of the data center campus is expected to be completed by 2027, company officials said in 2019 when the project was delayed.

Apple "has been very focused on staying engaged with us and keeping us well informed throughout the process in terms of where they are on their timing," Waukee Mayor Courtney Clarke said. "As their building plans have changed, they've kept us updated. And yes, we are very glad to see them move forward."
Facebook Notice for EU! You need to login to view and post FB Comments!