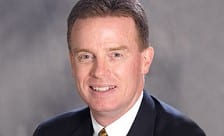 It's been overcast for so long, it almost seems risky to say the sky is getting brighter. More and more statistics, however, suggest that the U.S. economy is heading upward after its long struggle.
Bloomberg reported last week: "The index of U.S. leading economic indicators increased in December more than forecast, a sign the recovery will gather steam in the new year. … Improved consumer expectations, fewer firings and rising stock prices are boosting the outlook for household spending, the biggest part of the economy."
Kiplinger has predicted: "Look for the pace of business spending to pick up slightly from the second half of 2010. An increase of about 10 percent for the year is likely, buoyed by a souped-up tax break included in stimulus legislation approved by Congress in early December. Businesses will be allowed to expense 100 percent of the cost of assets put in use in 2011."
Naturally, we're even more interested in what will happen in Central Iowa, where the Great Recession has had a serious impact, but never hit the gruesome levels seen in some parts of the United States.
We asked a few local leaders what they expect in the next 11 months, and here's what they had to say:
Elliott Smith
Executive director of the Iowa Business Council
"There's optimism out there, but it remains a cautious optimism. Rather than hiring in anticipation of a full recovery, it's been more a case of 'let's see the business come in the door first and make sure it's a long-term situation.'"
"I think Iowa sustained its business activity at a little higher level than some other areas of the country. Hy-Vee (Inc.) is having record years on top of record years, and it's the same thing with Pioneer (Hi-Bred International Inc.) – that's the best acquisition DuPont ever made. Deere (& Co.) is doing pretty well, and Vermeer (Corp.) has seen its markets rebound somewhat. Pella (Corp.) is refocusing on the home improvement market, which has helped them. (The) Weitz (Co.) has put more focus on government business, and that segment has helped them manage the recession a little bit."
"(In the Iowa Business Council's survey index) our highest employment level was a 63 measure; we're at 59 now, and it's not out of reach that in the next quarter or two we might visit a new level."
Steve Chapman
President and CEO of Ruan Transportation Management Systems
"We lowered our 2010 budget about 5 percent from 2009, and we surpassed those revenue and earnings goals. We see our customers' businesses in most cases coming back nicely. Sixty percent of our business is in food-related industries, and that business has held up pretty well. Premium foods declined, but food-related verticals stayed pretty strong. In the fourth quarter of 2010, we saw a pickup in retail businesses. We have budgeted more aggressively for 2011; we plan to grow our business 8.5 percent."
"We pulled back greatly on capital expenditures in 2009, by over 50 percent. We have nowhere near the idle assets now, but we will continue to manage capital expenses through 2011. 2012 will be a big year for equipment replacement." (Ruan owns about 3,200 truck tractors and more than 6,000 trailers.)"
"We're adding people, because we're adding business. We have 160 locations across the United States, and we're growing quite a bit in the Southeast and the West. There will be some additions here, but Des Moines is an administrative center, and most of those functions can absorb the growth we're going to put in place."
David Swenson
Associate scientist, Iowa State University economics department
"Des Moines looks a lot better than much of the rest of the state. There's a lot of variability across the state, and most of it is pretty negative. Des Moines and Dallas, Story, Linn and Johnson counties are poised to perform well during the recovery. The remainder of the metro areas will maybe hold their own if not contract a little, like Sioux City. I worry a lot about medium-sized trade centers like Clinton, Fort Dodge and Ottumwa — I would expect them to recover more slowly."
"(Central Iowa) has expanded its ability to provide high-quality health-related services, and I expect it to continue to see expansion in that type of employment, especially higher-quality positions that demand higher education and relatively high pay."
"Central Iowa has the ability to be a more prominent player in biotechnology research. There's a lot of high-quality scientific demand this region is able to hold on to, and I think it's going to have a substantial payoff to our economy. Advantages are accumulating to those metro areas that offer employment opportunities and a high quality of life."
Ken Sagar
President of the Iowa Federation of Labor
"The situation in construction is particularly disturbing right now. I talk to people in a variety of building trades, and depending on the trade and the area, they are seeing as high as 25 percent unemployment. That's not a good number by any stretch of the imagination. We have 20th-century infrastructure that needs to be rebuilt, and also 21st-century infrastructure that we clearly need to put significant resources into. In the 1950s and '60s, we spent a lot of money building an interstate (highway) system that brought tremendous rewards for workers and also for corporations."
"Regrettably, I think we'll see the elimination of a number of positive economic development programs that were put in place by previous administrations. I see politics trumping policy."
"There's evidence that Wall Street is doing OK, and that many corporations are sitting on pretty substantial amounts of money but not investing in growing the work force. We're not seeing the kind of investment that would be an indicator of future growth for workers. There are some positive things the universities are doing with business incubators; that's a good thing for the future. A lot of those companies don't have a lot of employees, but could grow into sources of jobs in the future."