Bargain prices, bold developments marked 2010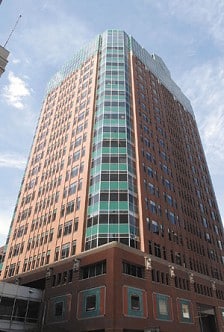 Greater Des Moines continued to feel the effects of the collapse in real estate markets in 2010. At the same time, some old stories added new chapters.
The sale of Hub Tower at 699 Walnut St. provided a reminder of just how low commercial real estate prices can fall as lenders scoured the landscape for buyers willing to pick up properties on which secured loans had gone sour.
A few days before Christmas, a property record was filed that showed that Employers Mutual Casualty Co. (EMC) paid $7 million for the 20-story skyscraper.
The building, developed in the 1980s by a consortium of prominent Greater Des Moines businesses, had a tax value of $13.2 million when its purchase was finalized on Dec. 23.
The collapse of Regency real estate companies in 2008 continued to feed the news cycle this year. A former development partner in Minneapolis was sentenced to 27 months in federal prison in a mortgage fraud scheme at a condominium project in which a Regency company was a 45 percent owner.
Regency principal James Myers, who has not been implicated in the criminal probe, was ordered to pay $90,000 to investors after a judge determined that partners in the project had violated Minnesota securities law.
A separate trial connected with the investment scheme is pending in Minnesota state court, and its outcome will determine whether Myers can escape any additional liability in the investment scheme as a result of his bankruptcy filing, which is pending in U.S. Bankruptcy Court in Des Moines.
Another loan and court case with a Regency connection came to a close after a company controlled by real estate developer Denny Elwell bought properties in Iowa, Michigan and South Dakota that had been used to secure a $26 million loan that was intended to be a lifeline for Regency prior to its shuttering in 2008.
The purchase boosted Elwell's holdings by 19 percent. DLE Four Way LLC, the Elwell company that wound up with the properties, would not disclose the purchase price when the properties were bought at auction in July. After buying the properties, DLE Four Way took deed to the properties through nonjudicial foreclosures, ending a court case initially brought by a national lender against a Regency company that was formed to obtain the loan.
DLE Four Way used many of the properties to secure a $14.1 million mortgage with Great Western Bank that was recorded Dec. 16.
Hubbell Realty Co. also proved that problem properties can have a second, productive life, buying the remains of failed developments from banks that had acquired the properties through foreclosure and continuing to build them out. The company gave new life to properties in Johnston, Grimes, Waukee and West Des Moines.
Hubbell also rewrote its development plans for its Brownstones Community, scaling back the design and price of new condominium units for the project located between Grand Avenue and Watson Powell Jr. Way and Second Avenue and Third Street. The first units of Riverwalk Brownstones were completed in November.
West Des Moines got two big development kisses within the space of a few weeks. First came the announcement in early June that Trader Joe's would locate its unique brand of food and beverage retailing in the Galleria at Jordan Creek, near Jordan Creek Town Center.
Three weeks later, Microsoft Corp. announced that it had dusted off plans for a data center originally planned for the city, revised them to meet the constraints of a withered economy and decided to proceed with the project, which had been on hold for nearly two years.
Pioneer Hi-Bred International Inc. also was in the mood to grow this year, as was Kemin Industries Inc.
Construction is under way in Johnston on Pioneer's new $40 million research park, where the company is expected to create 400 jobs. Pioneer said when it announced the research center in March that it would include state-of-the-art laboratories in several connected buildings. Research will focus on advanced plant genetics when the project is completed in early 2012.
Kemin announced plans in October for a five-year, $30 million expansion project that will significantly increase the size of the company's East Side campus and its capacity to produce additional products. The privately owned company anticipates reaching nearly $400 million in annual revenues by the end of this year, more than double its sales in 2005.
Two pieces of Urbandale's development puzzle also began to come together this year. Negotiations are ongoing with R&R Realty Group that would allow for the extension of Plum Drive from near 86th Street west to 100th Street. For years, the city has promised business owners at 86th and Plum that the street would be extended, providing for additional development and increased traffic flow.
And the city's planning and zoning commissioners recommended earlier this month that a site plan be approved for CarMax Inc. to construct two buildings on a 11.55-acre site at 10315 Hickman Road, part of which had been the proposed site of a Lithia Motors Inc. auto dealership. Those plans were scrapped in 2008.