Behind the scenes: It took four years, numerous meetings for developer Richard Hurd to land a Topgolf venue in WDM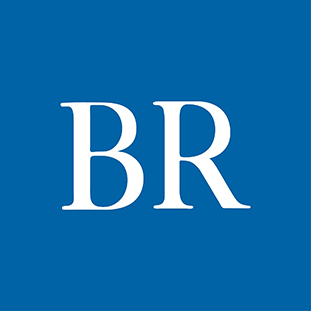 Around 5 p.m. on Wednesday, June 22, Richard Hurd's telephone rang.

The commercial real estate developer answered it. On the other end was a representative from Topgolf who informed Hurd the company wanted to locate a facility on land Hurd owned in West Des Moines.
"They said I could notify the mayor of West Des Moines and let him know, but no one else," said Hurd, (pictured at right) who owns 23 acres on the northwest corner of South Jordan Creek Parkway and Mills Civic Parkway on which Topgolf was interested in developing a venue.

The next morning, Topgolf announced they planned to open the company's first Iowa location in West Des Moines.

Hurd's call from Topgolf was not totally unexpected.

In 2018, the developer had reached out to Topgolf officials about the site, which he had owned for about three years. "We always felt that it was a great site for that use if they had an interest in opening one in West Des Moines," Hurd said.

Over the next couple of years, Hurd continue to communicate with Topgolf officials in conversations that he described as "pretty casual" and without "much traction."

Topgolf has long been a national retailer residents have clamored for in Central Iowa.

The Dallas-based company opened its first U.S. venue in 2005 in Alexandria, Va. Topgolf, in its first years of operation, opened venues in areas with populations of 1 million or more. In 2019, Topgolf began opening venues in medium-sized markets including Omaha, where it opened a facility in mid-2020.

Hurd said Topgolf officials wanted to see how the Omaha venue did before considering a location in Des Moines. "It actually did well. The demographics between Des Moines and Omaha are similar, even though Des Moines is smaller. …

"They felt like Des Moines was a market that might have merit, and so we continued talking," he said. "They didn't really get serious until within the last six months or so."

While Topgolf was weighing its options, backers of two golf entertainment venues announced plans to open facilities in the Greater Des Moines area: Suite Shots in West Des Moines and Bombers in Johnston.

Paul Cownie, a local developer partnering with a Fargo, N.D., group to bring Suite Shots to a site south of Grand Avenue and west of Interstate Highway 35, declined to comment about Topgolf's announcement. He did say, however, that the Suite Shots project is moving forward and that he expects to finalize the land purchase in the coming weeks.
The proposed Bombers development is also moving forward, said Dr. Allen Stoye, a principal and managing partner in S&K Holdings, which is developing the entertainment and hotel complex planned at 5055 Merle Hay Road in Johnston.

While Topgolf representatives were meeting with Hurd, they were also talking with Stoye about possibly being part of the Bombers project.

Stoye said he met with officials from Topgolf three times over a several-week period that began in early March. During that time, Stoye and the Topgolf officials went through several revisions of a letter of intent, he said.

Stoye said he knew Topgolf officials were considering other Des Moines-area locations but believed the Bombers development had a shot at landing the national golf-entertainment company.

"Right across the street, there is a 200,000-square-foot indoor recreation facility that is being built that also includes an outdoor athletic complex and it's going to be busy 49 weekends out of the year," said Stoye, referring to the Ignit Sports and Fitness Center under construction at 5346 Merle Hay Road.

About 2 miles south, work is beginning on a 3,500-seat arena that will be the new home the Des Moines Buccaneers hockey team. The facility will include four sheets of ice for competition, training and recreation and has the potential to draw hundreds of people to the area a majority of weekends during the year.

"We've got millions of dollars being invested in this 2-mile corridor that is going to attract thousands of people," Stoye said.

Stoye said he still thinks the Johnston site would be a good location for Topgolf. He said until there's a signed agreement between Hurd and Topgolf, there's still a chance Topgolf officials could decide to locate a facility somewhere other than near Jordan Creek Town Center.

"There's still a possibility but I'm not holding out hope," Stoye said.

Topgolf did not respond to requests for comment.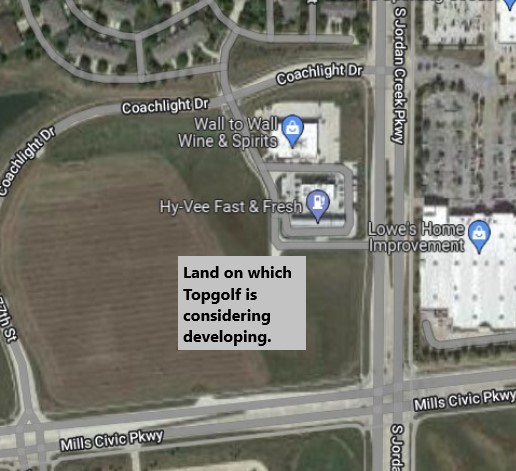 In May, Hurd met with Topgolf representatives during a convention in Las Vegas. During the meeting, he said he reiterated that the parcel at Jordan Creek and Mills Civic parkways was a logical location for a Topgolf venue (map at right).

"They really like to be around retail. The very best retail in the whole state is the Jordan Creek mall corridor, hands down," Hurd said. "The second thing they really look for is corporate users."

The corporate campuses of Wells Fargo Home Mortgage, Athene USA, IMT Insurance and Sammons Financial are either adjacent to or near the site on which Topgolf is considering developing.

Topgolf officials visited the Des Moines area twice in June, Hurd said. He said he knew they were considering other sites in the Des Moines area.

"We never really know what's going on behind the scenes with these big companies," Hurd said. "We didn't even know a decision was coming. … It's the way the game is played.

"Fortunately we had the site they preferred."
Next step for proposed Topgolf venue

Here are the next steps for the proposed Topgolf venue:
• Richard Hurd, who owns the land on which the golf-entertainment company announced it plans to build a venue, said he is finalizing a long-term lease agreement with Topgolf.
• A site plan is being developed.
• One thing West Des Moines officials said they will review when the site plan is submitted is whether the tall poles that hold up netting surrounding the driving range will cause interference between the antenna at the WestCom Emergency Communications Center at 8055 Mills Civic Parkway and an antenna that is on top of a water tower at South 50th Street. "That's on our radar [and] we will evaluate once a site plan is submitted," Lynn Twedt, the city's development services director, wrote in an email.
• The parcel is part of the Parkways Planned Unit development with an underlying zoning of community commercial, Twedt wrote. A Topgolf can be developed on the property with approval from the board of adjustment of a conditional use permit.
• Topgolf is expected to be developed on about 12 acres of the parcel. Hurd said the remaining land will be developed with uses that will complement Topgolf. Hurd owns an additional 17 acres on the north side of Mills Civic Parkway that also are available for development. "I think once we get the Topgolf piece worked out, the rest of it should be developed relatively quickly, maybe a couple years," he said.
• If all the necessary city approvals are received, development of the parcel could begin in mid- to late fall Hurd said. If it takes longer to get the approvals, development could begin in the spring 2023, he said.

– Kathy A. Bolten
Facebook Notice for EU! You need to login to view and post FB Comments!