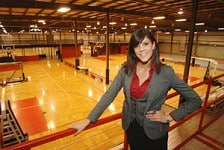 Kingdom Cares International is the nonprofit arm of Kingdom Hoops Academy, a youth basketball program whose goal is to help student athletes develop spiritually, physically and athletically.
The Ankeny-based organization, which was founded in 2008, takes a three-pronged approach to serving children in Iowa and around the world.
Kingdom Cares this year has raised $130,000 to support its Kingdom Hoops scholarship program, which provides financial assistance to the disadvantaged youths who participate in national and regional basketball tournaments.
Sarah Battani, executive director of Kingdom Cares, said the nonprofit also has an international hosting program that brings students to the Midwest from Ghana to pursue their education.
Four students currently participate in that program. One is enrolled at Des Moines Christian Academy, one is studying at Des Moines Area Community College and two are attending Gillette College in Wyoming.
Three more are slated to move to Iowa in January, said Jake Sullivan, the former star Iowa State University player who is president and founder of Kingdom Hoops and Kingdom Cares.
The third leg of Kingdom Cares' agenda is the Isaiah 1:17 Foundation, which is spearheading an initiative to develop a 12-room foster home and school in Ghana.
To achieve that goal, Battani said, Kingdom Cares must raise $250,000.
On Jan. 10, Kingdom Cares will launch "My Brother's Keeper," a new program that includes tutoring services supported by Drake University's School of Education, a sports training academy based in the Grubb Family YMCA and a leadership skills development curriculum based on Christian teachings.
Kingdom Cares has also identified a Drake University-area property that it hopes to soon occupy, which would allow the nonprofit to be located closer to the at-risk youths it aims to serve.
Battani, who is working to develop a 15-member board of directors to steer the 2-year-old organization, said reducing the dropout rate and grooming minorities for leadership positions are two of Kingdom Cares' overarching goals.
"We want to build a program to fit the needs of the community."