BLK & Bold signs new partnership with the National Basketball Association, which pledges to meet coffee startup's social impact mission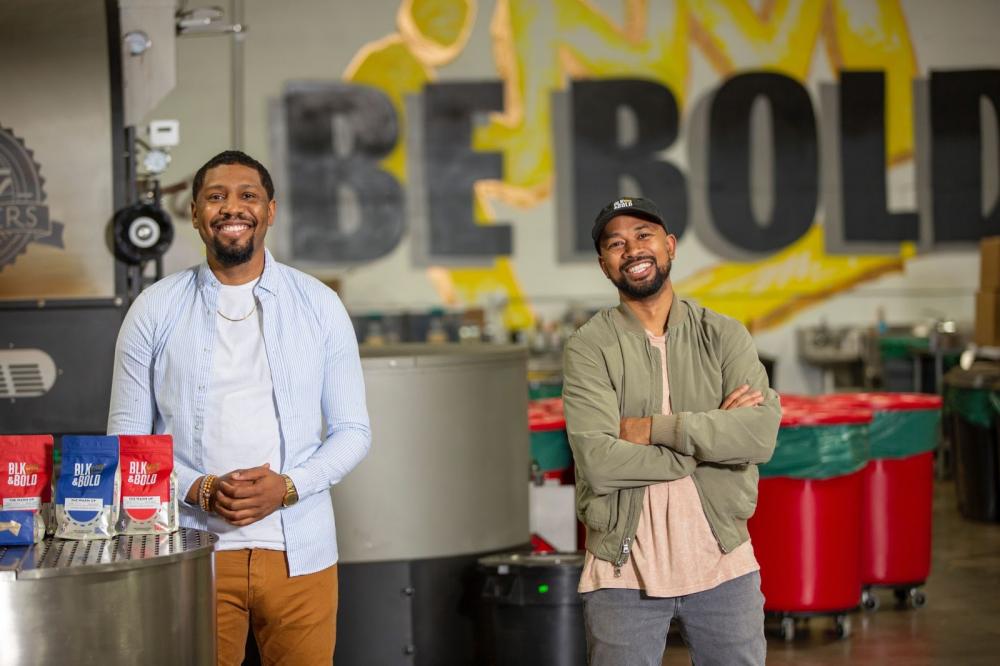 BLK & Bold Chief Marketing Officer Rod Johnson, left, and CEO Pernell Cezar, next to the Warm Up roast in Eastern and Western Conference packaging. Photo provided by BLK & Bold
Tonight, Rod Johnson's team, the Los Angeles Lakers, will play against the Phoenix Suns in the first round of the National Basketball Association playoffs. Business partner Pernell Cezar doesn't get to see his Golden State Warriors progress. But Cezar and Johnson can both cheer for their startup BLK & Bold's new licensing agreement with the NBA, a multiyear agreement raising the profile of the 3-year-old specialty coffee and tea company in Des Moines.

As part of BLK & Bold's partnership with the NBA, the company released the Warm-Up, a medium roast blend that comes in red and blue packaging to mark the NBA's Eastern and Western Conferences. In turn, the NBA will match BLK & Bold's 5% "For Our Youth" profit contribution model to 15 youth leadership initiatives across the U.S. No other league partnership had met the specialty beverage market for NBA fans, and the platform will highlight BLK & Bold's conscious consumerism model to a broader audience, said Cezar, CEO.

"We were able to contribute twice as much as we started the business with in the last year," Cezar said. "The stage that we're in now is to continue doubling down on support for those organizations. Not only is it our financial contributions — that's secondary to the visibility we can provide to these organizations from other businesses or consumers."

In 2020, BLK & Bold donated a minimum of $2,700 per organization based on profits to organizations developing urban farming, after-school programs, professional art skills development, higher education preparation and workforce development programs.

"This idea of conscious consumerism is happening around us, and we fit right in with the [consumer] demographic that already has that top of our mind," said Johnson, chief marketing officer. "That's how we shop as individuals — we want to make sure we are voting with our dollars, so to speak, and our business represents that as well."

The partnership will level up BLK & Bold's direct-to-consumer distribution model once again after a period of growth in retail chains for the specialty beverage company. Since January 2020, BLK & Bold coffee and tea products are now carried in Fareway, Hy-Vee, Target, Kroeger's, Whole Foods and several other regional grocery/lifestyle chains. BLK & Bold is making leeway into a third distribution arm by developing contracts with national food service providers serving businesses and universities as campuses open back up to foot traffic.

Meanwhile, the company is expanding its roastery in south-side Des Moines from 10,000 square feet to 20,000 square feet just one year after moving to the location. Developing local food service relationships within Iowa's business community is key to continuing BLK & Bold's social impact model, Cezar said.

"Our impact is tied to the communities that we have clients in, from a sustainability standpoint. If we have sustainable clientele, then we can sustainably support these initiatives, and I think one of the biggest areas of opportunity is continuing to build food service specifically in the Des Moines, Iowa, market," Cezar said.
Facebook Notice for EU! You need to login to view and post FB Comments!