Boal takes investment reins at Miles Capital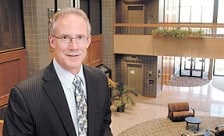 One of the best compliments Greg Boal ever received as an executive came while he was conducting a performance review.
"That individual said, 'I have accomplished more than I thought I was actually capable of,'" recalled Boal, former CEO of Aviva Investors North America. "That's about as good a compliment as you can get."
Boal, 51, was hired as president and chief investment officer of Miles Capital Inc. in mid-September. Those who have worked closely with him say he has a talent for leveraging people's strengths to the benefit of the organizations and the people he leads.
Accelerator
Now, step back and give him some room, because he and founder David Miles are bent on accelerating the West Des Moines-based firm to a new level of performance as an institutional asset manager.
Miles had owned and led the firm, originally known as Investors Management Group Ltd., for seven years before selling it in 1998 to AMCORE Financial Inc., an Illinois investment management firm that West Bancorporation Inc. bought five years ago. West Bancorporation, the parent company of West Bank in West Des Moines, merged AMCORE with another firm it bought, VMF Capital, to form WB Capital Management Inc.
Miles completed the purchase of WB Capital in September 2009 and renamed it Miles Capital. Since then, he has added five key executives to the firm's 25-person staff, the most recent and senior being Boal.
"Doing the very best for our clients, bringing them the best investment strategies that we can, is the most important thing," Miles said. "The only way to do that is to bring in the best-caliber people that you can and coach them and build a team. … Greg understands both of those things."
Boal, a Denver native who was raised on a ranch near Sundance, Wyo., is just as comfortable casting a fly line in a trout stream as leading a board meeting. After graduating from the University of Wyoming, he worked his way up to managing director positions at several large investment firms on the East Coast and in Chicago, among them Deutsche Asset Management and ABN AMRO, prior to moving to Iowa.
He initially came to Greater Des Moines in 2003 to lead the investment portfolio team at AmerUs Capital Management, whose parent company, AmerUs Group Co., was acquired by Aviva plc in 2006.
The West Des Moines resident enjoys pheasant hunting and tries to get up to Canada each summer to fish for northern pike with his son. Having grown up on a ranch, Boal didn't taste his first "store-bought" turkey until he was in college, because he and his brothers were usually lucky enough to bag a wild turkey each Thanksgiving.
High potential
Boal and former AmerUs Group President and CEO Tom Godlasky first crossed paths in 1998 when Boal, then director of fixed-income investments with ABN AMRO, hired one of Godlasky's senior portfolio managers away from AmerUs.
"So Tom always remembered that," Boal recalled. "Also, when I was with ABN AMRO, one of the key principals of their predecessor firm, Jack Wing, ended up being a director for AmerUs. So when Tom was being groomed out of the asset management position and was looking for a replacement, Jack Wing asked where I was and we had a chance to meet in person, and the rest, as they say, is history. I came out here with my wife and kids and really enjoyed it."
In 2008 he was named CEO of Aviva Investors North America, which he left last February. "The organization treated me very well; we just decided to part ways," Boal said.
Leading a smaller company has its advantages, he said.
"Large companies are great, but because of their size and their strength, they can create their own roadblocks," he said. "In a small organization you have the tendency to be able to make decisions more quickly, in an industry that sometimes dictates that you be more nimble."
Additionally, "as Dave and I spent some time together in the summer, it was clear in my mind that Dave certainly had the mindset that he wanted this company to realize its full potential," Boal said, "both as it exists today as well as discover more of its potential as time goes on."
Helping people to realize their full potential strikes a deep chord with Boal, a self-described "disciple" of British motivational speaker and author Marcus Buckingham.
Buckingham's mantra of building on people's strengths rather than trying to correct their weaknesses became a defining principle for Boal.
"This industry, regardless of what we try to do with it, is a people industry," Boal said. "I think the industry sometimes forgets its most important asset and doesn't put the honest effort into cultivating the strengths of the organization."
For the past six weeks, Miles and Boal have been racking up frequent-flier miles to meet clients across the country and explore new business opportunities.
That included an industry conference "to get a sense for what's new in the industry and how we might want to position ourselves to take advantage of some of those demographic trends," Boal said.
Moving the needle
Miles Capital will continue to specialize in asset management for institutional investors, particularly for insurance companies, Miles said. The firm also manages investments for local governments, foundations and endowments.
"I don't look at it as competing head-to-head with the largest institutional managers," Miles said. "Our advantage is that we can assess our clients' needs, because we're very close to them. And our scale is such that it doesn't have to be a multibillion-dollar product for it to make sense for us. … For us, if it's good for our clients, it will move our needle."
Miles said the company is developing additional investment products, but is not yet ready to announce them. Additional hiring will follow that growth.
"We have already identified a number of additional skill sets that we think are going to be important to our growth," he said. "In order to serve clients and to grow, we expect that we will continue to grow the organization."
Though the company's assets under management haven't changed much from the $4.6 billion it had when Miles acquired it, "we're comfortable with that, because this is really a foundational year," Miles said.
"This year is about taking care of the clients that we have and making sure that our foundation is right – the right people, right systems, right structure – to be able to grow," he said.
"We expect to see meaningful growth in 2011."