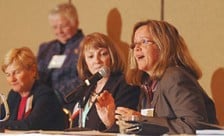 When it comes to serving on corporate boards, Ruth Harkin says she has been "very, very lucky."
"In many cases, it's a matter of getting into position to be lucky," she told a group of about 100 women gathered for the second annual Women in the Boardroom conference last week at Embassy Suites on the River. "I want you to be lucky, too."
Harkin, who currently serves on the board of ConocoPhillips and the Iowa Board of Regents, told participants to be bold in letting others know their board aspirations. "There's nothing wrong with telling people 10 years in advance that someday you would like to be on a board," she said.
The odds are still stacked against women. In 2008, women held just 15.2 percent of seats on the boards of Fortune 500 companies, according to the most recent Catalyst Census of Women Board Directors of the Fortune 500, a slight increase from the 14.8 percent of board positions in 2007.
"It seems like the statistics of women on boards have barely changed in the past five years," said Mary Kramer, former U.S. ambassador to Barbados, who moderated the panel discussion. "We need to support each other, or it's highly unlikely that anyone else will. Collectively, and individually, we can move that needle to increase women membership on boards."
Harkin, an attorney and the wife of U.S. Sen. Tom Harkin, was joined on the panel by Dr. Sheila McGuire Riggs, chair of the University of Minnesota School of Dentistry's department of primary care and former president and CEO of Delta Dental of Minnesota. Also on the panel was Mary O'Keefe, senior vice president and chief marketing officer of Principal Financial Group Inc.
Asked to raise their hands to indicate their board experience, the majority of last week's conference participants affirmed that they have served or are serving on nonprofit boards. However, only a handful indicated board service for a privately owned for-profit company, and just one was serving on a public company's board.
Riggs, who has served on the Delta Dental of Minnesota board, the Greater Twin Cities United Way and the Minnesota Women's Economic Roundtable, said her journey began 14 years ago after a discussion with Ruth Harkin, who urged her to consider board service. Inspired, she applied for a state board appointment after Tom Vilsack was elected governor, and was chosen to serve on the Iowa Public Employees' Retirement System board.
"Iowa is one of only two states in which 50 percent of each (state government)board must be women, so that provides a lot of opportunities," said Riggs, who formerly led the analytic division at Wellmark Blue Cross and Blue Shield.
In 1999 she was asked to join Delta Dental of Minnesota's board, and from that position was chosen to serve as the insurer's CEO.
"Personal networks are still the number one way to get your name out and be considered for boards," Riggs said. At the same time, companies are increasingly using search firms to widen the list of board candidates. "I've seen a growing number of grids being used that outline what type of person is needed," she said.
One of O'Keefe's earliest board experiences was also through an appointment to a state board: the Partnership for a Drug-free Iowa.
"One of the things I learned about Iowa is the access that we have in this state," she said, noting that Sen. Chuck Grassley was among the board's members. Since then, O'Keefe has served on more than 30 boards, among them the Greater Des Moines Partnership Executive Committee and Board of Directors.
She was asked to serve on Kum & Go LC's board after getting to know the company's president and CEO, Kyle Krause, while serving on the boards oftwo organizations' with him.
"The most exciting thing about private company boards is learning new things," O'Keefe said. "If you had asked me a few years ago what same-store sales were, I would have had no idea."
Harkin said the ability to influence major policy decisions, not to mention receiving six-figure compensation, is among the perks of serving on a publicly traded company's board.
The compensation on those boards "can be terrific," she added, noting that ConocoPhillips pays its board members more than $200,000 annually, with additional compensation for chairing a committee. On top of that, the company matches board members' charitable contributions up to $15,000 a year, she said.
The panelists advised participants to carefully consider the time commitments, and in the case of nonprofit boards, the level of monetary contributions expected of board members, when researching board opportunities.
Another common theme: Do your homework to learn about the organization, and assess your own skills to determine how you might fit into its board.
"One thing I've found with boards of private companies," O'Keefe said, "is that if there is a strong family culture, you want to know about this and make sure that you fit in and know what the expectations are. The best private boards function a lot like public boards."
However, the best candidate brings unique skills to the board, Harkin said.
"You really don't want to join a board where everyone has the same credentials that you have," she said. "You want to be able to provide unique credentials to the board." Harkin noted that she was selected for one board because of her experience in doing business in Russia.
Once they've been chosen to serve, women need to continue to prepare, Harkin said.
"Nothing trumps doing your homework," she said. "And you will be amazed at how many of your board members don't."