Burgeoning Grimes attracts millions in new commercial development
'It just makes sense to want to develop there,' says one developer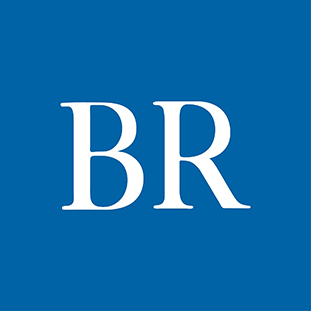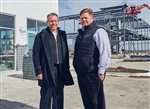 For several years, Grimes has seen its residential population flourish as new single-family houses, townhomes and apartments were constructed.
Now the city is experiencing a boom in commercial growth as well.
Large retailers are being drawn to the northwest Polk County community as well as developers willing to take chances on constructing multi-tenant speculative retail and office buildings.
Kurt Mumm and Mark Hanrahan, both brokers with Cushman & Wakefield, broke ground during the summer on two speculative buildings east of Iowa Highway 141 on East First Street. Hope Development & Realty plans to build a 19,817-square-foot strip center on the west side of Highway 141 at 1101 E. First St. In addition, work is nearing completion on a nearly 50,000-square-foot multiuse building at 1220 N.E. Station Crossing in the Heritage Town Center development.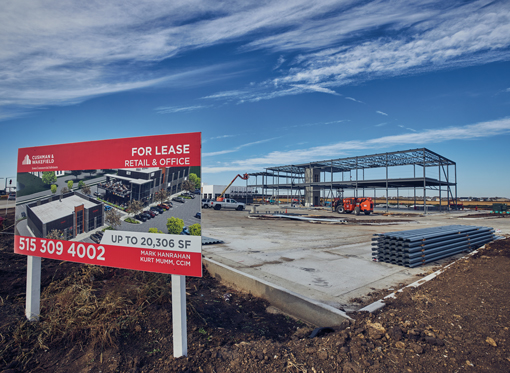 "Grimes is a young community with stable households," said Tim Day, director of real estate services for Hope Development & Realty. "It's on the [Iowa Highway] 141 corridor and it's the gateway from the northwest into Des Moines.
"It just makes sense to want to develop there."
Grimes' rapid population growth has attracted the interest of big-box retailers like Walmart, which opened in 2010, and Menards, which opened in July 2019, Mumm said. Both are located in the heavily traveled area in which Highway 141 intersects with East First Street. Aldi grocery opened in the area earlier this year and Hy-Vee plans on opening a store in late 2021.
"You've got a critical retail node right there at that intersection [of Highway 141 and East First] that you really don't find many other places," Mumm said. "It makes other businesses also want to be there."
Development along the corridor is why Mumm and Hanrahan are bullish on constructing the two spec buildings, even in the midst of a pandemic. The two are developing a 15,000-square-foot two-story spec building and a 5,000-square-foot building at 2411 and 2491 E. First St. Both buildings will have grease traps installed, and one will include a drive-thru.
The developers have talked with prospective tenants including restaurant owners and office users.
"What we're finding is that there are professional users as well as other retail users that recognize the demand that is being created in this area and that's why they want to locate here," Hanrahan said.

Numbers tell Grimes' story best:
Population: The city's population has nearly doubled since 2010 when it had 8,246 residents, according to census data. This year, the city's population is estimated at 15,202. By 2030, Grimes' population is expected to reach at least 27,000.
Since 2010, Grimes' pace of growth has been the fourth-fastest in Iowa, according to Iowa's State Data Center. Grimes, with a growth rate of 79.3%, is increasing its population more quickly than Ankeny, Waukee and West Des Moines, all which have seen their populations swell in the past decade. The only metro-area community growing faster than Grimes is Bondurant, where an Amazon fulfillment center is expected to open later this month.
Commercial building permits: This year, city officials expect to issue commercial building permits valued at well over $40 million, which would be a record for the community. Grimes, through Sept. 30, had issued 13 new commercial building permits valued at over $28.7 million. Permits also are expected to be issued yet this year for a new 92,989-square-foot Hy-Vee grocery store and Culver's restaurant.
Residential building permits: Through Sept. 30, the city has issued 189 residential building permits, already exceeding the 147 issued in 2019. Officials expect to issue nearly 200 residential permits by the end of the year.
Development is not expected to slow in 2021, especially now that the new flyover interchange that connects Interstate Highway 35-80 with Highway 141 is complete.
The City Council in October approved an agreement with Hope Development and Realty LLC that is spearheading a $250 million mixed-use development planned on 200 acres west and north of the new Hy-Vee site. The development will include a 50-acre multiuse sports complex as well as hotels, restaurants, retail, destination entertainment venues, and single-family houses and townhomes.
Day, of Hope Development & Realty, expects the development to be fully built out in five to seven years. In addition, the company plans to build a speculative strip center along East First Street.
Less than 2 miles north of the Highway 141 and East First Street intersection, work is nearing completion on a spec building that is part of the Town Center Heritage project underway by TAAG Development, owned and operated by Scott and Amber Mikkelsen. Scott Mikkelsen is also Grimes' mayor.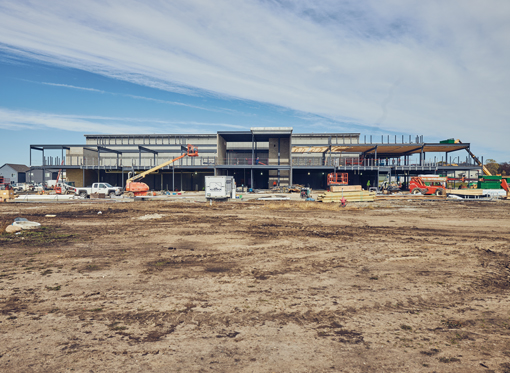 The mixed-use building will include about 23,000 square feet of training space for athletes in soccer, baseball, softball and football. The floor will include all-weather turf, Scott Mikkelsen said. Retail space will surround the training facility on the south side of the building. Office space will be located above the retail.
Construction is expected to be completed by early 2021.
"It was a spec building to begin with," said Mikkelson. "But as people learned about what we were doing, we made some changes to accommodate those interests."
The office space is leased and several of the retail bays have tenants, he said. In addition, some athletic groups have signed up to use the training facilities.
Mikkelson said he didn't yet know when construction on any of the other buildings planned for Heritage Town Center would begin. He said he hopes the park that is planned in the middle of the development will be ready for use next year.
"We're trying to create that town center feel with a park in the middle where we'll have farmers markets, live music and community events," he said.
Jake Anderson, Grimes' city administrator, said the city has made changes to its organizational structure to help make it easier for developers to do business in Grimes.
The city started a development department "that was a really critical move for use to help us manage our growth in a responsible way," Anderson said.
In addition, the city has made significant investments in infrastructure, including widening East First Street to four lanes from two, constructing a $20 million reserve osmosis drinking water treatment plant, and making plans to install a new, 7-mile sanitary sewer main that will take waste water out of Grimes to a state-of the-art facility in southeast Des Moines.
"The city has made significant investments in those critical areas, and now we're seeking the benefits of doing that," Anderson said.
RELATED ARTICLE: Millions of visitors expected at new complex
Facebook Notice for EU! You need to login to view and post FB Comments!