Caleris poised for hiring spree as it adds clients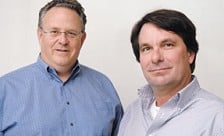 Caleris Inc. is gearing up for a hiring spree as more out-of-state clients sign up for the West Des Moines-based company's call-center services.
A business-process outsourcing provider that handles 70 clients located in major metropolitan markets such as New York and Los Angeles, Caleris operates three call centers in rural Iowa, with sites in Newton, Jefferson and Manning.
"Our clients are in the most expensive areas," said Sheldon Ohringer, who in 2003 co-founded Calreis with business partner Rick Grewell. The company, which operates four lines of business – a technology help desk, a corporate help desk, a product help desk and a back-office processing division – in the next 30 days plans to sign a new customer that will allow it to increase its work force by about 35 percent in 2011.
"I would expect we are going to grow by 100 people this year in Newton," Ohringer said, noting that the prospective customer is looking to outsource its technology help desk needs to Caleris, which currently employs nearly 300 people.
Though Ohringer didn't name the prospect – Caleris is hesitant to disclose the names of its customers – he said that when the contract is inked, the company plans to begin hiring immediately. "Once we have that signed, we have to start hiring," he said. "We need help to hire."
Citing the low costs of operating a call center in rural America, as opposed to coastal areas or overseas, Ohringer said Caleris is able to pass on those savings to clients. Lower labor and utility costs, as well as less expensive office space, are benefits of operating outside the Des Moines metropolitan area, he said.
"What I often say is that we couldn't do this business in Des Moines," he said. "Maybe we could do it, but we wouldn't make any money."
By downsizing their information technology departments and outsourcing their corporate help desk needs to Caleris, Ohringer said, those clients are able to cut spending in that area by about 50 percent.
And he said some domestic clients find Caleris' Midwestern locations to be more attractive, due in part to a lack of regional accents in those talking on the phone.
As the popularity of social media websites and user-generated content grows, Caleris continues to focus on the content moderation side of its business, which includes the monitoring of text, images, video and client-specific applications for clients that allow their customers to post content on their websites.
"Iowa, often viewed as the heart of Midwestern values, has served as the perfect place to draw talented and hard-working individuals whose value systems tend to align with America's view of what is appropriate when it comes to user-generated content," Ohringer said in a press release, comparing his employees with those of competitors in countries such as India.
"In virtually every case, we follow a process and procedures that we've been trained on by each client," Ohringer said, referring to how Caleris deals with what may be considered objectionable content. "It's up to the company in the end to make up the rules," he said.
In July, Caleris' social-media monitoring efforts were highlighted in The New York Times, which said the company reviews approximately 4.5 million images a day. Ohringer said the company's content moderation division has five clients, inlcluding a large media company and a cosmetics company.
Now, as the economy rebounds and more prospective clients consider outsourcing their information technology needs, such as hardware, software and Internet support, as well as back-office processing support, Caleris said it may hire even more employees this year.
"Business has really picked up for us," Ohringer said, adding that Caleris, which generates approximately $10 million in annual revenues, grew during the recession and has been profitable every year since it was formed.
"We don't sell just a widget," he said, noting that Caleris signs one-, two- and three-year contracts with clients.
Ohringer declined to disclose the typical starting wage for entry-level phone representatives. "We don't disclose starting wages," he said. "It's totally dependent on the program, and it varies a lot by program."
However, Caleris' employee turnover rate averages about 15 percent, which Ohringer said is well below the industry average. "In the call center industry, that is unbelievably low," he said.
"We don't really compete so much for Des Moines business as we do for nationwide business," Ohringer said, though he noted that Caleris, whose corporate office is located at 1501 42nd St., has two large local clients.