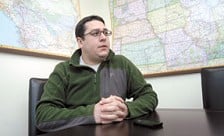 Tom Moreland could have settled into a comfortable consulting career after selling Iowa Hospice, a start-up company he developed into one of the largest and fastest-growing hospice care providers in the state. Instead, the 32-year-old entrepreneur is on the road again, this time building a multistate hospice and home health-care business called Saint Jude Healthcare.
"Basically, I've kind of put all my chips back on the table," said Moreland, who plowed a portion of his profits from the sale of Iowa Hospice into his new venture, which is already serving more than 120 patients daily in three states. "That's why the success of this company is so important and I believe in it so much."
Magic number
Moreland, an Iowa City native, began laying the foundation for Saint Jude Healthcare two years ago, at the same time that he sold a majority stake in Iowa Hospice to Voyager HospiceCare Inc., a Texas-based hospice provider. He continued to serve as the president of Iowa Hospice for the next two years, growing the business to an average daily census of more than 500 patients.
"We grew to 13 offices and hit that magic 500-patient number that had been a goal for me," he said. So last June, as his employment contract with Voyager was coming to an end, he told the company's executives he would not be renewing it.
"It was just kind of the entrepreneur in me," said Moreland, who was among the Business Record's Forty Under 40 in 2006. "I had really done what I had set out to do in Iowa and had accomplished a lot, but I was really ready to take that to a more regional or national level. And they understood that."
Voyager also had some big news for Moreland – it was going to be acquired by Harden Healthcare, a $900 million home health and hospice provider based in Austin, Texas.
"They already owned Lighthouse Hospice, which was at 500 patients," Moreland said. "Adding Voyager would take them to almost 2,500 patients, and that's the business they really wanted to grow. So they asked me to stay on to the end of the year to help with the transition to Harden."
Though he had already started Saint Jude Healthcare, "we came to an agreement quite easily that they would allow me to continue building my own company," he said. "As long as I stayed within my non-compete (agreement), they had no problem with me starting my new company. You really can't do better than that, though I was working two jobs there for a few months."
Moreland said he believes both acquisitions were good for Iowa Hospice and its clients as well, because each company has a track record for keeping the original owners in place and maintaining the same values and standards of care.
Opportunity knocks
Moreland's passion for hospice care extends beyond the entrepreneurial. While he was an education major at the University of Kansas, he volunteered for two summers at an AIDS hospice in San Francisco operated by the Missionaries of Charity, an order founded by Mother Teresa.
A devout Catholic, Moreland incorporated the values of his faith into Iowa Hospice, as he is now doing with Saint Jude Healthcare. In 2008, he was invested as a Knight of Magisterial Grace in the Order of Malta, taking perpetual vows with the church to serve the sick and the poor.
Rather than providing a hospice home for patients, both Iowa Hospice and Saint Jude offer their services solely in people's own homes or at the assisted living centers or nursing homes where they are living.
"Hospice houses are wonderful, but for a private organization, they're nearly impossible because they cost anywhere from $2 million to $3 million to build," Moreland said. "With our operation, our highest expense is payroll. If I were to start doing buildings, it would be so much more costly. And 85 percent of Americans want to die at home, so we're only missing 15 percent of the market by not having a hospice home."
In March 2009, Moreland opened Saint Jude's first hospice office in Oakdale, Minn., about 40 minutes north of Minneapolis. His non-compete agreement precludes him from providing care in Iowa and Missouri for the next couple of years.
Though he originally planned for Saint Jude to operate only in the Midwest, some opportunities came his way that were too good to pass by, beginning with two hospice companies in Mississippi.
"Both of them had been started for the right reasons, but by people who didn't know the industry, so they were kind of a fire sale," he said. "I got them for very, very little money and I felt there was an opportunity there. I felt we could turn these around."
Complementary businesses
As brokers continued to present opportunities, he acquired a hospice business near Los Angeles. Within the next couple of weeks, Moreland expects to receive licensing for a start-up office in Madison, Wis., and in the third quarter plans to open offices in the Chicago and Omaha areas. He said he also has commitments to purchase two hospice locations in Florida and will open in four additional counties in the Los Angeles area.
Each market area in which Saint Jude operates a hospice will also have a home health-care operation, "because they very much complement each other," he said. The home health business will operate as Spirit Home Care.
"Most home health patients have chronic illnesses that turn into terminal illnesses, so they become a great referral source for hospice care," Moreland said. "And some people discharge from hospice care; they no longer need it. But they then need home care."
Moreland said Saint Jude offers some of the same innovative features that he introduced with Iowa Hospice, including full-time massage therapists and music therapists based at each office, amenities that few hospices offer because those services are not reimbursed by Medicare.
Both hospice care and home health care, which receive the majority of their funds from Medicare, will see significant cuts under health-care reform, Moreland said.
"We are going to plan that those cuts are going to remain in place and not be repealed," he said. "The great thing about it for us is that these cuts won't happen until 2014, so we've got three years to really put a nice savings together and pay off any remaining debt that we have. And we feel we'll still be able to be profitable with the cuts."