City-owned land in Market District appraised at $11.1 million
Property to be sold to development group proposing to redevelop 39-acre area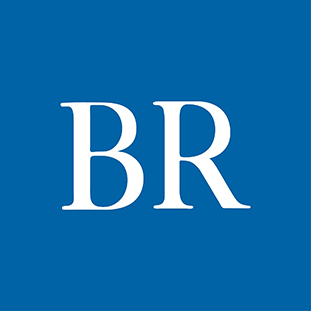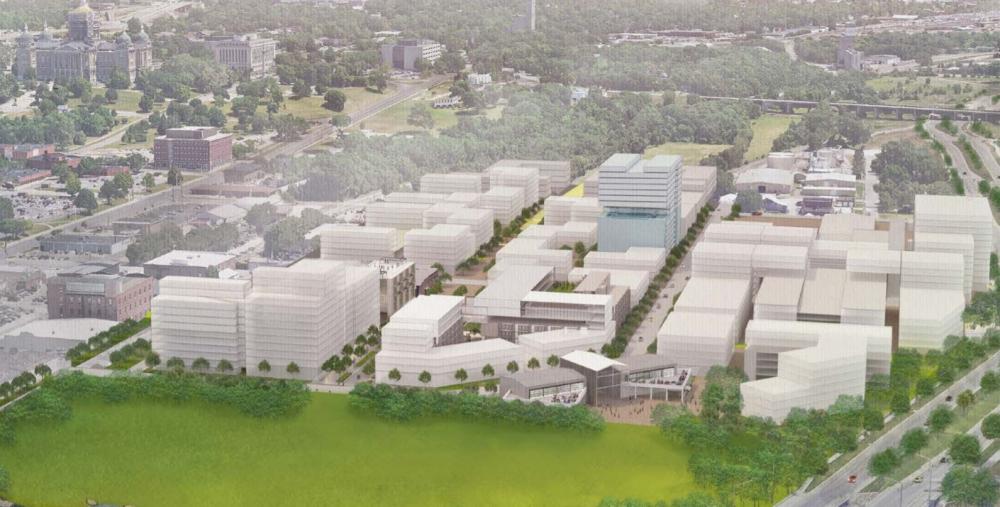 District Developer LLC, a consortium that includes developer James Cownie's JSC Properties, MidAmerican Energy Co. and other local developers, plans to redevelop 39 acres of the Market District, a 260-acre area roughly between East Court Avenue and Scott Avenue and between Southeast Fourteenth Street and the Des Moines River. Architectural rendering provided by JSC Properties
The 14.1 acres owned by the city of Des Moines east of the Des Moines River in an area called the Market District has been appraised for $11.1 million, but the property's final sale price will be determined by costs associated with razing buildings and remediating environmental issues, according to information released in a public document today.

The city's public works yards are currently located at 216 S.E. Fifth St. and are spread over about six blocks. The yards are in an area being eyed for redevelopment by District Developer LLC, a consortium that includes developer James Cownie's JSC Properties, MidAmerican Energy Co. and other local developers.

The development group has proposed redeveloping 39 acres of the Market District, a 260-acre area roughly surrounded by East Court Avenue, Southeast Fourteenth Street, Scott Avenue and the river. When completed, redevelopment of the 39 acres would include an indoor-outdoor event venue, a hotel, office space, apartments, condominiums and parking. Officials have estimated it could take up to 10 years to complete the redevelopment, estimated to be valued at a minimum of $245 million.

On Tuesday, the development group is scheduled to present its proposal for streets, tree and shrub plantings, lighting, stormwater management, and pedestrian and bicycle traffic to Des Moines' Urban Design Review Board. Included in the proposal is a plan to plant more than 200 new trees, increasing tree coverage in the area to 52% from 18%.

The City Council in December set a hearing date of Jan. 25 to sell the city-owned land to District Developer. Construction of a new public works facility is underway on a site near Southeast 18th and Maury streets.

According to information provided to review board members, the 2020 appraised fair market value of the city-owned land is $11.1 million. The property's sale price will increase by 2% a year starting in 2022, according to the document. However, the city document also stated that the sale price will be reduced by a "yet-to-be-determined" cost related to the demolition of buildings and site remediation.

Also included in information provided to the board are final provisions in a development agreement approved by the council in December:

The city will provide up to 93% of project-generated tax increment on building valuations for 20 years for each development project. Previously the city was going to provide up to 90% of tax increment. The change is due to District Developer's commitment to "long-term" ownership of Market Street and a segment of East Third Street as private streets with public access.

The city will be responsible for reconstructing Southeast Fourth Street between East Court Avenue and East Martin Luther King Jr. Parkway and portions of East Second, East Third and East Fifth streets between Court and the Iowa Interstate Railroad track. District Developer will reconstruct the remaining streets.

East Market Street between Southeast Second and Sixth streets will become a "signature street" for the area with unique streetscape and lighting features.

At least 10% of multifamily housing will offer affordable rental rates during the "duration of the financial assistance."

Newly constructed buildings in the area will be at least three stories tall. A few buildings will be allowed to be up to 200 feet tall, or about 10 stories, as long as views are not obscured of the Iowa Capitol building from Principal Park.

Wood-framed construction is banned in the area. Allowable construction materials include steel, concrete and mass timber.

District Developer is expected to begin site preparation work on the parcels it owns in the spring. Infrastructure work is also expected to begin in the spring, according to information provided to the design board. Ryan Cos. has been named the general contractor to construct infrastructure and prepare sites for redevelopment.

Related articles:
Proposed $750 million Market District project not slowed by pandemic
Market District Update: Developers eye features that will surprise visitors
Market District Update: In 20 years, valuation of Market District land has grown 55%
Market District redevelopment
The first phase of the redevelopment of the Market District by District Developer LLC is proposed to include:
An entertainment venue that would accommodate up to 5,000 people at outdoor events and include lawn seating in front of an outdoor stage, a rooftop viewing area, and a ground-level bar and vending. It also would include an indoor entertainment area that would accommodate up to 2,500 people.

A glass-encased multiuse building that would front two streets. The building would include a 114-room hotel, office space, condominiums, retail and parking. One portion of the building would be seven stories; the other, 13 stories.

At least one mixed-use housing development that would be between six and nine stories tall and include up to 180 units. Twenty percent of the proposed units are expected to provide workforce housing.