Commercial foreclosures stimulate property management business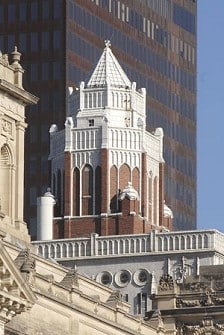 A surge of judicial and nonjudicial foreclosures is spurring growth at several property management companies in Greater Des Moines.

"It's obviously generating some economic activity," said David Wetsch, an attorney with Wetsch & Abbott P.L.C. with nearly 30 years of experience in commercial and residential receivership work.

And though some firms balk at using the word "opportunity," they admit that bank-owned real estate is spawning business.

Ruhl & Ruhl Commercial Co. has added nearly 1.5 million square feet of commercial space to its property-management portfolio in the last six months, with about 375,000 square feet coming through receiverships and the addition of bank-owned real estate, said Kurt Mumm, president of the firm's West Des Moines office.

Approximately 825,000 square feet of that total, including about 50 properties, was picked up when Executive Real Estate Services "got out of the property management business," he said.

On April 30, Mumm was appointed receiver for the Equitable Building at 604 Locust St., the same day Vantus Bank filed for foreclosure on the 97,000-square-foot Des Moines landmark.

Mumm said brokerage activity has slowed, which is one reason Ruhl & Ruhl is shifting its focus to property management.

In the last six months, Iowa Realty Commercial has added more than 1 million square feet of bank-owned real estate to its portfolio, including everything from raw land to shopping centers to industrial flex space, said Chief Operating Officer Kevin Crowley.

Taking on bank-owned real estate through court-appointed receiverships and nonjudicial foreclosures is one of the ways Iowa Realty is adjusting to the current economic environment.

"At least people are getting used to doing business in this environment, but it's business as unusual, not business as usual," Crowley said. "You have to be willing to adapt, change, be creative."

A receiver's role is to preserve and protect a property, Wetsch said, taking care of "normal things" such as collecting rents, providing routine maintenance and paying the bills while cases are being litigated.

"When these properties transition back to the lender, they're in need of some help," Mumm said, adding that managing distressed properties is no simple task.

"It's very seldom easy," said John Viggers, a Ruhl & Ruhl regional vice president in West Des Moines. "The management is very intense and you really need to know what you're doing to step into that role."

Moreover, the assignments tend to be short-lived, increasing the importance of quickly assessing the situation and taking action.

"You have to digest a lot of information quickly to get an understanding of what the job is at hand," Crowley said. "Every property has different problems and different opportunities. Sometimes you get information; sometimes you're lucky if you get a set of keys."

Though stabilizing an asset and creating market value take precedence in the beginning, brokerage opportunities may come later, Crowley said.

"The disposition is something that's in the picture, but down the line," he said.

Crowley said bank-owned real estate and receivership situations can be touchy subjects for lenders, because they have to justify why they made the loan on the property. And property managers are hesitant to disclose any information regarding their clients.

"There may be a lot of different reasons why somebody's property didn't work," Crowley said, adding that economy is the overall driving force behind foreclosures. As more scrutiny is put on the lender by bank regulators, he said, borrowers are in turn examined more closely.

"A lot of commercial properties are just upside down from banks' new underwriting standards," said Steve Bruere, president of Peoples Co., which in April opened a foreclosure management division, Peoples Management Group LLC.

Bruere, who has been tracking sheriff's sales in Polk, Warren, Dallas and Madison counties, said an increasing number of commercial deals now surfacing are tied to local banks as opposed to national lending institutions.

"We are currently being retained to act as receiver on behalf of two Iowa banks for properties in Central Iowa, we are offering consulting services to three Iowa banks and we are marketing (real estate owned) property for more than a half-dozen local banks," he said.

The foreclosure management portion of his business is picking up, a trend that's unfortunately expected to continue.

"Not unfortunately for us, but unfortunately for the industry," he said.

"It's a business we wish we didn't have to be doing, but at least there is some business," Crowley said.