Construction continues on large projects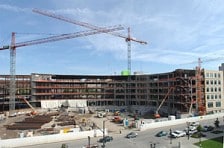 .floatimg-left-hort { float:left; } .floatimg-left-caption-hort { float:left; margin-bottom:10px; width:300px; margin-right:10px; clear:left;} .floatimg-left-vert { float:left; margin-top:10px; margin-right:15px; width:200px;} .floatimg-left-caption-vert { float:left; margin-right:10px; margin-bottom:10px; font-size: 12px; width:200px;} .floatimg-right-hort { float:right; margin-top:10px; margin-left:10px; margin-bottom:10px; width: 300px;} .floatimg-right-caption-hort { float:left; margin-right:10px; margin-bottom:10px; width: 300px; font-size: 12px; } .floatimg-right-vert { float:right; margin-top:10px; margin-left:10px; margin-bottom:10px; width: 200px;} .floatimg-right-caption-vert { float:left; margin-right:10px; margin-bottom:10px; width: 200px; font-size: 12px; } .floatimgright-sidebar { float:right; margin-top:10px; margin-left:10px; margin-bottom:10px; width: 200px; border-top-style: double; border-top-color: black; border-bottom-style: double; border-bottom-color: black;} .floatimgright-sidebar p { line-height: 115%; text-indent: 10px; } .floatimgright-sidebar h4 { font-variant:small-caps; } .pullquote { float:right; margin-top:10px; margin-left:10px; margin-bottom:10px; width: 150px; background: url(http://www.dmbusinessdaily.com/DAILY/editorial/extras/closequote.gif) no-repeat bottom right !important ; line-height: 150%; font-size: 125%; border-top: 1px solid; border-bottom: 1px solid;} .floatvidleft { float:left; margin-bottom:10px; width:325px; margin-right:10px; clear:left;} .floatvidright { float:right; margin-bottom:10px; width:325px; margin-right:10px; clear:left;}
Wellmark Blue Cross and Blue Shield
The construction of Wellmark Blue Cross and Blue Shield's new downtown headquarters continues. The approximately 600,000-square-foot office building, pictured here, will have the capacity to house about 2,300 employees when it opens in late 2010. Wellmark broke ground on the $225 million project, located on a 6.5-acre parcel between Grand Avenue and High Street and 11th and 14th streets, in May 2008. Wellmark is pursuing Leadership in Energy and Environmental Design gold certification for the building, designed by RDG Planning & Design and being constructed by The Weitz Co. Wellmark will vacate more than 500,000 square feet of downtown office space when it relocates to the new structure in 2010. The five-story building is expected to be a centerpiece of the Western Gateway Park area, which includes Nationwide Mutual Insurance Co.'s recently completed expansion at 1200 Locust St. and the John and Mary Pappajohn Sculpture Garden, slated to open this year.
Aviva USA
Aviva USA's seven-story office building is taking shape in West Des Moines. The Weitz Co. broke ground on the estimated $135 million to $150 million project in April of last year. The 360,000-square-foot corporate headquarters, pictured here under construction, is located on a 71-acre parcel located on the southwest corner of the intersection of Jordan Creek Parkway and Mills Civic Parkway. With enough space to accommodate up to 1,500 employees, Aviva plans to merge three of its current downtown locations into the new owner-occupied building when it opens in the second quarter of 2010.
Prairie Crossing
The infrastructure of Heart of America Group's 174-acre Prairie Crossing development at the intersection of Interstate 80 and the U.S. Highway 65 bypass in Altoona is nearly complete. One million cubic yards of earth have been moved, 9.4 acres of streets and sidewalks have been paved, and more than two miles of storm sewers have been installed since site work began last fall. On Aug. 12, the city of Altoona held a ribbon-cutting ceremony to commemorate the opening of Prairie Fire Boulevard and Bass Pro Drive, the development's two main roads. Bass Pro Shops' 145,000-square-foot store, pictured in the foreground and slated to open Aug. 26, will serve as an anchor for the development. When complete, Prairie Crossing will boast approximately 1.5 million square feet of commercial, office and retail space. The project's first phase, including 400,000 square feet of retail space, is expected to be finished in 2011.