Construction in Market District could begin as soon as 2023
Developers give updates on timeline, plans for area south of East Village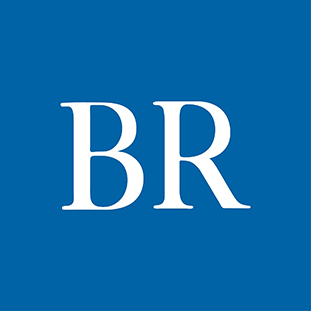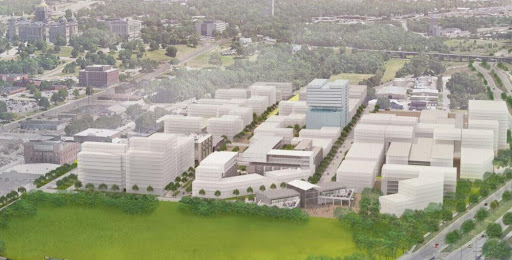 An architectural rendering of the proposed Market District Development provided by JSC Properties.
Construction on the first buildings in the new Market District could start as soon as 2023 with a complete build-out of the 20-acre site taking 10 years to finish, developers said Wednesday.

The update was part of a presentation by developers during a virtual town hall hosted by the Taxpayers Association of Central Iowa.

During the meeting, Paul Hayes of JSC Properties and Tim Rypma of RP Properties provided an overview of the plan and updates on the timeline and public-private partnership that is happening to make the plan a reality. MidAmerican Energy has donated land to the project, and together with JSC and RP properties, created the operating entity known as the District Developer LLC to redevelop the property.

The Market District is a planned development south of Des Moines' East Village that will turn property that had previously been used for industrial purposes into a commercial, residential and entertainment district. The total cost of redeveloping the property has been estimated at around $750 million.

Hayes gave a comprehensive overview of the plan, saying it provides more than 860,000 square feet of land, or about 20 acres, for development, creating a new property tax base of about $36 million. That, he said, will generate about $1.2 million tax revenue each year.

Hayes said while some work on infrastructure has already begun in the area, the city will begin moving out of its buildings on the property later this fall with the demolition of those buildings coming over the next year. Completion of the streets and infrastructure, such as expanded storm water retention basin, sewers, lighting and landscaping, is expected to be complete in the next 18 months, he said.

But when asked how long it would take to fully develop the property and when the first buildings might go up, Hayes said, "It won't happen as fast as any of us want.

"For example, a similar and much larger area in Denver took 20-plus years to really come to fruition," he said. "I hope our timeline is like 10 years because it's a smaller area, but it takes a while."

Hayes said he would expect construction to start on the first building by 2023 or 2024.

There is already interest by developers, he said.

Although he would not identify them, Hayes said there has been interest by developers in Minneapolis, St. Louis, Chicago, Omaha, South Dakota and Milwaukee.

"It's a lot of Midwest interest that have heard about Des Moines, and finding a 2-acre site in downtown Des Moines isn't the easiest … and this opens the door to more of that national or regional developer looking to expand their portfolio in Des Moines," Rypma said.

Hayes said the developers will primarily be multifamily, hotel and hospitality focused.

"The office market is not there right now," he said. "Everybody's kind of waiting to see what the office of the future looks like. If there is going to be an office down there, it will be more single-tenant where they're going to build a building and they will occupy all of it and not have the risk of whether they can lease it out or not; it's just what size it's going to be."

Hayes said the project has been hampered by the pandemic, followed by inflation and increases in construction costs.

In response to those challenges, the Des Moines City Council last month approved an amendment to the redevelopment agreement, which Hayes said increased the tax increment finance benefit from 93% to 100% to encourage developers to move ahead sooner rather than later.

"[It's] for those projects that start construction before the end of 2027, so it's a limited time only, and given the time to put together plans, it can take a year to do planning before they even break ground and then it can take a couple of years for construction," Hayes said.

Tax increment financing is a tool used to redevelop properties within a community's designated urban renewal district. Using TIF, a property continues to be taxed at its value before improvements were made, with the revenue generated by the increased value following improvements being diverted from the city's general operating budget to pay for the improvements.

Hayes said there are 21 street segments that will have all-new infrastructure and technology.

In terms of street improvements, the developer is paying for 85% of the improvements, with the city paying 15%. The city will improve Southeast Fourth Street and the developer will do the rest of the streets in the district, Hayes said.

According to Hayes, the development is intended to attract out-of-town developers.

"We want this to be an attraction where that company from Minneapolis says, 'Hey, I'm looking for something new and different and attractive for my employees in a community that they're going to love to live in, and maybe Des Moines is the place,'" he said.

Hayes said he sees the Market District as more of an expansion of the East Village than an expansion of the Central Business District.

"It's more of that sort of vibe or sense of feeling," he said.

Rypma said while the Market District is seen as an expansion of the East Village, it will serve to connect the downtown district.

"It will provide continued connectivity to all the pockets of downtown Des Moines — it just further combines them."
Facebook Notice for EU! You need to login to view and post FB Comments!