Construction of speculative industrial space continues its strong pace in Des Moines area with more new projects planned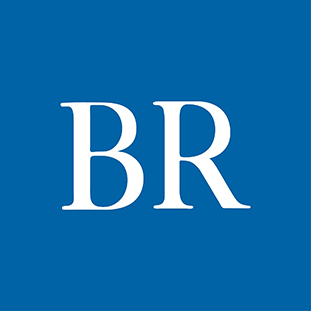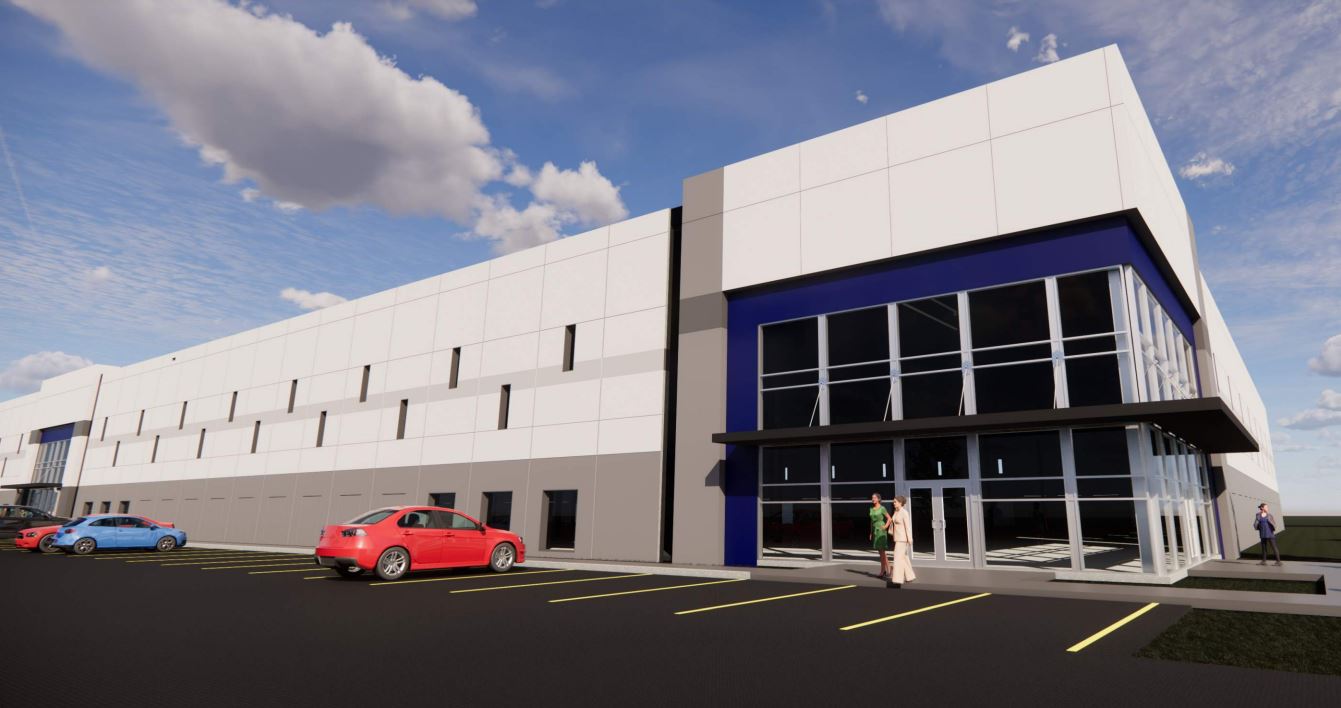 A 212,000-square-foot industrial warehouse under construction at R&R Realty Group's Center Pointe Business Park in Urbandale is among 4 million square feet of speculative warehouse space either under construction in the Greater Des Moines Area or planned to begin in the coming months. Rendering courtesy of R&R Realty Group
VanTrust Real Estate, located in Kansas City, Mo., entered the Des Moines-area market in late 2020 with plans to develop speculative warehouse space on about 75 acres of farmland the firm purchased in Altoona.
Since then, the company has started two speculative warehouse buildings there – one 265,200 square feet and the other 496,800 square feet. Earlier this month, the Altoona City Council approved a site plan for a third warehouse – a one-story, 328,427-square-foot structure that will be built on the northwest corner of 25th Street N.W. and 20th Avenue N.W. in its Altus Commerce Center development.
The three projects by VanTrust Real Estate are among 4 million square feet of speculative warehouse space either under construction in the Greater Des Moines Area or planned to begin in the coming months. Nearly 1.7 million square feet, or 42%, of the speculative warehouse construction underway or planned is in Altoona. Another 1 million square feet, or 26%, is underway in Ankeny.
The flurry of development is being sparked by companies that either are expanding their footprint in the Des Moines market or are new to the area, said Austin Hedstrom, a senior vice president for JLL Des Moines.

"There's still a good mix of tenants looking for space in Iowa – specifically in Central Iowa," Hedstrom said. "There's been a lot of activity out there to fill these buildings that are under construction."

A year ago, JLL forecast that at least 275 million square feet of new industrial space would be needed in the Midwest by 2025 to meet demand. JLL, a Fortune 500 company that specializes in real estate and investment management, has revised its forecast and now is estimating the Midwest will need 330 million square feet of new industrial space by 2025 to meet demand.

According to its recently released Midwest Industrial Outlook report, developers, investors and tenants are attracted to the region for several reasons, including:

• Access to up to 50% of the U.S. population within a one-day truck drive.
• Access to a rail infrastructure that is connected to major coastal ports.
• Availability of land for development at costs below that of either coast and with fewer regulations.
• A strong labor pool.
• Higher returns on investments.

The report lists VanTrust Real Estate as one of the top 10 developers nationwide of speculative industrial space in 2020-21, building nearly 3.5 million square feet of industrial space, 84% of which was speculative.

Grant Harrison, VanTrust's senior director for development, wrote in an email that the group was attracted to Altoona because of the infrastructure that was already in place or planned in the area where Altus Commerce Center is being developed. The site is close to Interstate Highway 80 and provides "great prospects for future growth and continued development."

Harrison wrote that while the group hasn't yet signed any tenants in Altus Commerce Center, there's been "great activity to date from all sorts of companies."

West Des Moines-based R&R Realty Group has two speculative warehouses under construction in the Des Moines area: a 260,000-square-foot industrial building in its Prairie Business Park in Grimes and a 220,000-square-foot facility in its Center Pointe Business Park in Urbandale. The group also has two speculative warehouses under construction in Omaha.

Adam Kaduce, R&R's senior vice president and marketing director, said a tenant has signed a lease for 80,000 square feet of space in Grimes facility. A nondisclosure agreement prohibited Kaduce from revealing the tenant.

However, he did say potential tenants tend to fall into one of two categories: those wanting general logistics and distribution space and companies tied to residential construction.

The first group wants to get its products closer to other companies with whom they do business or closer to consumers, Kaduce said. "There's also a really strong demand from [residential construction-related businesses] for distribution warehouses and showroom space."

Even though interest rates are rising for home mortgages, businesses related to residential construction want to be near where home construction is occurring.

"When you look at the amount of new construction going on here, it's why those companies want to be here," Kaduce said.

Ankeny, which straddles Interstate Highway 35, has also experienced a burst of new industrial development in the past six years, not only speculative but also owner-occupied and leased spaced.

Ankeny's industrial tax base has grown an average of 20% each of the past six years, according to Derek Lord, the city's economic development director.
"Industrial projects continue to increase in size, which is driving up the overall investment in our industrial sector," Lord wrote in an email. "This level of investment is having a direct impact on the city's tax base."

Lord wrote that the timeline between when a company decides to expand or move into a new market to when it opens in a new facility "continues to be compressed. Having available product [space to move into] is critically important for fast moving projects that are reacting to constantly evolving market conditions."

Whether demand for industrial space continues at its current pace or slows is any one's guess.

Online retail giant Amazon Inc., which leases millions of square feet of warehouse space nationwide, is either postponing the opening or delaying the construction of its fulfillment centers. GlobeSt.com recently reported that a new five-story fulfillment center in Davenport may not open until at least 2024. The facility was expected to open in September.

Amazon is telling city officials with new, unopened warehouses that the retailer won't open a new distribution facility unless it has enough product moving through the operation to use it at capacity, reports GlobeSt.com. "Amazon is citing lingering supply chain issues as well as slower-than-expected e-commerce growth as factors exacerbating its need to cull extra logistics space."

Ernie Goss, director of Creighton University's Economic Forecasting Group, told the Business Record that he expects other retailers with excessive inventories to "reduce the demand for warehouse space for the next six months to a year."

However, after that period, "there will be an upturn in the demand for warehouse space," Goss wrote in an email. "If the new construction is coming online in the next six months, it will likely be a challenging time with supply exceeding demand. Beyond that, demand will return sufficiently to absorb the added space."
MORE ONLINE
Speculative industrial construction in DM area
Just over 4 million square feet of speculative industrial construction is either underway or planned in the Des Moines area. A majority of the projects are in Altoona and Ankeny, and all of the projects are near major thoroughfares such as Interstate Highways 35 and 80. Click here to view an interactive map that provides information about the projects, including property owner, square footage and value of building permits that have been issued.

Did we miss your project? Email details to kathybolten@bpcdm.com and we will add your speculative industrial project to our interactive map.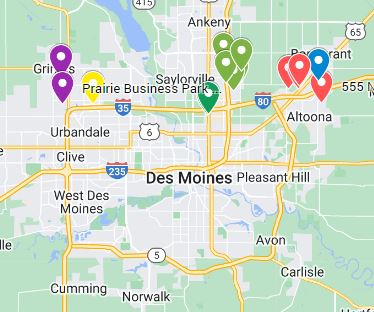 Facebook Notice for EU! You need to login to view and post FB Comments!