Contemporary American restaurant slated for Western Gateway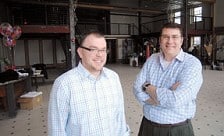 Two restaurateurs with long-standing ties to the Court Avenue neighborhood will bring contemporary American cuisine with a late-1950s twist to the Western Gateway.
Mike Utley, general manager of Court Avenue Restaurant & Brewing Co., and its owner, Scott Carlson, have partnered to open an eating and drinking establishment across the street from the John and Mary Pappajohn Sculpture Park.
Americana Restaurant & Lounge is expected to open in June in the northwest corner of the historic Chamberlain Building at 1312 Locust St.
The partners, who estimate it will cost nearly $1.5 million to build out Americana's nearly 7,000-square-foot leased space, said they spent about three years searching for the right location.
"We basically wanted to be progressive in where we were opening," Utley said. "We didn't want to follow where everybody else was opening up spaces. We wanted to try to find the next place, but not be the pioneer all the way out on an island by ourselves."
A string of lunch spots have opened along Locust, including a Jimmy John's sandwich shop, a Smokey D's BBQ restaurant and Flour Pizza, all of which operate in the ground level of Nationwide Mutual Insurance Co.'s building at 1200 Locust St.
Americana, which will serve both lunch and dinner seven days a week, will be the first dine-in bar and restaurant to locate on the south side of Locust between 10th and 12th streets since the sculpture park opened in late 2009.
Carlson said the restaurant will offer patrons two levels of dining and floor-to-ceiling views of an art collection valued at $40 million. "Mostly, we liked the layout," he said of the space. "We also like the fact that the Western Gateway is starting to kind of emerge. We've got some instant visibility."
"Our menu will feature a large variety of freshly prepared options with a continental twist," said Utley, Americana's managing partner. He said the restaurant, which will be modeled after the traditional cabarets and supper clubs of the late 1950s and early 1960s, will also have an urban appeal. "We are going to try to do a lot of fresh plates and use local ingredients as much as possible," he said.
Utley, 32, and Carlson, 40, are working to secure two other investors as they hire a management team and interview chefs. They plan to fund the project with a mix of private financing, tenant-improvement dollars and a loan from Earlham Savings Bank.
On Feb. 14, the Des Moines City Council voted to approve the preliminary terms of a $200,000 low-interest loan, which is being funded by the Des Moines Action Loan Fund with Community Development Block Grant dollars.
"Basically, it's a back-to-work program," Carlson said of that funding source. He said the restaurant plans to hire 50 or 60 people, or the equivalent of about 40 full-time employees.
Americana is expected to seat about 230 people, including 130 people on its mezzanine level. The bar, which will seat about 40, will stay open until 2 a.m. on Fridays and Saturdays. Brunch will be offered on Sundays.
Carlson noted that Court Avenue Restaurant & Brewing Co. reported record-high revenues in 2010. He also pointed out that opening a restaurant during an economic downturn is always risky.
However, as Americans learn more about food – thanks in part to a plethora of dining and cooking shows on television – Carlson and Utley think Des Moines is ready for a new downtown spot to eat, drink and socialize west of the central business district and outside the Court Avenue Entertainment District.
"What we are trying to do is create a nice place for people to come and have a great culinary experience as far as drinks and dinner go, but make it in a fun and casual atmosphere," Utley said.
Americana has signed an eight-year lease with options to renew. The landlord, Chamberlain Building LLC, an ownership group managed by state Sen. Jack Hatch, was represented by Shannon Morton, a broker with Ferguson Commercial Real Estate Services. The tenant was represented by John Garvey of Tenant & Buyer Services Corp.
To make way for the restaurant, Zart 1312, an events venue that opened last spring at 1312 Locust St., is scheduled to relocate in early March to a ground-level space on the northeast corner of the building.
Meycon Construction LLC was selected as the general contractor, and Dan Hunt of Connect Architecture & Design PC is the project architect.
"We are excited to be a part of the continued development of the Western Gateway neighborhood and help bolster the economic recovery of downtown," Carlson said. "We see faith not only in us, but in Des Moines, the location and downtown. We believe that the economic recovery is here."