Convenience store chains roll out new plans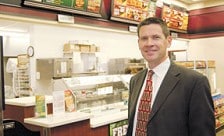 Three convenience-store chains with ties to Greater Des Moines are expanding the size and scope of their operations in an effort to capitalize on consumer habits.
Following a two-year decline, the number of U.S. convenience stores is expected to increase this year as owners focus on opening larger facilities with more amenities for time-starved shoppers.
Casey's General Stores Inc., Kum & Go LC and QuikTrip Corp. all plan to open new retail outlets in 2011 to help accommodate the nearly 2 million customers who patronize such establishments in Iowa each day.
In 2009, the grab-and-go mentality of consumers helped the nation's 144,541 convenience stores sell $511 billion worth of products, compared with $556 billion in sales at the country's supermarkets, according to the National Association of Convenience Stores (NACS).
And though gasoline is the No. 1 driver of traffic to U.S. convenience stores, which in 2009 sold a total of $328 billion worth of motor fuels, profit margins are much higher on items sold inside the stores.
A speed metrics survey conducted by the NACS found that customers, on average, take 3 minutes and 33 seconds from the time they exit their vehicles until the time they get back in their cars with a purchase.
Now, owners expect to lure more customers inside with the construction of larger stores that have bigger kitchens, additional cooler space and greater assortments of fresh-food offerings.
Casey's
Ankeny-based Casey's has grown aggressively during its current fiscal year, which ends April 30, 2011, acquiring a total of 69 assets from three out-of-state companies as it repelled takeover bids from Canada-based Alimentation Couche-Tard Inc. and 7-Eleven Inc.
Casey's largest third-quarter acquisition, 44 convenience stores purchased in mid-December from Lincoln, Neb.-based Kabredlo's Inc., included one Oklahoma property, marking the publicly traded company's first foray into that state.
In the second quarter, Casey's picked up 19 stores from Illinois-based Harper Oil Products Inc. and six Short Stop stores, including four in Greater Des Moines, from J.D. Carpenter Cos. Inc.
Now, as it works to rebrand those assets under the Casey's name, the company is developing new stores and remodeling existing facilities with made-to-order submarine sandwich shops, multi-flavored coffee bars and indoor customer-seating areas.
By the end of April, it plans to break into the Arkansas market with the construction of new stores in that state.
"Anything we touch from now on will have the new store design," said Bill Walljasper, Casey's senior vice president and chief financial officer.
He noted that if Casey's sold only pizzas, it would qualify for a top 10 spot on Pizza Today's magazine listing of the largest pizza companies. "You have to make sure you have the right product offering," Walljasper said. "We just want to take that momentum into other prepared-food products."
QuikTrip
"You are increasingly seeing the industry going to a food retailer that happens to sell gas," said Jeff Lenard, an NACS spokesman. He cited Tulsa, Okla.-based QuikTrip, which operates 566 stores in nine states, as a prime example of a convenience store operator that is increasing its prepared-food portfolio.
"Our job is to make sure we are a destination, because there are a lot of choices out there," said Mike Thornbrough, QuikTrip's manager of public and government affairs. "We are really going to get into the fresh-food business."
QuikTrip, which has 23 stores in Iowa, currently offers foods such as pastries, salads, fruit cups and sandwiches, which are prepared at off-site commissaries and shipped to individual locations.
Though that way of doing business has been profitable, Thornbrough said, the chain is testing a new "Gen 3" store design in markets such as Tulsa and Independence, Mo., which features bigger coolers, more coffee and tea selections and a variety of made-to-order foods.
In December, the Grimes City Council approved a site plan for QuikTrip to construct a 4,555-square-foot store in that community. Thornbrough said the project, which is expected to wrap up in late 2011, probably will not include elements of the Gen 3 model.
"It will take some time," Thornbrough said of QuikTrip's implementation of the new stores, which are designed to include about 1,200 square feet of additional space. "Some people may think we are slow, but we think we are methodical," he said. "Now we'll spend the time to increase those types of offerings."
QuikTrip, which employs approximately 11,000 people, reported annual sales of $7.2 billion for its fiscal year ended April 30, 2010. Thornbrough said the company has 19 stores under construction.
Lenard said the convenience store industry, which provides necessities such as foods and fuels that are intended for immediate consumption, has better withstood the recession than other retail channels.
However, in order to stay competitive, convenience-store owners must continually consider the cost, as well as the quality, of their products.
"If you're off by a penny or two, you'll lose business," Lenard said. "If your coffee or sandwiches aren't quite as good as the guy down the street, you'll lose business."
Kum & Go
West Des Moines-based Kum & Go, which last month unveiled its new 5,000-square-foot Titan store model with the opening of its new Clive location at Northwest 86th Street and Harbach Blvd., is working to attract customers with sustainable building practices as it opens larger outlets.
"Kum & Go has a long history of environmental consciousness and doing the right thing for our customers and our community," said John Feldman, the company's vice president of construction.
Kum & Go, which about two years ago formed a grassroots task force of green-minded employees, in July created a new position to spearhead those initiatives.
"It became obvious to us that we wanted to bring in a professional that could really guide our efforts," Feldman said of Adam Hammes, who in July became Kum & Go's manager of sustainability.
"One of the focuses is replication," Hammes said of Kum & Go's newly modeled stores, which include recycled steel, Solatube skylights and advanced refrigeration systems. "We are going to use a very similar footprint," he said. "We want to be able to replicate that, not only in this market, but all of our markets as we expand."
"There's more room for virtually all merchandise, with an emphasis on food and cooler doors," Feldman said.
Last year, Kum & Go opened two stores in Greater Des Moines, one in Johnston and one on the East Side of Des Moines, that are vying for Leadership in Energy and Environmental Design (LEED) certification from the U.S. Green Building Council.
The company, which will also pursue LEED certification on all of its Titan-modeled stores, currently operates more than 430 stores in 11 states.
"Des Moines is particularly competitive," Lenard said. "You have three nationally renowned players in the market. Everyone has to up their game that much more, not just those three companies, but everybody else."
Feldman said 62 percent of the nation's convenience stores are mom-and-pop operations with only one location.