Viars wraps up long Playhouse career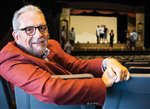 From the opening curtain of the interview, John Viars made it clear that he was but a cog in part of the Des Moines Community Playhouse's initial 100-year run that produced more than 1,000 shows and had many of us attending to see our colleagues and neighbors stage everything from "The Diary of Anne Frank" to "The Full Monty."
Viars, of course, undersells his role a bit. As he started phasing toward an official Dec. 31 retirement as artistic director emeritus — he moved out of town months ago but has commuted some — he directed "A Gentleman's Guide to Love and Murder" and received the first Lifetime Achievement Award at the Cloris Leachman Excellence in Theatre Arts Awards. He was inducted into Playhouse Legends. A big wrap-up party for the 100th season was held Nov. 9.
Katy Merriman took over as artistic director in April.
In an interview, Viars marveled at what he considers the strong condition of the Playhouse, both physically with its complete overhaul in the past few years and in the quality of the performances. And he said the good vibes go past the historic location near 42nd Street and Interstate Highway 235.
"High school drama is really exploding right now all over the country. In Iowa, it's gaining a great deal of popularity with young people," Viars said.
He chalks that up to more attention to the New York theater scene and the popularity of shows such as "Glee." "Those are directed at young people. And [drama] is a good extracurricular activity that builds skills and talents that are usable in other parts of life in addition to theater."
More evidence: Des Moines Performing Arts' Iowa High School Music Theater Awards. "That's gotten huge in the past five or so seasons," Viars said.
There are real-life situations in Iowa and elsewhere — and in movies such as "Mr. Holland's Opus" — where financial stresses take a toll on music or drama programs. But Viars remains bullish on the arts in Iowa in general.
"They are building brand-new theaters in high schools all over the place, like the recent one at Valley High School [in West Des Moines]," Viars said. "We have a black theater company in Des Moines. We have a youth theater company in Des Moines serving lots of performers and audience members."
Viars said the mission of the Playhouse has stayed the same: Give people who are interested in theater a chance to perform as volunteer actors, even if thxxxxey have chosen to pursue other careers and "steady incomes."
"And that is working," he said. "It's working at a time when there's so many things to do, just an explosion of activities. And lots and lots of stay-at-home things like Netflix and Hulu and ESPN and all that stuff can really convince people, 'let's just spend the night watching TV.' But we have sometimes 150 or 200 people try out for some of our shows, so it's really a great time for theater in the community."
The growing support for drama feeds what happens at the Playhouse, where Viars began working in 1982 and served as the longtime executive director and artistic director. When David Kilpatrick joined the staff in 2017 as executive director, Viars switched to artistic director, picking plays and producing and directing performances.
Viars arrived at an interesting time. There were three staff members. The budget was $176,000, with a $50,000 deficit. The budget grew beyond $2 million and staff stood at 13 by the time he approached retirement.
The early years were interesting.
Despite a series of quick staff changes that included three directors in less than three years, the staff had set the Playhouse on a path to success, Viars said.
"I learned so much and I grew so much in those early years," he said. "And then we just started going wild, adding shows, doing some really cool projects in the '80s and early '90s, ending up in '95 when we built a children's theater."
The Playhouse had twice staged "Peace Child" — about children who petition to end the nuclear arms race — the first time with eight or 10 children from behind the Iron Curtain joining Des Moines children onstage. The Europeans stayed in homes and built lasting relationships with hosts. A second performance brought in 15 children from Moscow. The Playhouse covered part of the travel expenses, fundraising for part of it and in one case using frequent flier miles from a major company.
That led to the first International Community Theater Festival at the Playhouse in 1990. Part of the idea was to exchange shows with an international festival that Princess Grace started in Monaco.
"So 17 different theater companies came here" for a weeklong competitive festival that included two youth companies. National experts were on hand. Roosevelt High School hosted the classes. Two hundred volunteers helped with logistics, including transportation, in the days before cellphones were commonplace. "We had these bag phones," Viars recalled. The awards ceremony was at Terrace Hill, the governor's mansion.
"Everything about it was incredible, absolutely incredible," Viars said. Later, Des Moines families visited the children they had hosted, traveling to Poland, Czechoslovakia and elsewhere.
The second "Peace Child" performance in Des Moines was 30 years ago. "Through the magic of Facebook, there was this message that came out in June. From Dimitri — I can't remember his last name."
Dimitri recalled his trip to Des Moines to be in "Peace Child." "It was my introduction to the United States," wrote Dimitri, now firmly in adulthood. "It changed my life. I remember it fondly."
As Viars reflected on a career coming to a close, he saw a bigger message in Dimitri's words.
"He was actually saying what — without all that international stuff — what being involved in theater does for people. It really makes a difference in the way we see the world. For young people, it helps build confidence. It helps them be able to work in groups. It helps them score better on aptitude tests, they end up happier as adults, they get the little kids over shyness almost immediately.
"So who could not like a job like this?" Viars asked.
Viars worked through a career with so many great plays. Among his favorites: "Red," "The Farnsworth Invention," "Metamorphoses," "Our Town," "Completeness," "12 Angry Men," "Balm in Gilead," "The Grapes of Wrath," "Art," "Proof," "Master Class" and "Still Life."
In the 2000s, the Playhouse reworked its physical plant, including a new building facade, enlarged lobby, and restored and updated theater. "Someone said [before the remodeling], 'You know, that's a classy-looking building, but it doesn't look like a theater. It looks kind of like a federal prison from the outside,'" Viars said. The person thought perhaps the building should be more inviting from the street and sidewalk. The modern look of the new facade fixed that.
Style points aside, the building had other problems. "We didn't know at the time that we had to actually design a new facade because the western part of the building [along 42nd Street] was actually sinking and starting to tilt, and we had to replace a big section of the stone wall because it was buckling and threatening to fall down," Viars said.
"We replaced the facade, and that changed everything. First of all, it made it a safe place to live, and it gave us additional space for pre-show talks, for rehearsals, for small performances, and helped our summer education programs," Viars said. It also showed people the activity inside.
"It really kind of uplifted this neighborhood in terms of modern architecture," he added.
Now, Viars is admiring the sweeping views of Richardson, Texas, north of Dallas, where he moved in August after selling his Des Moines home in a week in June.
As his official retirement nears, his thoughts may broaden to Dallas theater and beyond. But they are unlikely to lose track of that little Des Moines theater on 42nd Street.
Facebook Notice for EU! You need to login to view and post FB Comments!