David Oppedahl: Economy is 'fitful, but getting stronger'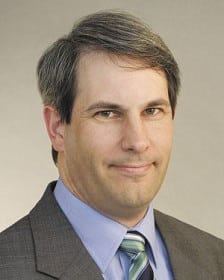 From where he sits at the Federal Reserve Bank of Chicago, David Oppedahl gets a bird's-eye view of economic data, and he sees an economy that is "fitful, but getting stronger."
Oppedahl is a business economist with the Fed's 7th District, which is made up of Iowa, Illinois, Indiana, Michigan and Wisconsin. He will be the keynote speaker at the Business Record's Economic Forecast on Wednesday.
Not wanting to wait for the event, the Business Record asked for an overall assessment of the economy, with a look at sectors that are weak and sectors that are strong.
Farm income:
In Iowa, the big news has been farm income, the price of commodities and the almost embarrassing escalation of the cost of farmland, with prices per acre jumping nearly 33 percent last year.
"Areas like Iowa have seen a lot of income growth in the last few years, so that has been helpful for them," Oppedahl said. In addition, manufacturing and the service sector have seen gains in employment and profitability.
Manufacturing:
Manufacturing has been helped by a weak dollar that makes it less expensive for other countries to import our products.
"One of the things coming out of the recession was that our imports were outgaining exports, so we had to cut back," Oppedahl said. "As the economy has grown more broadly, manufacturing has benefited.
"Companies have spent money on expanding factories and improving manufacturing technologies, so they became more cost competitive. Wage growth in China has reduced its advantage in terms of cost of production."
Back to the USA:
Oppedahl said that an increasing number of companies are moving their operations back to the United States, thanks in part to the escalating cost of shipping products as well as an improving standard of living fed by higher wages in developing countries.
In addition, the sub-economy that surrounds the automobile industry is improving, thanks in large part to the rejuvenation of General Motors Co. and Chrysler Group LLC.
"GM and Chrysler are getting through their tough periods," Oppedahl said.
The U.S. economy is in a period of low inflation that, when coupled with low interest rates, should foster more job growth, "but maybe not as much as we would hope," he said.
Government involvement:
A drag on the economy is that governments have been cutting back, trimming their work forces because of budget problems.
"The issue is that this has been forced on state and local governments and you want the governors and legislatures to make decisions on how to trim back and not be forced into it," Oppedahl said. "Maybe they have learned the lessons and won't be forced to trim as much in the future."
Oppedahl said he is not certain that the federal government should create more programs to stimulate the economy.
"Maybe we should let what's in place work through the economy a little more," he said.
Low interest rates should trigger additional spending in the private sector and encourage the flow of loans to businesses. With rates anticipated to remain low for the "foreseeable future," businesses should have some certainty about how to plan for growth.
"It would be nice to see normal business conditions be the norm again, rather than the tightness of the last four or five years," Oppedahl said.
Ag economy:
Given that Oppedahl will be in Greater Des Moines next week, it's not surprising that his thoughts turn to the agricultural economy.
"The increase in land value has been quite remarkable," he said. "That will be an issue going forward for young farmers. But the income prospects are supportive of where we are in land values."
Markets for corn and soybeans will remain in flux and continue to contribute to volatility in the farm sector.
But it will all even out sooner or later.
"In the long run, supply and demand will align, and we'll have prices and incomes commensurate with those," Oppedahl said.