Des Moines Arts seeks support for building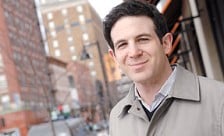 Justin Mandelbaum wants to form a nonprofit group to convert one or more downtown buildings into permanent affordable space for local artists.
The 31-year-old business owner, who nearly six years ago spearheaded the creation of Western Avenue Studios in Lowell, Mass., is working to garner support for Des Moines Arts, which intends to establish a home for the Des Moines Social Club and provide a collaborative work environment for artists in all disciplines.
Nonresidential artist studios, galleries and exhibition spaces, and office spaces for arts-related nonprofit groups would be part of the proposed build-out of a yet-to-be-identified property in the city's core.
Mandelbaum said the project, which would include the pursuit of Leadership in Energy and Environmental Design (LEED) certification, could reduce the amount of vacant competitive office space downtown by 120,000 square feet to 150,000 square feet.
"Where we are at right now is just determining whether there is demand," Mandelbaum said of the January launch of www.DesMoinesArts.org, a website developed to measure the interest of artists, arts organizations and community supporters. "If there is demand, then we can talk about what building it should be in."
In August 2010, Mandelbaum met with the 23-person advisory committee that he formed to counsel him on the initiative. He walked away with two directives.
First, Mandelbaum said, he must verify that the Social Club, a nonprofit arts and cultural center that since early 2009 has operated in a leased space at 1408 Locust St., would be interested in anchoring the Des Moines Arts building.
"We've consistently reached out to other groups and found we've been able to do some fantastic things when we work on them together," said Matt McIver, the Social Club's artistic director. Referring to a short list of prospective sites that the Social Club is considering moving to this spring, when its lease on the Locust Street property expires, McIver said the organization must first consider its immediate needs. "Once we achieve those goals, we will start thinking a little more long-term," he said.
Second, and most important, Mandelbaum said, he must show fund-raising organizations and other prospective donors that there is adequate interest in the project, especially from individual artists who might consider leasing space at a discounted rate.
"From an advisory standpoint, we felt both pieces were important," said Bankers Trust Co. President Suku Radia, who sits on the advisory committee. "I think the response has been very favorable. The real challenge is how to convert that into paying tenants."
As of Feb. 7, more than 300 people had registered their support on the website, which contains specific information about the intention of and inspiration behind Des Moines Arts.
Mandelbaum, who hopes to finance the project with individual and corporate donations, as well as tax credits, government grants, nonprofit foundation grants and other incentives, said he hopes to reduce Des Moines Arts' overhead by raising enough money up front to purchase and renovate a building.
He expects the proposed 501(c)(3) organization to have a self-sustaining operating budget. And he expects the rents – an estimated $7 per square foot on an annual basis plus utility costs – will cover monthly expenses and establish a reserve fund for future maintenance.
"These organizations don't want to give to multiple arts groups," Mandelbaum said of groups such as the Community Foundation of Greater Des Moines. "They want to give their grants to one organization, preferably something that can accommodate everyone," he said.
"If it could be done, it would certainly add to the community's offering in the arts," said Steve Zumbach, a partner with Belin McCormick P.C. Zumbach, who sits on the committee, said supporting the ideas of young entrepreneurs such as Mandelbaum is important. But in order for Des Moines Arts to be viable, he said, it has to make sense financially.
"It has to be economically sustainable in the long run," Zumbach said. "You have to have artists that are users of the space and that can generate an income stream that will support the space."
Mandelbaum, who spent nearly 10 years pursuing an education, traveling the world and handling global commercial real estate investments for Starwood Capital LLC and Goldman Sachs Group Inc., returned to his hometown of Des Moines in 2008. Last year, he co-founded China Iowa Consulting LLC, an export advisory firm focused on securing Chinese buyers for U.S. products and services.
He said the successful completion of the Des Moines Arts project would not only provide an outlet for artists who market their wares for a living, but also further the city's growing reputation as a supporter of the arts, as evidenced by the by the recent completion of the John and Mary Pappajohn Sculpture Park and the ongoing success of the Des Moines Arts Festival.
"The whole goal is to help these artists make a living or at least supplement their living with something they enjoy doing," Mandelbaum said.