Designing for Health: Social Sports & Leisure Entertainment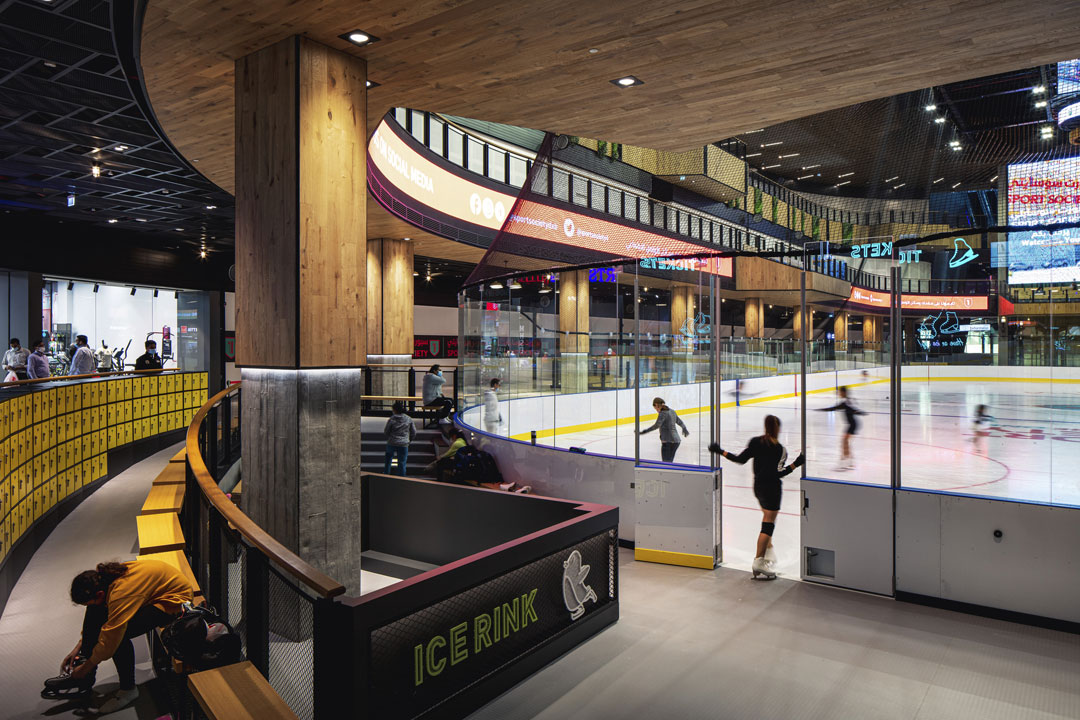 By Jose Sanchez, Assoc. AIA, LEED AP BD+C, Principal, Mixed-Use Design Leader, DLR Group
Focus on physical and mental health has increased, leading to more retail mixed-use spaces dedicated to sports-oriented concepts, promoting familial and community engagement through social and physical activity. Demand is there, but what specific elements attract and entertain a global customer? Variety is critical to consumer engagement, and the recreation market has expanded to provide different opportunities that appeal to diverse groups.
The "Retailtainment" Concept
The mall transformed the retail experience. Sport Society expands its concept through an 800,000-square-foot, five-floor, multipurpose arena with various sports, healthy food and beverage, and retail lifestyle options. People can't replicate the Sport Society experience at home, differentiating the traditional mall concept from this one, promoting exploration and a healthy lifestyle.
The facility's center features an NHL-sized ice rink that doubles as a soccer field or event space. The upper levels serve as a walk/run track with single-loaded sports, leisure, retail, and food and beverage units. The complex also includes a state-of-the-art fitness center, bowling alley, trampoline park, climbing/bouldering center, snooker and billiard hall, golf and cricket simulators, and an activated roof with different fields and courts.
The exterior architecture draws from professional sports arena design elements versus traditional brick-and-mortar retail. Wrapped in a vibrant, golden-yellow framing and a dynamic LED facade, the exterior showcases the unique sports offerings and establishes the location as a landmark destination. Raw materials, typically hidden in a traditional mall concept, are vital in transporting visitors to a place they recognize – a natural urban playground.
Pickleball: The Real Dill
Pickleball venues are quickly popping up nationwide. Although more niche than Sport Society, Real Dill Pickleball Club also dovetails sports and social experiences through unique connective spaces where pickleball takes the center court.
The first two clubs are launching in Chesterfield, outside of St. Louis, Mo., and in Columbus, Ohio, with the prospect of further U.S. expansion. The 30,000-square-foot Chesterfield location, opening in the summer of 2023, features five indoor and two outdoor courts. Areas for food and beverage and entertainment with indoor and yard games create an equally fun experience for those dedicated to sports and people interested in social and leisure. Taking nods from hospitality design, the club captures an ambiance akin to a social club, incorporating warm woods, earthy tones and rich greenery that supports an indoor-outdoor vibe.
Sports, entertainment and social fusion venues are becoming more significant than ever in established and growth markets. Facilities like Sport Society and Real Dill may have the solution to keep people returning consistently, the magic success factor for retail. These mixed-use concepts do more than keep us busy; they unite people and promote a healthy lifestyle and community.