Developer finds funds to remodel Fleming Building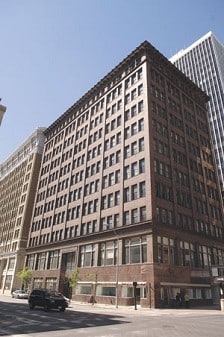 A historic downtown office building conceived by Daniel Burnham, a noted architect of the early 20th century who also designed the Flatiron Building in New York City, could be converted to residential use by as early as next year.
On May 7, the Des Moines City Council voted to support N.D. 22 Fleming LLC's application for Enterprise Zone benefits to help offset the cost of the company's proposed $18.4 million market-rate apartment project at 604 Walnut St.
Jake Christensen, senior vice president of development with Terrus Real Estate Group LLC, and Mike Nelson, president of Nelson Development LLC, are among the owners of the proposed redevelopment of the 104-year-old Fleming Building in the central business district.
If approved by the state of Iowa's Enterprise Zone Commission, the funding source will provide N.D. 22 Fleming with a $201,000 sales tax rebate and a $1 million investment tax credit, both of which would be financed by the state.
To further offset N.D. 22 Fleming's development costs, the City Council in June 2010 voted to approve the preliminary terms of a $1.6 million tax-increment financing (TIF) package, which following the project's completion would be paid in 10 annual installments. Christensen said the council has yet to approve the final terms of a development agreement, and those terms could change.
"The alternative proposal is to provide a non-TIF Economic Development Grant of $160,000 for five years," according to an application submitted to the Urban Design Review Board on May 9. N.D. 22 Fleming, which plans to pursue state and federal historic tax credits, will also utilize conventional financing streams to fund the project.
The build-out will include asbestos abatement, the replacement of an outdated heating and cooling system and a new stairwell to accommodate 110 apartment units. The first floor of the Fleming Building will remain retail space.
Christensen said the adaptive reuse of the 11-story building is expected to remove approximately 80,000 square feet of competitive Class C office space from the downtown inventory.
The developer hopes to break ground this year.
"In addition, during the 12-month construction period, the project will provide nearly 150 construction jobs. Tenant parking will be negotiated by the developer in one of the city's parking ramps," according to city documents.
The building and land have a combined assessed value of $1.2 million for tax purposes, according to the Polk County assessor's website.
Rents for the studio and one-bedroom units are expected to run between $500 and $700 a month, but the pricing could change depending on market conditions, Christensen said.
"The ownership recognizes that downtown continues to be a vibrant place where people are choosing to live," Christensen said of the Fleming Building. "This should be another addition in 2012 supply."