Development group unveils proposal for casino-hotel complex at D.M. airport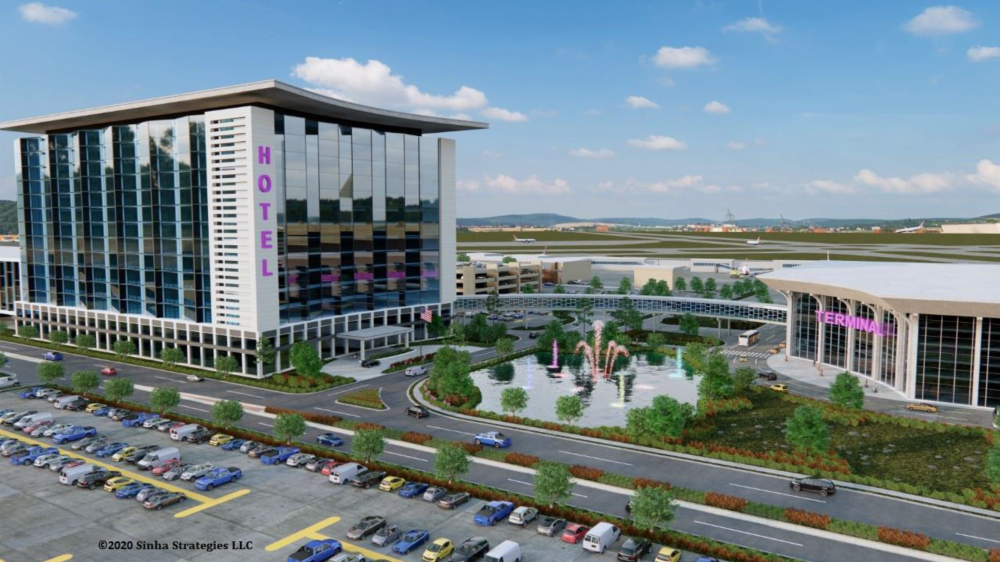 Des Moines International Airport could transform itself into a destination in its own right and create a mechanism to fund its planned $500 million terminal by building a world-class, on-site casino-hotel complex, says a development consultant.

The Des Moines Airport Authority Board this morning heard a proposal from Highview Development Group, represented by Reggie Sinha, principal of Sinha Strategies LLC in Clive. The development group, which includes a present casino operator, Wild Rose Entertainment, is proposing a $225 million development that would feature a 350-room hotel and casino that would be connected to the airport and parking by skywalks, fronted by a Bellagio-scale dancing water fountain that would serve as a centerpiece tourist draw.

Sinha, citing experience as an airport planner and development consultant for international projects, said that smaller regional airports like Des Moines International face significant funding challenges and that many countries have used similar public-private partnerships to jump-start development for their airport complexes. He estimates such a casino-hotel complex could generate about $85 million in annual revenues and employ about 1,000 people.

Sinha enthusiastically pitched the tourism draw of large-scale fountains, saying that the No. 1 tourist destination in Las Vegas is the famed fountain in front of the Bellagio Hotel and Casino.

Sinha said his group's research indicates that the project fits in with development guidelines that the board outlined for the airport in 2018 and would also be in line with state gambling regulations as governed by the Iowa Racing and Gaming Commission.

The airport board, which had one member attending by teleconference and another member absent, voted to table discussion until its February meeting, and invited Sinha to return to reprise his presentation for the full board. The presentation has been the only formal response so far to a request for proposals the board issued in 2019 for projects that would develop the non-aviation portions of the airport.

"I know there's a lot of controversy around [proposing a casino] and there are still some issues to be resolved by the proposers," airport Manager Kevin Foley said following the meeting. "Our position is that the board has an obligation to consider any proposal that would help close the funding gap for the new terminal project."

The airport board also moved forward with several contracts for projects that are necessary before a new airport terminal can be built. Among those projects, the board approved:


An award to Turner Construction Co. for a $7.657 million Des Moines Flying Service relocation project, and an award to Bolton & Menk for $423,000 for construction phase services for the project.

An award of a ground lease to Signature Flight Support LLC, for that company to build a new general aviation terminal building and aircraft hangar.

An award of $750,777 to Iowa Contracting Inc. for the cargo deicing equipment relocation project.

Authorization to move forward with an application for a $1.16 million Revitalize Iowa's Sound Economy (RISE) grant for phase 1 of the Cowles Drive reconstruction project, which will reposition the entry to the airport for the planned new terminal.
"This is actually a continuation of the enabling projects that we've been doing for some time," Foley said. "Once these projects are completed on the south side of the airport, then we'll move to the east quadrant, and those projects will be very, very visible to the public from this point forward."

Foley said the timing of actual construction for the new entry road for the airport will depend partially on the design process, but he anticipates that the first phase of that project should be completed by this fall.
Facebook Notice for EU! You need to login to view and post FB Comments!