DeWaay Investment Banking launches Midwest M&A Index

"What do you see in the market?"
It's a question that Adam Claypool and his team at DeWaay Investment Banking are often asked by business owners or their financial advisers. It's also a key reason the firm developed the Midwest M&A Index as a gauge of regional activity in mergers and acquisitions. DeWaay released its first quarterly index report last week.
"We're very close to the market," said Claypool, the firm's managing director. "We have provided this information to our clients, and we are excited to be able to offer it to the business community."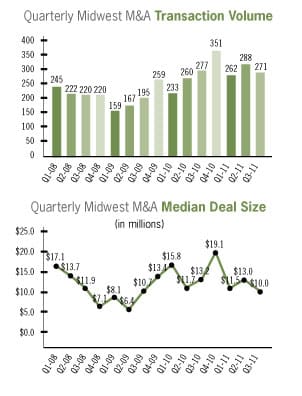 The Clive-based investment banking firm has raised more than $400 million for M&A deals in the past four years, and to date has invested $47.6 million in Iowa-based companies.
To develop the index, which is a measure of deal volume, the firm analyzed M&A data from the past five years, using the third quarter of 2006 as the baseline point of 100 for the index. "We chose that point because it was a more normalized market and more in the middle of a cycle," Claypool said.
The current index level of 99.2, up 1.6 points from the second quarter, reflects a normalized corporate deal environment in the Midwest, Claypool said. The median deal size was $10 million this quarter, down from $13 million the previous quarter but significantly higher than a $6.4 million low point in 2009.
"From a business owner's perspective, it means it could be the right time for a company to evaluate its strategic options," Claypool said. "Valuations are healthier, but they're still (attractive) enough for both buyers and sellers. Another interesting thing out of this is that Midwest companies are receiving disproportionate interest from private equity firms. Nineteen percent of companies that were being looked at by private equity firms were in the Midwest – more than any other region in the country,"
On the buying side, "it could also be a good time to explore acquisitions," he said. "This opens up opportunities for companies with the firepower to do so."