DMARC looks to increase ability to fight food insecurity with move to new building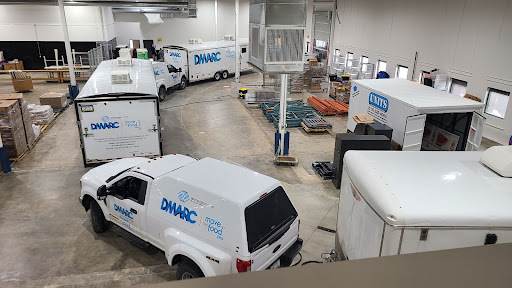 DMARC mobile units are parked in the agency's new building on Army Post Road.

Photos submitted by DMARC
The Des Moines Area Religious Council has been busy this past week moving into its new building on Army Post Road, a move leaders say will allow the agency to grow and increase its ability to fight food insecurity.

The move, announced last fall, was part of a $5.6 million capital campaign to buy the former Iowa Medicaid building at 100 Army Post Road, leaving its current headquarters on Mulberry Street in downtown Des Moines.

The move will allow the agency to expand space for offices, conference and training rooms as well as leased space for some of its partner organizations, and will provide a warehouse that is four times larger than its previous space. It will also revolutionize the agency's cold-storage capacity, increasing 10 times over previous limits, CEO Matt Unger said.

DMARC is an interfaith organization made up of more than 125 congregations from five faith traditions. It manages a food pantry network consisting of 14 sites, a mobile food pantry, food warehouses and various community supporters. According to its website, the food pantry system is the largest in Iowa, with sites in Des Moines, Ankeny, Clive, Johnston, Urbandale and West Des Moines.

From packing files and breaking down furniture, DMARC staff members and volunteers have been busy preparing for the move to its new building. They plan to be moved in and to begin operating out of the building on Monday.

"By [Friday] we should have moved and be under one roof and be in a position to grow," Unger said. "I think about all the ways we were limited and all the tough conversations we had that we can't do that or we can't take that. We won't have to say no anymore, which is really exciting. We'll be able to provide for refugee and immigrant populations in a way that we haven't been able to before and have those items available all the time now, to do more around those things like personal care items, the things we know everybody needs that you can't use [food assistance] benefits to get, to provide in that way."

The new building will also provide better working conditions for the staff and volunteers, Unger said.

That includes moving the mobile team from a fenced area on a hill behind DMARC's previous building to inside the new building on Army Post Road.

"What's possible by changing so much is so exciting," Unger said.

The new location will also have an on-site food pantry, providing another option on the city's south side, which Unger said is an area of high need.

There may be a few final touches that need to be done, such as graphics and the installation of some racks.

"Otherwise it's a done deal," Unger said.

He said everything should be done in time for a grand opening event, to be scheduled in May.

Below: DMARC has been busy moving into its new building on Army Post Road, which will have four times more warehouse space than the agency's downtown building had and new office space.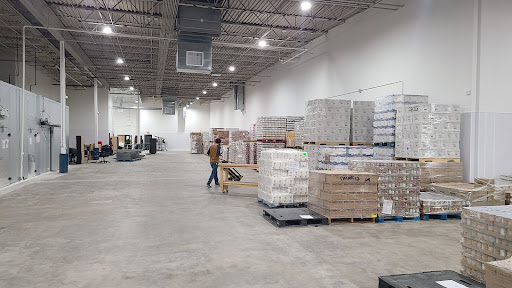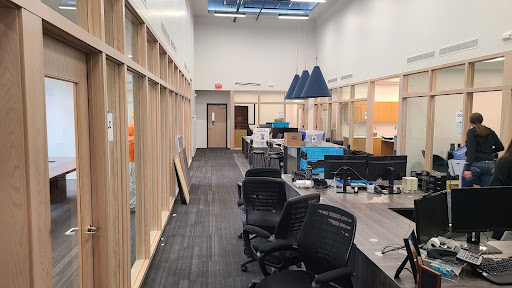 Facebook Notice for EU! You need to login to view and post FB Comments!