Executive MBA class makes way across I-80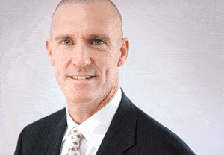 Sally Dix drove from Des Moines to Iowa City weekly during the fall and spring college semesters for two years.
Dix, now the executive director of the Susan G. Komen for the Cure Des Moines affiliate, decided she wanted to advance her career by enrolling in the University of Iowa's Executive MBA program, which she completed in 2009. Starting in January, the program will be offered in Des Moines.
"That would have certainly been nice," Dix said with a laugh. "There's only so much you can cram in."
The program alters the university's traditional MBA program to meet the needs of business leaders or people looking to become business leaders who have had a number of years of experience in the field.
The average student is 39 years old and has 17 years of business experience, said program Assistant Director Alexander Taylor.
Students take 18 classes on weekends over a two-year period designed to give an all-around experience in how to think about the big picture of a business.
"This program offers the skill sets that enable businessmen and women to understand the complexities to make critical decisions, work critical problem-solving, go through all the aspects of running a complex organization on a global basis," Taylor said.
Dix was one of many who traveled from Des Moines to the Iowa campus on a weekly basis. Typically anywhere from five to 10 students per class would come from the Des Moines area.
With class sessions, group work and class work eating up around 20 hours a week for students, another three to four hours a week on the road made the commitment that much tougher.
That was one of the reasons for the program's expansion. Although Drake University and Iowa State University both offer MBA degrees, neither of those schools offers an executive MBA program.
"Part of the reason we are offering the program in Des Moines is to meet a need that currently isn't met," Taylor said.
The other reason is demand. The Iowa Medical Society endorsed the program, recently offering to give employees a $4,000 discount on the program's $55,000 all-inclusive fee.
Students who take the program in Des Moines can expect classes on Friday and Saturday every other weekend during the school's traditional fall and spring semesters.
In addition, students are required to take part in three weeklong retreats – a pair of residency weeks in Iowa City and seven- to 10-day international trip.
The international trip will be to either Brazil, Russia, India or China. The purpose is to expose students to doing business on an international basis.
Student groups will be assigned to an organization and perform an unofficial business audit to present to the program's faculty and fellow students.
Taylor emphasized that one of the major advantages of the program was having the opportunity to work with other business leaders to see different perspectives, as well as work with the MBA program's best professors. Students are also split into study groups on the first day for the remainder of the course.
"The networking that goes on between these students gives them an additional resource when they leave and graduate with their MBA degree," Taylor said. "They can always call back on any number of classmates and especially their study group for additional input or help."
For Dix, the program offered a chance to supplement her on-the-job training with a wider perspective.
"It sounds obvious to say 'you know what you know,' but I was in a position where I didn't know what I didn't know," she said. "For me the EMBA was a good opportunity to broaden my perspective on what was out there professionally for me in addition to enhance what I was currently doing."
The first class in Des Moines will take place on Jan. 10. So far, 13 students have signed up, and the program is budgeted for 32 students in the first semester.
To apply, students must submit transcripts, Graduate Management Admission Test test scores, an application, an essay and a resume. For more information on applying, contact Taylor at alexander-taylor-1@uiowa.edu.