Face-lift planned for Westowne Shopping Center in West Des Moines; a portion of the makeover is already underway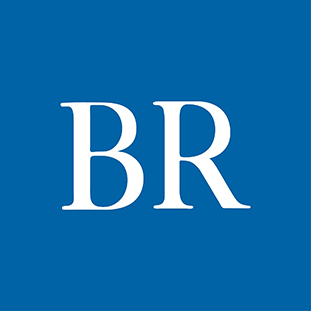 The exterior of Westowne Shopping Center at 1400 22nd St. in West Des Moines will be updated with a more modern look, according to its owners.
Architectural rendering by Simonson & Associates
Plans are underway to refresh the exterior of an aging West Des Moines strip center that is visible from the interstate and a heavily traveled street.
The Westowne Shopping Center, owned by Kansas City, Mo.-based Block Real Estate Services, was constructed in 1972, and since then few improvements have been made to the structure's exterior, Scott Lipovac, a member of the ownership group, said during a recent meeting with city officials.
"We're really excited about the plan to really revitalize the center and give it new life," Lipovac said.
Plans include eliminating the sloped green metal roofs that form canopies over tenants' entryways and replacing them with flattened towers that include the names of stores, he said.
"What we want to do is create entry portals that are unique instead of a monolithic design that goes from one end of the center to the other," Lipovac said. "We want everything to look like it has a unique storefront."
A portion of the center's makeover is already underway.
Floor & Decor, a hard-surface floor retailer with 128 warehouse-format stores in 30 states, will anchor the strip center at 1400 22nd St. In January, the Atlanta, Ga., company was issued a building permit valued at $6.4 million to remodel nearly 79,000 square feet of space previously occupied by Gordman's, a discount store. The building permit is for interior and exterior renovations.
It has not yet been announced when the remainder of the center, which includes Michael's craft store, Dollar Tree and Firestone Auto Care Center, will be updated.
Block Real Estate Services purchased the center in November 2019 for $15.9 million.
Officials from Block Real Estate Services have been working with city officials on design plans for the 22-acre site.
A sticking point is the height of a sign proposed to be located in the southeast corner of the property. Property owners have requested that the sign be 38 feet tall; West Des Moines' code allows for interstate signs to be no taller than 30 feet.
"There really isn't a lot of justification to have a sign as tall as what is being asked for," Lynn Twedt, the city's development services director, said during a recent meeting.
Lipovac said the sign "is attractive and something that's not going to be an eyesore. … The [Westowne] center is right off [Interstate] 235 and we want to make sure people see what stores we have before passing by."

City staff members are reviewing sizes of other signs within the city and along the interstate.

Photo above: About 79,000 square feet of space is being remodeled at Westowne Shopping Center in West Des Moines. Floor & Decor will be located in the space. Business Record photo
Facebook Notice for EU! You need to login to view and post FB Comments!