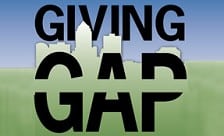 Steve Zumbach has been in Des Moines for 35 years, and he has seen a lot of change for the better.
Zumbach, an attorney at Belin McCormick P.C. and chair of United Way of Central Iowa's 2010 annual giving campaign, thinks Des Moines is a great place in which to live and work, and backs up his opinion by pointing out the numerous "best of" lists that Greater Des Moines has been on.
Why? Because city leaders make things happen by giving time and money to philanthropic and charitable endeavors. Zumbach talks about city amenities in culture and the arts, such as the John and Mary Pappajohn Sculpture Park and the Science Center of Iowa. He talks about human services, referencing United Way of Central Iowa, and economic development, led by the Greater Des Moines Partnership. Throw in strong public and private universities, led in part by their capital campaigns, and Greater Des Moines offers the full package.
"Do you see a theme here? It doesn't matter which area we are in," Zumbach said. "It's not like we are just good in one area. We're good in everything – and perform well at everything."
It wasn't always this way, he said. And challenges remain in the future.
The Capital Crossroads area visioning plan released its Competitive Capacity Assessment earlier this year that identified concern about a "philanthropic gap." Simply put, when the current generation of leaders stop giving, will there be somebody to step in for them?
Area leaders believe there will be. To understand why, it's important to know why the area ranks well to begin with and how that sets up a culture that will prevent a future gap.
'It is the culture'
"This is a very strong community in corporate philanthropy and corporate leadership," said Martha Willits, president and CEO of the Greater Des Moines Partnership. "It is the culture of this community. It is the model. It's hard to name a major business and many hundreds of others that aren't involved in the Partnership or with our organizations in this community."
When Zumbach and his wife moved to Des Moines in the mid-1970s, it was a different story.
"The downtown was full of empty storefronts – a lot of dilapidated buildings," Zumbach said. "It didn't look like a place you really wanted to be. (There was) little day or night life. It was very unclear where the community was going."
To add to the problems, the city couldn't get a bond issue approved to build the Civic Center of Greater Des Moines. So local business people raised the money to construct the performing arts center, which opened in 1979. Zumbach credits the late David Kruidenier, the late John Fitzgibbon and the Brenton family for spearheading the project that "sparked the rebirth of downtown."
"That evolved in us, I think, a realization of what we could achieve," Zumbach said. "We couldn't rely on government and shouldn't rely on them for some of these types of amenities."
Over the years, he said, that realization has manifested itself in other corporate leaders who stepped up, such as John and Mary Pappajohn and the Ruan family. That culture has led to a pair of projects similar to the current Capital Crossroads visioning project that have leveraged corporate support to make improvements in the community. It has also led to a strong spirit of human services, evidenced by United Way of Central Iowa numbers.
Area leaders point to the United Way campaigns for a black-and-white benchmark of where the community stacks up. The Central Iowa chapter has done well enough to make others take notice (see sidebars).
Shannon Cofield, president of United Way of Central Iowa, has been with the organization since 2004 but is not a native Iowan. She said she noticed right away the difference in culture between Greater Des Moines and other places in which she had lived. "It just seemed like that's what people do here," she said.
It starts with the corporate leadership that heads up the campaigns, and trickles down to other CEOs in the community and the businesses they run, she said. Earlier this month, Cofield watched as a room of eight to 10 CEOs from the largest giving companies made a commitment of what their organizations would strive to donate to this year's campaign.
"I just think that's an enormous commitment to make in front of your peers," Cofield said. "It's millions of dollars."
Filling the 'gap'
The Capital Crossroads plan's Competitive Capacity Assessment took into account public input from surveys, focus groups, one-on-one interviews and a steering committee made up of some of the key civic and business names in the region, including Zumbach, Willits and Cofield.
The assessment commends Greater Des Moines for its "long history of strong civic capacity demonstrated by a succession of forward-thinking public and private leadership." But: "Some stakeholders are concerned that the 'next generation' of leaders has yet to be identified, leading to a potential 'philanthropic gap' as older leaders step aside."
"It was very clear in the steering committee of Capital Crossroads from one of the very first meetings, that they are aware that there will be a passing of the torch in this community and that we need to, with thought and strategy, plan how we are going to prepare for the next generation of leaders and givers," said Kristi Knous, who will take over as president of the Community Foundation of Greater Des Moines on July 1.
It's an assessment not taken lightly, but one that leaders think is addressable.
"It could be a problem," Zumbach conceded of the potential gap. "We're simply going to have to do a better and better job of demonstrating the value of what is purchased with the philanthropic dollars. I'm optimistic, because we're putting the fundamentals in place for the new age of philanthropy, and that's accountability. If we execute on that, I think we'll continue to do well."
"If we didn't identify it, we've got no hope," added J. Barry Griswell, who is transitioning from president to CEO of the Community Foundation. He said he expects giving to look slightly different in the future due to generational differences, but noted, "I think almost every organization in town is seeking a way to connect with the younger generations."
Bankers Trust Co. President and CEO Suku Radia is trying to connect on a personal level, through free one-hour meetings with young professionals on Saturdays and Sundays. Radia, who chaired the United Way campaign in 2009, said he thinks most community leaders will take the time to try to connect with the younger generation, which will help fill the gap.
"They see the CEO being involved, and you see people following the leaders and saying, 'Hey, this might be a good thing for me to volunteer,'" Radia said. "You have to create a culture."
Cofield thinks the culture is already there for the younger generation to step up, and notes that the biggest worry is not that people will stop giving time or money, but that the people will have to fill in for the "icons" of the community.
"You had, for many years, sort of the icons – the Marvin Pomerantzes, the Levitts, the David Kruideniers," she said. Pomerantz was president of the Board of Regents and donated millions to higher education; Maddie Levitt was well-known for leading charitable campaigns and served a number of nonprofits; Kruidenier was the former publisher of the Des Moines Register and raised money for the Civic Center and other projects. "I think the question is: Who are those people going to be next?"
It likely won't be just a handful of people, Knous said.
"In the future, I don't know if we'll have those 10 huge names with just incredible resources that can take on enormous community projects on their own," Knous said. "More and more we're going to need to bring more people around the table to pool our funding together to make those projects happen."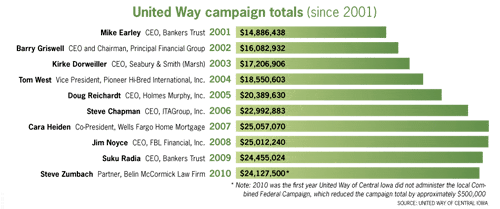 The United Way of Central Iowa campaign totals give a snapshot of how much the corporate community has stepped up. The Central Iowa chapter ranks well in per capita giving, to the point that other chapters are "mindful and cognizant of the success that we enjoy in Des Moines and the level of community support," said Shannon Cofield, president of the United Way of Central Iowa. Campaign contributions took off between 2001 and 2007, in large part because of an increase in leadership giving, defined as those who contribute $1,000 or more per year. About 3,800 donors now fall into that category, a spokesperson said.
Also helping is an increase in the number of people who are part of three groups: the Tocqueville Society, which requires a $10,000 per year donation, the Women's Leadership Connection and the Education Leadership Initiative.
Things have leveled off since 2007, in large part because of the recession. But the Central Iowa chapter still ranks as one of best in the nation when it comes to per capita giving. "Not only does it raise the most per capita income, it does it the most efficiently in terms of cost of fundraising," 2010 campaign chair Steve Zumbach said. "That's stunning."