First phase of new Ankeny sports complex expected to be completed by October
3 new buildings also planned in Prairie Trail retail district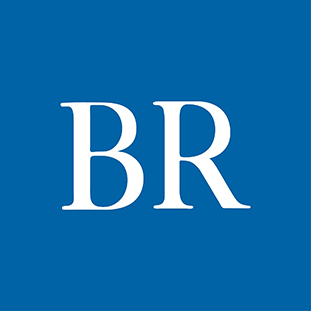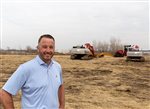 An Ankeny resident with a background in coaching at the youth and college levels is developing a sports complex in the community that will provide young athletes involved in a variety of sports a place to practice and compete.
Prairie Trail Sports Complex, which is proposed on about 9 acres at 2250 S.W. Vintage Parkway in Ankeny, is expected to include more than 96,800 square feet of indoor athletic space spread over three buildings, said David Lane, the project's developer. A fourth building could be erected if there is demand for it, he said.
"There is a shortage of indoor athletic facilities in Ankeny," said Lane, a former high school and college basketball coach. "During COVID, when the schools were shut down, that need was really amplified. Many of the clubs – and Parks and Rec – use the school gymnasiums for practices and you couldn't get in them because they were closed."
The proposed development is one of four new projects planned in Ankeny's Prairie Trail, a 1,031-acre planned community located on the former site of Iowa State University's Dairy Research Farm. The other three projects are planned in the District, Prairie Trails' commercial area. They include:
A 36,919-square-foot, mixed-use building called District 5. The three-story, L-shaped building will be anchored by the Breakfast Club, a trendy restaurant that serves breakfast foods and cocktails. The restaurant will be located in street-level space. Office space is planned on the second and third floors of the new building, which will be located southwest of the development's Town Square Park. Construction is expected to begin this spring. The Breakfast Club, which has a location in downtown Des Moines, is expected to open in spring 2023, said Ashley Johnson, marketing director for DRA Properties LC, Prairie Trail's master developer.
A 31,000-square-foot, four-story building with a permanent stage that will be located on the west edge of the park, Johnson said. The stage is expected to be ready for use by the 2023 event season, she said. The building's first, and possibly second, floors are expected to include an "entertainment, food and beverage use. We are looking forward to placing just the right tenant in this space," Johnson said.
A 133-room Home2 Suites and Tru by Hilton that will be located south of Kirkendall Public Library. The hotel is being developed by Kinseth Hospitality, which operates the Residence Inn by Marriott, also located in the District. Construction of the new hotel is expected to begin this spring.
"The District has remained quite healthy throughout the pandemic," Johnson said. "The local community has been very supportive, and businesses – commercial and office – continue to want to locate in the District."
Youth sports tournaments are expected to be held on weekends at Prairie Trail Sports Complex, planned west of the District. Tournament participants and spectators will likely be patrons of the retail shops, restaurants and hotels in the District, Johnson said.
"From an economic standpoint, it will be great," Johnson said. "You're going to continue to have new people coming from outside the region who will be exposed to these local businesses, local restaurants. … [Visitors] will be taking advantage of what the District is meant to be – a destination – and that's what we're excited to see."
The first phase of the sports complex is the Fieldhouse, a 33,000-square-foot facility that will include four basketball courts, four volleyball courts, three batting cages and 12 pickleball courts, Lane said. Construction is expected to be completed by October.
In 2023, a second building – the Diamond – is expected to open. The 13,800-square-foot facility will include batting cages for softball and baseball as well as an area for speed and agility training, Lane said. A third building, called the Coliseum, is planned for 2024 and will include space dedicated to wrestling, esports and about 37,000 square feet of turf for soccer, lacrosse and rugby. The building would be about 50,000 square feet, he said.
The Fieldhouse will be constructed with pre-engineered metal and its exterior will include brick and stone accents. Development costs are estimated at $7 million.
"We want this to look like an athletic, youth sports campus," Lane said.
The demand for indoor athletic facilities has been well documented in Ankeny.
In March 2019, the Ankeny City Council adopted a Parks and Facilities Comprehensive Plan that, among other things, indicated an immediate need for 77,500 square feet of indoor recreation space. That need is expected to grow to more than 110,000 square feet by 2023, according to the plan.
Ankeny's population grew nearly 50% between 2010 and 2020, from 45,482 residents to 67,887, according to U.S. Census Bureau data. About 18,000, or 27%, of the community's residents are 18 or younger.
"Ankeny has a lot of kids, and it seems like almost all of them are involved in some type of sporting activity," said David Jones, Ankeny's city manager.
"There's a strong demand for [indoor] facilities and I think it was just a matter of time before the private sector stepped up to do something like this."
The project is planned on land owned by DRA Properties.
Lane said he is finalizing an agreement to buy the land.
The Prairie Trail Sports Complex will be privately operated and will be supported by its members, Lane said. The facility will also sponsor weekend tournaments as well as partner with groups on tournaments.
A concession stand will offer popcorn, candy and drinks.
"We want to find our niche," Lane said. "We want to be a good neighbor to surrounding businesses that can benefit from us bringing in large numbers of people at certain times that [the businesses] will be able to provide services to."
---
30hop headed to Prairie Trail
30hop, a restaurant and bar with locations in Coralville and Cedar Rapids, is opening a venue in Prairie Trail, according to its website. 30hop, which offers a rotating selection of craft beers, will be located in street-level space in Prairie Trail's District 4 building at 1615 S.W. Main St. in Ankeny. A summer opening is planned.
---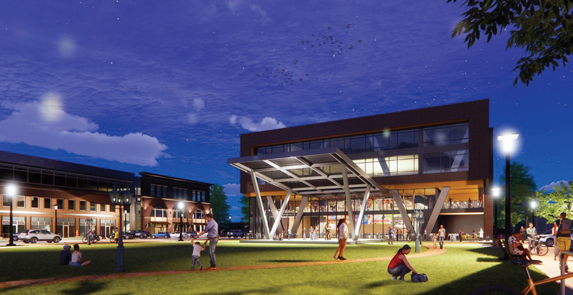 Construction is expected to begin this year on two mixed-use buildings in Prairie Trail, a planned community in Ankeny. A three-story building will be anchored by the Breakfast Club. A four-story building will feature a permanent stage where live celebrations will be held. Architectural rendering by Imprint Architects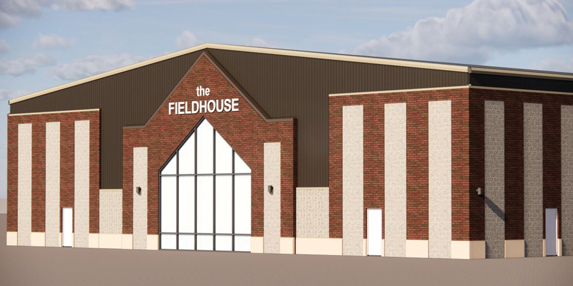 The Fieldhouse, a 33,000-square-foot indoor athletic facility, is expected to open in October in the Prairie Trail Sports Complex, a development planned in Ankeny. Architectural rendering by Imprint Architects
Facebook Notice for EU! You need to login to view and post FB Comments!