Former home of landscape firm fits needs of LifeServe
New two-story headquarters will be nestled among mature trees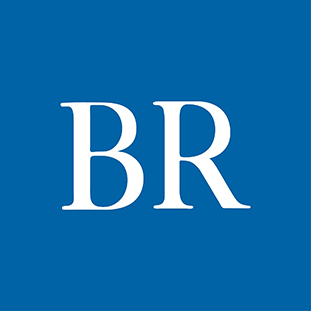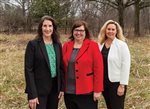 Weeks of meetings, site visits and more meetings took place before LifeServe Blood Center's board and executive team found the right location on which to build the nonprofit's new headquarters.
Each property the group considered over a several-month period met one or two criteria for a site for a new headquarters, but none met all of them, said Matt Brown, president of Formation Group, a West Des Moines-based building consultant business working with LifeServe.
It wasn't until Stacy Sime, LifeServe's president and CEO, drove by vacant property along Merle Hay Road in Johnston that the right fit for the organization was found.
"Stacy drove by a site that used to be Heard Gardens back in the day and called me and said 'What about this one?'" said Brown, a former Johnston city councilman who was familiar with the property on the northeast corner of Merle Hay Road and Johnston Drive. "I thought to myself 'Oh, that's a tough one.'"
The site is unique because of its abundance and variety of mature trees, some of which are not native to Iowa. But the uniqueness also makes the site challenging to develop, a likely reason why it was not redeveloped after Heard Gardens moved to West Des Moines in the early 2000s, Brown said.
"Because the site had been a greenhouse, trees that don't get sold get planted … so there's all these unique trees that you don't want to cut down, which means trying to fit a building around them," Brown said.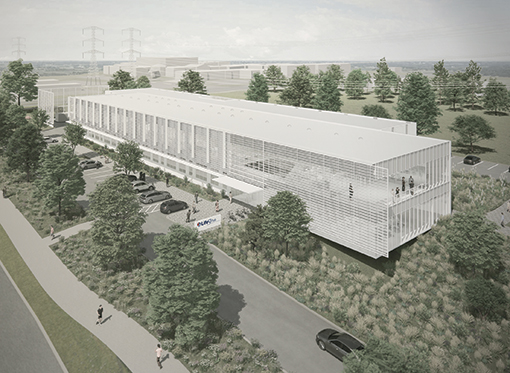 Sime continued advocating for the 6.1-acre parcel that met the criteria for a new location for the blood center's headquarters because it's:
Located in the northwest section of Polk County, close to where employees and volunteers live.

Visible to travelers along Merle Hay Road.

Near Interstate Highway 80, making access easy for semi-trailers delivering equipment as well as blood donors, patients, volunteers and employees.

Adjacent to trails for employees and others to use.

Close to restaurants and other amenities.

Filled with ample green space that's available to develop into a garden honoring donors and others.
A team of architects and others determined whether a building that fit both current and future needs of the blood center could be built on the site with minimal disturbance to the trees.
"Once the decision was made that this was the site, we haven't looked back," Brown said. "The uniqueness of the site has really fit with LifeServe."
Current LifeServe headquarters 'inefficient'
In 2002, LifeServe Blood Center moved into a former bank building in Des Moines' East Village, located between the Des Moines River and the Iowa State Capitol. At the time, the area was just beginning its transformation into a bustling district filled with retail shops, restaurants, hotels, offices and residences.
The center's property at 431 E. Locust St. occupies nearly a full square block between East Fourth and East Fifth streets and East Locust and East Walnut streets. (Beechwood Lounge is located in a century-plus-old building located on a sliver of land at 416 E. Walnut St.)
The three-story building includes administrative offices, laboratory and storage areas and the donor center.
"Every bit of supplies that we get in this facility, come into our garage and have to go up an elevator to the second floor just to come back down, to basically go back out across a large geographic footprint," Sime said. "Over time, we've realized that those inefficiencies are just causing us so many problems."
Semi-trailer trucks carrying large pieces of equipment, containers with blood bags and other supplies regularly drive into the East Village, a pedestrian friendly neighborhood. In addition, three bloodmobile buses regularly come and go from the center's parking lot.
In recent years, as more development occurred in the East Village, it became increasingly apparent the blood center wasn't a good fit for the area, Sime said.
Discussions about moving to a new site began before the start of the pandemic, Sime said. The discussions were shelved for several months while navigating the world health crisis.
Talk of relocating resurfaced in early 2021 as the organization continued outgrowing its site, she said. Future growth involving increased work with cancer patients meant the need for more laboratory space and additional patient rooms. Office space for employees was obsolete.
The time had come to begin planning for the future, she said.
"We had a good sense of what our future workforce as it related to offices would look like," Sime said. "We were starting to get a better picture on what some of the things we were going to do with our laboratory."
New headquarters in Johnston
In early 2021, the blood center's executive staff and board began exploring whether to remodel the existing building or move. It became quickly apparent that remodeling the current facility would be too costly. Discussions turned to whether to buy an existing building and remodel it or build new, Sime said.
"At the time, there just wasn't anything that we could affordably remodel and make work," she said. "We pretty quickly settled on looking for a piece of land and designing and building new."
After the Johnston site was selected, the group hired BNIM architectural firm, which has offices in downtown Des Moines, to design the building. Several different building footprints were tried before the group settled on a long, rectangular shaped, two-story building. The south side fronts Johnston Drive.
"We've respected those trees that are along Johnston Drive and Merle Hay," Brown said. "We've pulled the building back away from the corner and moved staff parking to the northeast corner of the site so that it's not a dominant feature."
Large spans of glass make up the east and south sides of the building. Cantilevers will cover the outside of the windows to help cut down on glare from the sun and heat, Brown said. Blood donors, patients, volunteers and other visitors will enter the building from the south. A staff entrance and delivery area is planned on the building's north side.
The building materials that will be used on the building's exterior haven't yet been decided on because of supply-chain related issues, Brown said. Once a construction manager is hired "we'll be able to better understand material availability and get the right materials at the right price. … This isn't 'let's do it, do or die.' It's 'Let's make sure we do what is right.' "
The two-story building will be about 56,000 square feet. The donor center, laboratory and supply area will be on the first floor. The second floor will include executive offices.
Development costs are estimated at $20 million.
The building's design will allow for future expansions if needed, Sime said.
"We want to make sure that we're not just planning for a building that meets our needs today but that it is really thinking about what we could do into the future," Sime said.
The center likely will move to its new location in Johnston in spring of 2024.
What becomes of current headquarters
The blood center's current property will likely be put on the market in the coming weeks, Sime said. Bill Wright, a senior managing director at CBRE|Hubbell Commercial and his team at the West Des Moines company will be the listing agents, she said.
An asking price for the property, which includes nearly 2.5 acres and is valued at $5.7 million, will not be included in the listing. The center likely will move to its new location in Johnston in spring of 2024.
"We're going to ask [potential buyers] to put a bid on the property and we'll consider all of the offers at the same time," Sime said. "We've heard lots of ideas from people who are interested in the property.
"It'll be exciting to see how this site is redeveloped."
LifeServe: by the numbers
In 2010, the Blood Center of Iowa and Siouxland Community Blood Bank, both nonprofit blood centers, merged to become LifeServe Blood Center, which serves Iowa, Nebraska and South Dakota. The data below is for 2021.
161,588 – Number of blood products sent by LifeServe Blood Center to its hospital customers and other blood centers.

141,348 – Registered LifeServe donors.

10,274 – First-time donors.

2,415 – Mobile blood drives held in Iowa, Nebraska and South Dakota.

1,867 – Blood drive coordinators.

340 – LifeServe employees.

157 – Hospitals in Iowa, Nebraska and South Dakota served only by LifeServe.

11 – Donor sites in Iowa and South Dakota. A donor site is opening in May in Pella and another is opening in the fall in Aberdeen, S.D.

Source: LifeServe Blood Center
---
Downtown donor center
LifeServe Blood Center will continue to have a donor center in downtown Des Moines after it moves its headquarters to Johnston, said Stacy Stime, the group's CEO and president. The group will begin looking for a new site for the downtown donor center in late 2022, she said.
"It will be somewhere that we have parking access and bus access," she said.
Since the pandemic, more people are working from home, prompting LifeServe to open donor centers in areas in or near neighborhoods, Christine Hayes, LifeServe's vice president of operations, said.
"There are still people working downtown and we want a presence down here for them," Hayes said. "You'll see us have a donor center footprint downtown very similar to what we now have in Ankeny or Urbandale or West Des Moines. It just won't be surrounded by corporate headquarters like it is today."
---
What was Heard Gardens?
The name "Heard '' began being associated with landscaping in 1928 when Clyde Heard, a horticulture professor from Idaho, opened Heard Landscape Services on Hickman Road in Des Moines, according to a timeline at wrightoutdoorsolutions.com. The company later moved to five acres along Beaver Avenue.

In the 1950s, Bill Heard, Clyde's son, bought 14 acres along Merle Hay Road in Johnston where he moved the nursery, operating it under the name Heard Gardens Ltd.

Bill Heard was a landscape adviser for the White House grounds under four U.S. presidents, according to the timeline. His specialty was growing lilacs, which he turned into a small mail-order business.

The company was purchased in 1991 by Bob and MaryAnne Rennebohm, who continued to operate it as Heard Gardens. In 2001, the business was moved to a 40-acre site near the Raccoon River in West Des Moines. Six years later, Wright Service Corp., purchased Heard Gardens.
The landscaping business site in Johnston has not been redeveloped since Heard Gardens left, according to Adam Plagge, Johnston's economic development manager.

"Many projects have been conceptualized for the former Heard Gardens property over the years, including car dealerships and light industrial buildings which would have been a stark contrast to the property's legacy and current tree covered state," Plagge wrote in an email.

"However, LifeServe [Blood Center's] life-giving mission and redevelopment concept are a wonderful continuation of Heard Gardens' legacy of bringing life to the city through the many trees and flowers Heard Gardens cultivated," Plagge wrote. "Many of those trees will continue to grow on the now LifeServe property. [LifeServe] will also put the property to good use for their own lifegiving mission."
RELATED ARTICLES:
New LifeServe headquarters designed without building materials selected; design process not typical, says architect
Numerous redevelopment options for current LifeServe property
Facebook Notice for EU! You need to login to view and post FB Comments!