George Sherman shares plans for future projects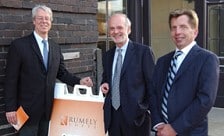 Sherman Associates Inc. has identified two more properties in downtown Des Moines that it would like to convert into living spaces.
George Sherman, who founded the Minneapolis-based commercial real estate company in 1991, was in town last week to unveil his Rumely Lofts project, a 66-unit affordable-housing development at 104 S.W. Fourth St.
Sherman Associates, which in 2004 completed the Vine Street Lofts apartments and its sister condominium project, Waterstreet Brownstones, intends to add more housing options in the city while also working on commercial development opportunities.
"We understand the market has to correct itself a bit, but we are already looking at some other historic buildings to acquire," Sherman said, adding that one of the prospective properties would become a market-rate apartment complex. The other, he said, would offer a mix of low-income housing and market-rate units.
"Our thought in at least Des Moines right now is predominantly focused on two areas," Sherman said. "One is the development of more urban housing."
Rumely Lofts, which on Oct. 1 began leasing one- and two-bedroom units ranging in size from 729 to 1,115 square feet, is already home to about 25 tenants. Sherman expects the building's residential spaces to be 70 percent occupied by Jan. 1.
Sherman Associates has also completed construction at Metro Lofts, a 111-unit housing development at 255 Vine St., one block east of Rumely Lofts. That project, which was finished about a month ahead of schedule, adds 100 market-rate and 11 affordable-housing units to the downtown housing market.
Frana Cos., the general contractor for both Rumely Lofts and Metro Lofts, broke ground on the latter project in April. Sherman said tenants will begin moving into Metro Lofts around Dec. 1. He expects the building to fill by June.
"I think the rental volumes are certainly meeting our expectations right now," Sherman said.
Several features of the 107-year-old Rumely Building's interior and facade were retained during the remodel, including a portion of a red six-story package slide that was preserved and mounted as a centerpiece inside the north entrance.
In order to qualify for the historic tax credits awarded to the project, Sherman Associates agreed to preserve certain historical attributes of the property, which over the years has housed a pharmaceutical company, a threshing machine manufacturer and, most recently, a repository for business files.
A stamped-metal ceiling is one historical highlight of the building's two first-floor commercial spaces.
Broker Peter Brown of Peter A. Brown Commercial Real Estate Services is working to lease the 3,586-square-foot and 1,759-square-foot bays. The larger unit faces the Science Center of Iowa on the south and the north bay looks toward Court Avenue.
Brown, who said small office users would be ideal candidates for those spaces, said slight improvements will be made as the landlord negotiates lease rates and allowances with potential tenants.
At least one party has shown serious interest in the smaller unit, Brown said.
Sherman, whose company owns about 1.3 million square feet of commercial space and 7,000 apartment units in cities including Denver, Kansas City and St. Louis, said 97 percent of the company's residential units are occupied.
He said those strong occupancy rates indicate that the rental market may be poised for recovery.
"Right now, a lot like other developers, we have to be very cautious about what projects to work on," Sherman said. "The economy is still very fragile, but our indications are that the rental market is remaining strong."
About 60 percent of Sherman Associates' commercial portfolio is composed of retail space, Sherman said, adding that the company owns a number of hotels in the Midwest.
In Des Moines, Sherman Associates is working with Quest Development & Construction Inc., a South Dakota-based developer that plans to construct two hotels in Gray's Lake Office Park.
The Des Moines City Council recently approved a rezoning request that will allow that project to move forward.
Sherman Associates is the master developer of Gray's Landing and Gray's Lake Office Park, the 55-acre commercial component of an approximately 125-acre expanse of land that the company has assembled on the southern edge of downtown.
About 70 acres west of Southwest 11th Street and south of Tuttle Street have been slated for residential development.
"Obviously, the recession has had a major impact on that," Sherman said of the for-sale housing market.
On the commercial side, which is situated along Southwest Ninth Street and West Martin Luther King Jr. Parkway, Sherman said he expects a large institutional user to soon announce its intention to construct a building with several hundred thousand square feet of space within the next 12 months.
Sherman Associates plans to sell 10 acres to that yet-to-be-identified organization.
"They are meeting with some of the politicians right now and have to meet with their own board, but we assume they will make an announcement in January," Sherman said.
Rumely Lofts received from the Iowa Finance Authority (IFA) an installment of low-income housing tax credits, or LIHTCs, which Sherman sold to an Irvine, Calif.-based tax-credit syndicator to generate equity in the project.
To qualify to live there, residents are subject to certain income guidelines. A single occupant, for example, must earn less than $30,780 a year to be eligible. Rents run $743 to $887 a month.
Sherman said low- to moderate-income apartments make up about 50 percent of his company's multifamily housing portfolio.
Jay Trevor of Chicago-based J & T Development Inc. and Dick Sontgerath of Heritage Affordable Housing in Seattle each presented similar plans to redevelop the Rumely Building during the three-year period leading up to Sherman's September 2009 acquisition of the property.
The construction phase lasted about a year.
On Nov. 10, Mayor Frank Cownie; City Manager Rick Clark; Tim Leach, vice president of economic development with the Downtown Community Alliance; and Joe O'Hern, executive director of the IFA, attended an open house and ribbon-cutting ceremony.
"We tend to work in cities where people ask us to work," Sherman said. "Most often, neighborhood organizations or local business organizations call us. They like that we are responsive to the neighborhood design issues, the neighborhood use issues. Usually we tackle some pretty tough stuff."
"It's been a decade-long relationship that we are pretty proud of," Leach said.