Gerhart named Iowa insurance commissioner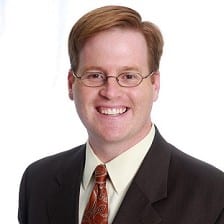 Gov. Terry Branstad on Thursday named Nick Gerhart as the new Iowa insurance commissioner.
Gerhart, 37, will begin work within the Iowa Insurance Division this fall, and will fully assume responsibilities from current Commissioner Susan Voss, who plans to retire from state government at the end of this calendar year.
"I want to thank Susan Voss for her great service to the state of Iowa," Branstad said in a release. "Nick Gerhart is a bright, talented executive who understands the vital importance of this industry in our state. Nick understands the challenges within the industry as well, and is a problem-solver who will excel in this position."
He currently serves as the vice president of compliance and regulatory affairs at the Sammons Financial Group. Previously, he served as the vice president of compliance communications and associate general counsel at American Equity Investment Life Insurance Co.
Gerhart graduated cum laude from the University of Northern Iowa with a Bachelor of Arts degree in history. He earned a law degree from the Saint Louis University School of Law in 2001, and went on to attain a Master of Health Administration in 2002.
He and his wife, Jessica, reside in Des Moines. They have two daughters.