Group of Black firefighters launches DMACC scholarship fund for African-American DMPS graduates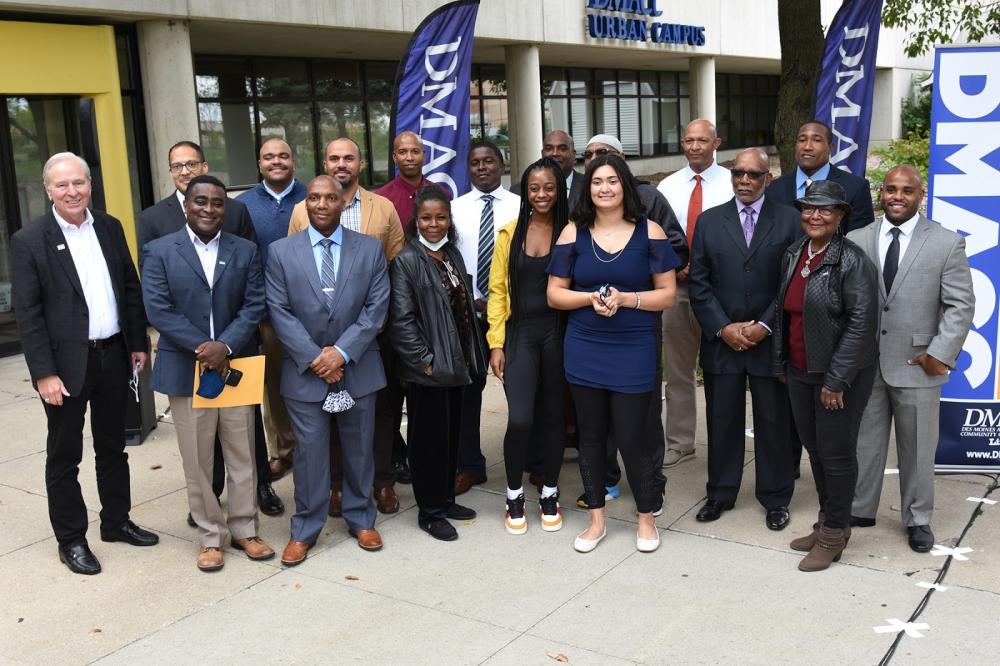 With DMACC President Rob Denson, far left, and Des Moines firefighter Mike Williams, third from left, members of Igniting Futures and other supporters gather with students receiving scholarships to celebrate the launch of the new scholarship program for African American students.

Photo courtesy of DMACC
Aaliyah Jones was 17 when she was hired last year by Hy-Vee as a grocery worker. Jones, who graduated from Hoover High School in May, didn't think until recently that she would be able to afford to go to college because she was already paying her own living expenses as an independent adult.

Fortunately for Jones and three other recent Des Moines Public School graduates, several Black Des Moines firefighters have formed a grassroots group they've named Igniting Futures. Pooling their own savings, they've created the Fostering an Individual's Right to a Higher Education Scholarship at Des Moines Area Community College.

Together, the 18 men have donated $4,000 of their own money — funding four $1,000 scholarships for four selected students of color to attend their first year at DMACC. In gratitude for their generosity, DMACC and the DMACC Foundation have matched their contribution with $4,000 toward the students' second year at DMACC.

In addition to Jones, those receiving $1,000 scholarships are:
– Bahati Eleson, Hoover High School graduate, pre-nursing major.
– Briana Phillips, North High School graduate, criminal justice major.
– Jeremiah Poulos-Crawford, Roosevelt High School graduate, business administration.

The idea was sparked by Mike Williams, a longtime Des Moines firefighter, who while watching local television news coverage of the Black Lives Matters protests was inspired to take action. In particular, a scene in which a young Black female protester told state Rep. Ako Abdul-Samad she wanted to be able to go to college.

Brainstorming with fellow firefighters Greg Leaper and Percy Coleman, Williams decided to start a scholarship fund, hoping to make a difference for at least one Black student graduating from a Des Moines high school.

"We sympathize with these young people," Williams said during a brief ceremony held Tuesday afternoon at the DMACC Urban Campus. "And we decided to create a new scholarship that will help make a difference."

On Tuesday, the group of donors — 16 active Des Moines firefighters from across the city and two retired firefighters, gathered with DMACC officials to celebrate the launch of the scholarship program.

Ahmed Agyeman, DMACC's director of community and global engagement, helped coordinate sending scholarship applications to 168 Des Moines Public Schools students who would qualify for the award. A total of 22 students applied, and the scholarship committee selected an initial four recipients.

"There is clearly a great need in the community for this type of scholarship," Agyeman said. "It's a good start and demonstrates that the community is behind these students and supportive of their goals for the future."

DMACC President Rob Denson said he was deeply impressed by the firefighters' compassion and generosity.

"The DMACC Foundation and DMACC are very proud to match this," Denson said. "It is so enjoyable to see a grassroots campaign, because oftentimes we're out looking for donors. But here are some donors that came to us, realizing that this is [making a difference] in a very difficult time getting to college."

As for Jones, one of the scholarship recipients, a long-term goal of hers is to qualify for a career as an FBI agent. She's taking a full-time load of classes this fall at DMACC, and is also working nearly full time at the Johnston Hy-Vee, where she was promoted to a managerial position four months ago. While law enforcement is a long-term goal, she's also interested in art and may pursue classes in DMACC's graphic design program, she said.

"I wish in my future that everyone gets to go to college," she told the gathered firefighters. "I wish that there was lower tuition — I'm happy that you make it possible for people to go to college, especially here in Iowa, and especially with this pandemic going on. … I have two roommates right now who can't go to college because they can't afford it. I'm sad to see that, and I eventually want to get to where I can help them."

For more information on the scholarship program, call 515-205-3386, or write to: Igniting Futures, P.O. Box 93845, Des Moines, IA 50393.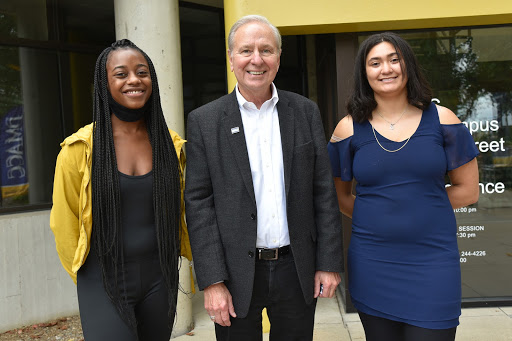 Two of the scholarship recipients, Briana Phillips, left, and Aaliyah Jones, right, stand with DMACC President Rob Denson.

Photo courtesy of DMACC
Facebook Notice for EU! You need to login to view and post FB Comments!