Growing the future of produce
Nebullam envisions 'plug and play' indoor system to grow year-round, ultra-local food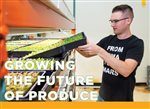 To see the technology behind the potential future of farming, you might first need to step indoors. In the case of Ames-based startup company Nebullam, their indoor farm is a 4,500-square-foot, high-ceilinged, air-conditioned warehouse on the Iowa State University Research Park campus, where the company is in the process of setting up a prototype production area for its innovative vertical farming system.
Nebullam's goal is to develop a highly automated integrated planting, growing and harvesting system that aspiring indoor entrepreneur-farmers can use to supply a variety of freshly grown, locally produced food on a year-round basis to restaurants, grocery stores and other retailers.
The high-tech indoor farming operation is expected to produce about 40,000 pounds of greens annually once it's fully in production this fall.

"What we're really excited about is the fact that indoor farms will get started by people with no background in agriculture, because we can provide them with a plug-and-play, out-of-the-box solution," said Nebullam's co-founder and president, Clayton Mooney.
Already, restaurants and grocers in Ames are serving and selling fresh-grown red oak leaf lettuce, micro arugula, pea shoots and other greens grown at the prototype farm. But the real payoff for Nebullam will come as it begins licensing the systems to entrepreneurs in areas of the country — and globally — that now lack access to sustainable, affordable fresh produce.
Some grocery stores and restaurants on the East and West coasts are already buying produce from similar startup operations that are scaling up to supply hundreds of locations. Danen Pool, a partner with Mooney in the business, believes Nebullam has a good formula for success with expertise on both the hardware and software ends of the business.
Eliminating inefficiencies
"There are a lot of startups on the hardware side, and a lot of others on the software side," Pool said. "But running those varied systems together, there is a huge learning curve for the producer. We eliminate that. If you are powering your growth with Nebullam, we've eliminated compatibility issues or learning curves."

Pool, a former classmate of Mooney's at Indian Hills Community College, reconnected with Mooney while they were students at Iowa State. Pool was studying food security in South Africa, which led to him exploring ways to eliminate inefficiencies in the food supply chain.

Maximizing production and minimizing labor costs are two key drivers for success.

"We believe the pop-up indoor farm will be the winners in the indoor farming space, with the fastest implementation of the growing equipment, followed by the fastest payback," Mooney said. "In order to do that, our hardware focuses on producing as much food per square foot as possible. And our software focuses on reducing labor as far as possible."

Using a soil-free technology called aeroponics — in which water infused with key nutrients is sprayed in a high-pressure mist onto the roots of the plants that are planted in vertically mounted racks — Nebullam is able to closely manage the environment for ideal growing conditions. With its system, it has actually shortened the growing cycle for one of its initial crops, lettuce, from four weeks to three.

The aeroponic growing technology is more sustainable — it uses from 50% to 60% less water than conventional hydroponic growing operations, and compared with outdoor farming, it's more than a 90% savings in water.

Recognizing that automation would be a critical aspect of creating a more efficient food production system, they recruited Mahmoud Parto, whose background in mechanical, electrical and software engineering has enabled them to build software to automate the processes. The company now has six full-time employees and four part-time employees.

Besides feeding and watering the plants, the artificial intelligence-driven system directs a panel of LED lights to systematically sweep over the plants to give them just the right amount of light. Future enhancements will fully automate the system to handle all aspects of the farming operation.
Indoor greens attracting outside green
"We have a fully controlled environment," Mooney said. "For us, we see the ideal situation [for customers who will buy the system] being underutilized warehouse space being retrofitted to produce food closer to city centers." In round figures, a customer with access to a viable space could install a system for somewhere in the "low six figures," he said.

Meanwhile, the nascent indoor farming industry is attracting tens of millions of dollars in venture capital on the East and West coasts.

According to industry magazine Hortidaily, startups such as San Francisco-based Plenty and New York City-based Bowery are capitalizing on advancements in AI, robotics and LED lighting technology to develop large-scale indoor farms, and the race is on for the companies that can cost-effectively scale up their operations.

Plenty, which in the past two years has raised about $200 million, reportedly has a new indoor operation large enough to supply salad greens to more than 100 stores, compared with a small-scale operation that had supplied just three stores and a few restaurants.

Nebullam has raised more than $400,000 of funding in two prior rounds; among its investors is the Ag Startup Engine, a private seed investment fund for agritech entrepreneurs. Nebullam is now in a third round of funding in which the partners expect to raise nearly $1 million.

Last year, Nebullam received a $100,000 Demonstration Fund award from the Iowa Economic Development Authority, which enabled the company to further refine its machine vision application, a critical piece of scaling up its software capabilities.

"We're really excited to see a lot of movement in this space," Mooney said. "A lot of venture capital is going into indoor farming right now. We feel really blessed to be positioned in the Midwest, as we feel like we're in the heartland of agriculture. … We definitely pay attention to companies on the coasts and to ones that are expanding here. We think that they could provide us some good exit options in the future for acquisition."

Because many aspects of their vertical farming system are proprietary, the partners declined to allow photos of the actual vertical racks to be taken. The company holds four provisional patents on its technology and processes.

"You can think of our software as the on-site horticulturalist that maintains the parameters for the lighting and irrigation needs of the plants throughout their life cycles," said Mooney, who co-founded Nebullam three years ago with Pool and Parto. "So the entire mission for the software is to reduce the need for people to be on-site."

Some Central Iowa grocers and restaurants have become steady customers of Nebullam's ultra-local greens, and as the company ramps up its pilot farming operation, the produce will soon be distributed in Greater Des Moines as well. The company plans to begin distributing to Gateway Market sometime in August.

The company found one of its first customers right next door at Provisions Lot F, a restaurant located just across the street on the ISU Research Park campus.

"Nebullam's micro greens are as fresh and local as we can get, being picked the day we need them, and they are located right across the street," said Devon Kepley, Provisions' executive chef.
Branching out, scaling up
Nebullam is the second startup venture for Mooney, who in 2014 co-founded KinoSol, a company that developed a food dehydrator for use in third-world countries without access to refrigeration. He remains on the board of the company, but since 2016 has focused his efforts on Nebullam.

"I grew up on a farm in southeast Iowa, so I could understand firsthand the manual labor around farming," Mooney said. "I thought, there had to be more efficient ways to completely change the food supply chain, which is really important for environmental reasons," considering the energy required to harvest and transport produce, and the waste incurred in getting it to market.

Currently, Nebullam is focused on building out the technology to grow leafy vegetables such as various types of lettuce and micro greens and herbs. In the future, the company will branch out its capabilities to vine crops like strawberries, cucumbers and tomatoes.

Adam Calder, produce manager with Wheatsfield Cooperative in Ames, is impressed with the sustainability of Nebullam's operation.

"The vertical aeroponic technology Nebullam has created uses a fraction of the inputs that conventional farming methods do," Calder said. "They are developing farming practices and equipment that can sustain a growing human population without harming the environment in the process. The compact, efficient nature of their aeroponic growing operation means it can be installed in even the densest urban settings to ensure delivery of fresh and tasty lettuce and micro greens."

For now, harvesting the lettuce involves very little hand labor, but the goal is to automate all aspects of the operation.

"We want to focus on automating the harvesting, the seeding and the transplanting in the future," Mooney said. "The transplanting is the most labor-intensive of everything that we do right now. But in the future, all of it will be automated."

The company has contracted with two Iowa-based manufacturers, and is negotiating with a third, to mass-produce the components that will be needed to bring the system to commercial scale. With five 36-foot-long racks of plants, they'll be able to produce about 40,000 pounds of lettuce a year in the model farm — a prototype that could be expanded tenfold for clients.

"We want to be able to build out to any size up to about 45,000 square feet, with the minimum being about 4,500 square feet, or about one-tenth of an acre," Mooney said.

Within the next year, the company's goal is to begin partnering with other indoor farms that are expanding operations to become their technology provider, Mooney said. "Those partnerships will enable us to get to our ultimate step of selling the equipment licensing and and the software to other indoor farms."
Facebook Notice for EU! You need to login to view and post FB Comments!