Gyms on Demand working out in Des Moines
Pickagym.com founders built a website that features local fitness centers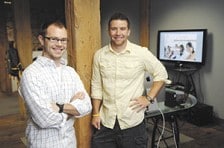 An investment by an Iowa businessman is helping partners Aaron Grove and Jake Soll firm up plans to create a comprehensive website featuring local fitness centers.
Gery Haag recently handed over a third five-figure installment to the Iowa City natives, who said Gyms on Demand LLC would be profitable if it could contract with a majority of the gyms in both Greater Des Moines and Greater Omaha.
"I was on www.Cars.com one night and it just kind of clicked," said Soll, the company's CEO, referring to the wealth of consumer-related information on that website. "There is nothing like this for the fitness industry." Going live in May with a soft launch of www.pickagym.com, Grove, 27, and Soll, 29, plan to take their social media-infused idea to targeted audiences across the nation.
For a fee equal to that of an average monthly gym membership, Gyms on Demand posts a profile of its fitness center clients on its website, and uses search engine optimization techniques to increase traffic.
The goal is to provide consumers with a list of local workout facilities, including locations, contact information, amenities and customer testimonials, as well as career opportunities for fitness professionals.
"We don't want to detract from the gyms' websites or anything," said Grove, the company's chief financial officer. "We just kind of want to be an additional tool to the consumers to help them get pointed in the right direction."
Haag and Soll met at Aspen Athletic Club, where Soll had worked for seven years as a recruiter and sales manager. Haag said his Des Moines-based Midland Equipment Co. LC was the exclusive dealer of Case construction equipment at six locations in Iowa and Nebraska from 2000 to 2008. He sold the company that year to Titan Machinery, a heavy farm and manufacturing equipment dealer based in Fargo, N.D.
"I was just looking for something else to invest in," Haag said. "I guess the biggest thing that attracted me to it was Jake's work ethic. One thing leads to the next. We just kept progressing."
Gyms on Demand paid Windsor Heights-based eWay Corp. about $10,000 to design and construct its website, Grove said, and the start-up company plans to spend another $10,000 to further www.pickagym.com's front- and back-end capabilities.
"We need to have all the gyms on there from a consumer standpoint," Soll said. "There are a couple of other websites that have tried to do what we've done. It was pretty much just a glorified yellow-pages ad."
Gyms on Demand lets gym owners customize their profiles in a way that allows visitors to refine searches based on individual preferences, such as hours of operation. Grove said Gyms on Demand currently produces free video content for its clients as an additional service and a way to spark interest in the company.
He and Soll began discussing the idea for the website in the spring of 2010.
Starting with Greater Des Moines and Ames, Gyms on Demand has signed up about 30 fitness centers, including five Kosama locations, Grove said. The company is also in talks with Farrell's eXtreme Bodyshaping Inc. and hopes to land Aspen Athletic Clubs.
The business partners estimate there are nearly 100 fitness centers in the metropolitan area. They expect their entrepreneurial initiative to snowball as more gyms come on board, which could lead to a higher page rank on Internet search engines.
Soll said Gyms on Demand plans to promote its website via Google AdWords, an advertising mechanism of Mountain View, Calif.-based Google Inc. that sells "sponsored links" on the world's largest search engine. He hopes to eventually establish his company's online presence to a point where Google searches such as "West Des Moines gyms" organically returns www.pickagym.com.
"If we can get close to 80 percent to 90 percent of the gyms in the areas online, hopefully the word will be able to get out enough where they will start contacting us," Soll said of potential business-to-business customers.
Eyeing Iowa City, Cedar Rapids and the Quad Cities as possible next steps, Grove and Soll said they were told by a New York-based consultant that if Gyms on Demand gains enough heft to capture a major market such as Chicago or Minneapolis, the company could be on a fast track to national exposure.
"The guy we actually bought this domain name from – pickagym.com – is a big-time national player in the fitness industry," Grove said. "He does a ton of consulting with gym owners who own multiple clubs, anywhere from five to 200. Once we get a major market online, we'll kind of have the credibility, and with him kind of backing us, to make a nationwide push to all gyms. That's kind of our launch strategy."