Hays Cos. launches office in downtown Des Moines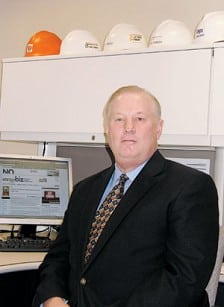 In 1994, a group of executives left some of the largest insurance brokerage houses to launch what they believed was a better model for serving clients.
It looks as if they were onto something. Minneapolis-based Hays Group Inc. (Hays Cos.) is now the 16th-largest U.S. insurance brokerage, with 25 offices and more than $111 million in annual revenues. The company recently opened its first Iowa office in the Ruan Center in downtown Des Moines.
Hays Cos. was formed "to return to a client service ethic that was more rewarding, both to the professionals and a value that our clients were looking for," said Steve Verbeski, a Hays executive vice president who will oversee the Des Moines office.
The company, which is privately owned by its senior executives, provides property-casualty insurance brokerage services and also offers risk management advising and employee benefits consulting. Key industries the brokerage will pursue in Iowa are the financial services and health-care sectors, focusing on large risk management accounts, said Verbeski, who also brings experience in the energy and utility sectors to the table.
Hays Cos.' growth has been entirely organic, Verbeski noted. "Hays has a philosophy to not necessarily become the biggest in the world, but the best at what we do," he said. "So instead of investing money and profits into buying other businesses and making themselves bigger, what Hays did was deploy its capital into hiring the best and brightest they could find. The investment in talent has paid big dividends in the growth of Hays."
A 30-year insurance industry veteran, Verbeski worked for Aon Corp. in Des Moines before joining Hays a year ago. He will lead the three-person office, and also serve as Hays' national practice leader for its energy and utility risk management business.
Though the company's CEO, Jim Hays, gave Verbeski the option to move to Minneapolis, they decided it would be a good opportunity to expand in Iowa. "It was a nice fit," Verbeski said. "Hays was looking for someone who had some good brokerage experience, along with some good industry experience, particularly in power and utilities."
Hays Cos., which has energy and utility clients in eight Midwest states, is seeking to expand that niche through his expertise, Verbeski said. Its largest utility risk management client in Iowa is Humboldt-based Corn Belt Power Cooperative. "In addition to handling clients out of Des Moines, I also assist other Hays offices around the country in growing their power and utility business," he said.
Wind energy and biofuels will be a big part of Hays' growth in that sector. The brokerage already has as clients two of the largest U.S. ethanol producers: Sioux Falls, S.D.-based Poet LLC and Archer-Daniels-Midland Co. in Decatur, Ill.
Opening an office in Greater Des Moines alongside some well-established insurance brokers won't be a cakewalk, Verbeski acknowledged. One of its competitors, Holmes Murphy & Associates Inc., the 22nd-largest U.S. brokerage, is based in West Des Moines.
"It's a very competitive marketplace, but there are also a lot of opportunities," he said. "We think there's room at the table for everybody. We believe we fill a niche in-between the large regional agencies such as those that exist in Des Moines, and the large global brokers that periodically send people into Des Moines trying to capture business."