Here's the outlook for multifamily construction in 2023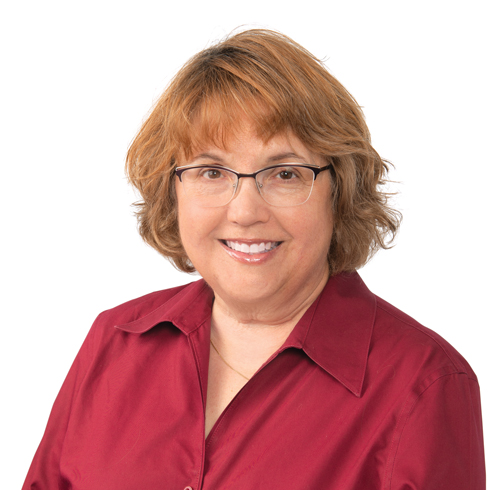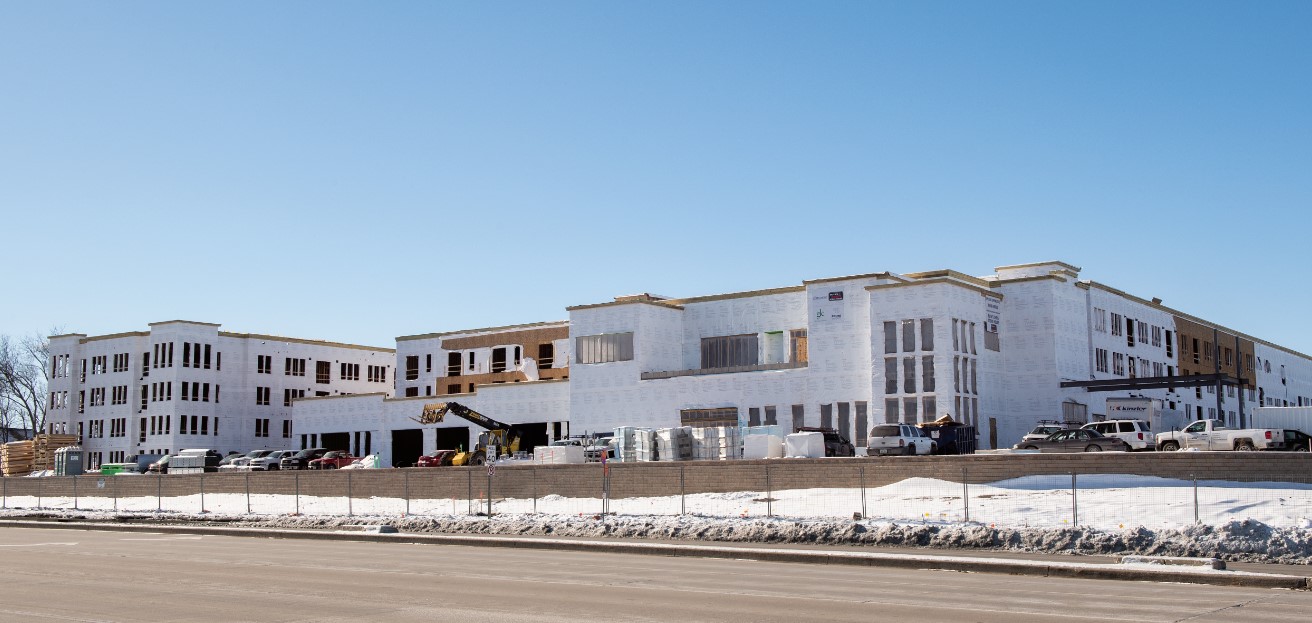 Summary
The Des Moines area is expected to see the construction of 1,200 new apartment units in the coming months. The wave of construction trails what was occuring five years ago.
A wave of new multifamily construction projects – sparked by low vacancy rates and high interest rates for home mortgages – is expected to get under way in the coming months, adding more than 1,200 apartments to the Des Moines area.

In addition, multifamily projects whose construction began in the past 18 months will add more than 1,600 new rental units to the area in 2023, according to CBRE's multifamily market report.

But while multifamily development is on the rise, particularly in the suburbs, the number of new units delivered or in the pipeline is significantly less than what was built between 2016 and 2019.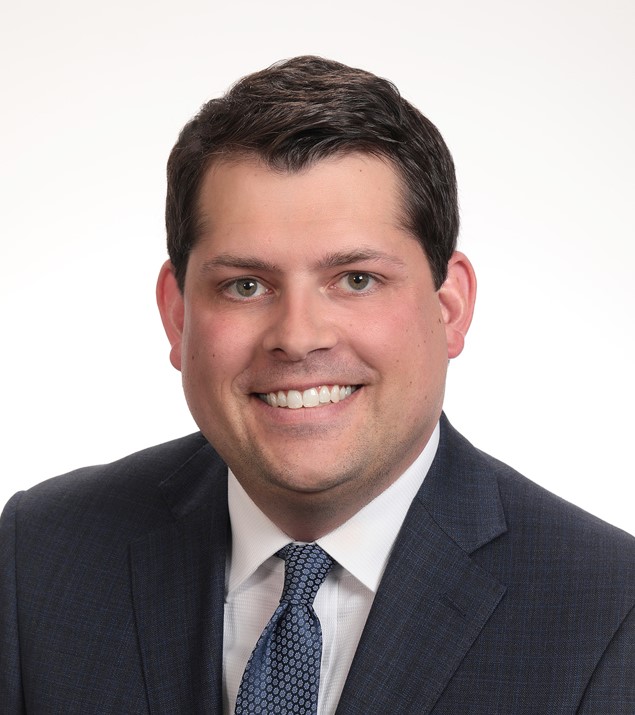 In 2022, construction of 1,006 units was completed, 57% fewer than the 2,317 units built in 2019, according to CBRE's report.

"We expect to see construction levels remain below historic averages for the next 12 to 24 months," said Cy Fox, senior vice president at CBRE Inc., which has offices in West Des Moines. "Interest rates have gone up, construction costs are up. There's limited land availability in some parts of the metro area."

The slowdown in apartment construction has been most apparent in the downtown area, which extends south of Martin Luther King Jr. Parkway and east of the Des Moines River. In 2022, no new apartment units were added to downtown, the first time that has happened since 2012, according to CBRE's report. Just one project – Hubbell Realty Co.'s five-story, 114-unit Level building at 220 Maple St. in the Bridge District – is expected to be completed in the downtown area in 2023.

Others, though, are planned or were recently started, including a five-story, 169-unit project at 425 S.W. 11th St. by Sherman Associates and a seven-story, 110-unit project by Heart of America Group at 317 E. Sixth St.

"We saw developers pump the brakes for a while but we're starting to see some new projects come through," said Cody Christensen, Des Moines' permit and development administrator. "We're at the stage where there's good potential for new multifamily development. With the unknowns of the economy and interest rates, it's hard to predict what will happen. … I think we'll have a lot better idea after the first quarter."

Multifamily development in Waukee is booming.

The Dallas County community has 967 apartment units – spread over several projects – under construction, the most in the metro area, according to CBRE's report.

Several hundred more units will likely be built in the next 12 to 18 months, a review of Waukee's development website shows. Among the projects is a 256-unit complex called Converge near Northwest Sixth Street and Northwest Sunrise Drive that Hubbell Realty Co. plans to build. In January, Waukee's City Council approved the final plat for Kettlestone Peak Apartments, a three-building complex planned by J Larson Homes on 15.2 acres east of Grand Prairie Parkway and north of Southeast Pleasant View Drive.

The council approved 24 rezoning requests for multifamily developments in 2022, said Andy Kass, the city's community development director. "That's a significant amount of rezoning amendments. … I expect multifamily to remain strong in Waukee in 2023."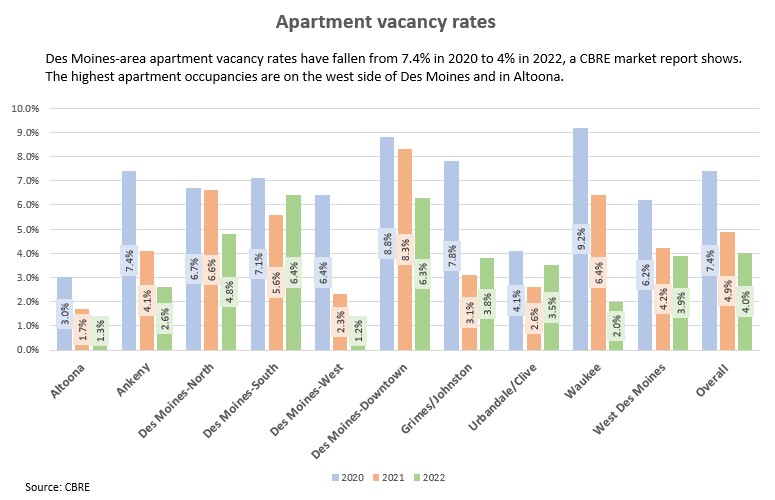 Multifamily development tends to be cyclical, Kass said. When interest rates for home mortgages are low, single-family home purchases increase. When they are higher, purchasing a home becomes more expensive, pushing some potential buyers out of the market. In the past year, interest rates for home mortgages have doubled, from just under 3% to last week's average rate of 6.12% for a 30-year fixed-rate mortgage.

"We're in a time where we have higher interest rates so the demand for multifamily housing is there and developers are interested in building it," Kass said.

A decrease in vacancy rates is also fueling interest in new multifamily development.

In 2020 the average vacancy rate in the metro area was 7.4%, CBRE's report shows. In 2022 it was 4%, with Altoona, the west side of Des Moines and Waukee experiencing vacancies of 2% or lower.

"When you get those low vacancy rates, there's room in the market for more supply," Fox said.

Low vacancy rates are a contributing factor in higher rental rates. In the Des Moines area in 2022, the average monthly rental rate was $1,058, 9.4% more than 2020's average rate of $967, the CBRE report showed. Average monthly rental rates ranged from $859 for a studio unit (7.1% higher than in 2020) to $1,267 for a three-bedroom unit (10.5% higher than two years ago).

The highest jump in monthly rental rates occurred in Waukee, where the average rate swelled 17% to $1,338 in 2022 from $1,139 two years earlier. The lowest monthly rates were on the north, south and west sides of Des Moines, ranging from $851 to $892.

LEARN MORE: To read the CBRE Q4 market report, click here.
WHERE ARE MULTIFAMILY PROJECTS? Building permits were issued for 33 multifamily projects in the Des Moines area in 2022. In addition, at least nine new projects are proposed. To find out more about the projects, click here.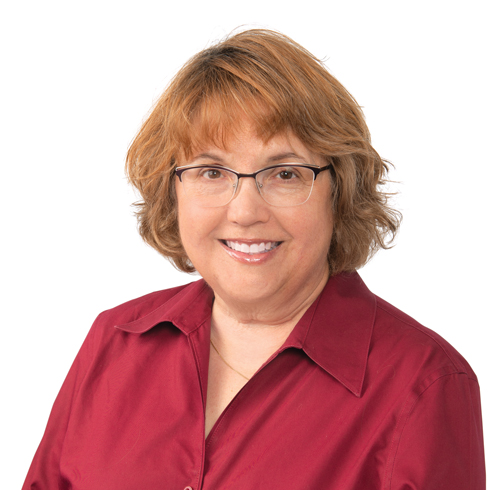 Kathy A. Bolten is a senior staff writer at Business Record. She covers real estate & development, law & government and retail.
Email the writer
Facebook Notice for EU! You need to login to view and post FB Comments!