Here's what's new with the Merle Hay Mall redevelopment project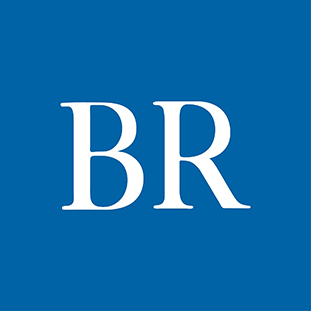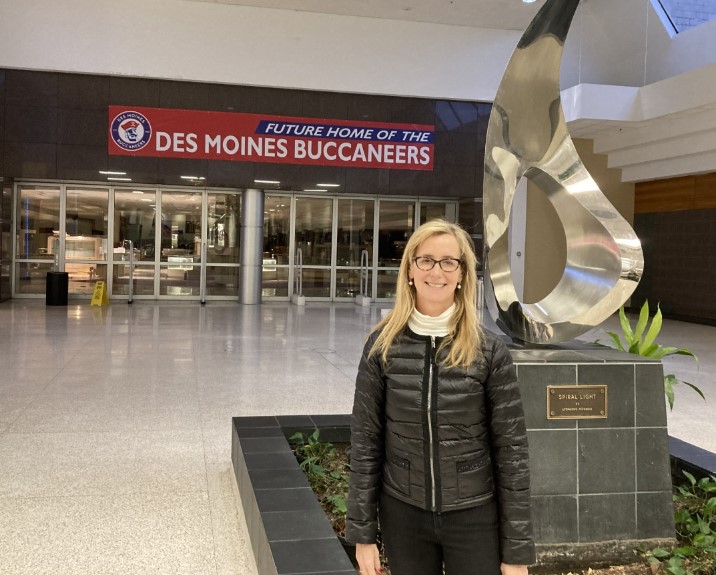 Elizabeth Holland, CEO of Merle Hay Investors, stands in front of the mall entrance of the proposed arena for the Des Moines Buccaneers hockey team. Holland is hopeful redevelopment of the former department store space will begin in the first quarter of 2023. Photo by Kathy A. Bolten
The group that owns and operates Merle Hay Mall has taken the reins of redeveloping former department store space at the center into an arena for ice hockey, concerts and other events, the Business Record has learned.

Plans originally called for owners of the Des Moines Buccaneers hockey team to lead the redevelopment of the vacant department store space. Earlier this fall, mall owners took over redevelopment efforts, said Elizabeth Holland, CEO of Merle Hay Investors, the group that owns the shopping center.

"It made more sense for them to be an operator within the arena but not the developer," Holland said. "Real estate development is hard. When you're working in an existing structure – which we learned with Flix [Brewhouse] – it's even harder. … There was a sense that [development] was our business and that it's not [the hockey group's] business."

Holland said she is hopeful that redevelopment of the building that once housed the now defunct-Younkers department store can begin sometime in the first three months of 2023. If it does, construction is likely to take 12 or months or so, which could allow the Bucs to either finish their 2023-24 season in the new arena or open their 2024-25 season in the facility, she said.

"There's still a lot of pieces that need to fall into place and we're starting to see that happen," Holland said.
Merle Hay Mall sits on the northwest corner of Merle Hay Road and Douglas Avenue, straddling the city boundaries of Des Moines and Urbandale. The mall was anchored by Younkers and Sears department stores when it opened in 1959 as an open-air shopping center. Over the years, the center was enclosed and expanded. Other department stores and retailers were added.

However, as newer shopping malls were added in the Des Moines area, foot traffic at Merle Hay Mall declined. Retailers shuttered their storefronts as competition grew from e-commerce and big-box and discount fashion stores.

Holland has long believed that the way to attract foot traffic to the mall is to make it a once-a-week shopping destination and provide experiences that aren't found elsewhere. In 2005, Target opened a store on the southeast corner of the mall, bringing new customers to the center on a weekly basis. In 2014, Flix Brewhouse opened its then-new business concept of a combination movie theater-brewery-restaurant at the mall. A couple of years ago, GameDay, which features an arcade, restaurant and bar, opened a location at Merle Hay.

In fall 2020, Holland revealed that the building that housed Younkers would be transformed into a 3,500-seat multipurpose arena for ice hockey and other sporting and nonsporting events. The arena's main occupant would be Des Moines Buccaneers hockey team, she announced.

The proposed redevelopment of the mall's west side is expected to include a training center with weight rooms, locker rooms, offices and classrooms. The food court is expected to be reimagined. Two sheets of ice are planned in the arena. The mall redevelopment project has been estimated to cost nearly $140 million.

Redevelopment of the former department store space originally was expected to be completed by late mid- to late-2022. However, the pandemic and rising construction costs and interest rates stalled the plans.

In recent weeks, though, several pieces of the redevelopment effort have been completed.

This fall, Kohl's relocated to its new location on the site that Sears once occupied. A new parking lot is completed. Construction is underway on IH Mississippi Credit Union, which will be located on an outlot near Merle Hay Road.

Additional retail space is expected to be built north of Kohl's, maybe as early as spring 2023, Holland said. "We've got interest from some national brands."

Kids Empire, an indoor play center for children, has signed a lease for 18,000 square feet of space on the west side of the mall, next to the food court. Remodeling of the space is underway.

In addition, a hotel operator has expressed interest in developing a small hotel on mall property, Holland said.
Earlier this month, Merle Hay Anchors LLC, managed by Holland, bought the former Kohl's property for $6.5 million. The 2.5-acre site includes a 75,000-square-foot structure built in the mid-1980s.

The former Kohl's building originally was expected to include another two sheets of ice. However, the MidAmerican Energy Company RecPlex in West Des Moines includes two sheets of ice and officials are considering adding a third sheet.

A needs assessment is underway to reassess what types of activities would work best in the former Kohl's building.

"There's different market dynamics now and we wanted to take a second look and make sure there's a successful project in the [former] Kohl's building," said Curtis Brown, Urbandale's assistant city manager and director of economic development. "If it's not two sheets of ice, we need to determine what the best use of that space would be."

Holland said whatever is decided will be sport-entertainment related.

Also underway is the completion of a development agreement with the city of Urbandale and updated information about the costs associated with developing the arena, she said. In addition, the Iowa Economic Development Authority, which awarded the proposed project $26.5 million from the Iowa Reinvestment Program, has asked for updated cost and financing estimates.

"There's just a bunch of dominos. You have to line everything up before you can tip one over," she said.
Facebook Notice for EU! You need to login to view and post FB Comments!