Hubbell housing project gets green light from zoning commission; next stop is City Council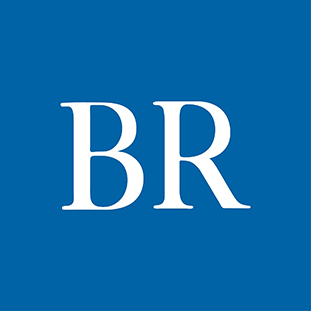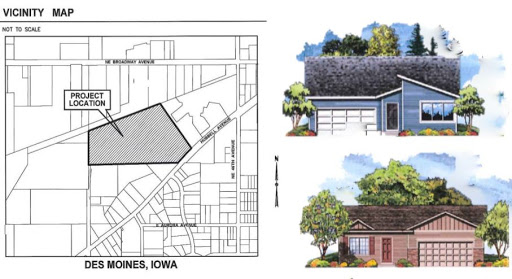 The map shows the location of Hubbell Realty Co.'s proposed Grover Woods project in northeast Des Moines. Also included are architectural renderings of some of the houses that would be built in the development. Special to the Business Record.
Des Moines' Plan and Zoning Commission Thursday approved a proposed single-family development in northeast Des Moines, overruling a staff recommendation to deny the project.

The decision came after the commission voted down the staff recommendation, 13-1.

"We just don't have the information to know that single-family [houses] is the right thing to put here, Commissioner Will Page said. "That's why I think we should leave that decision to the City Council."

Commissioner Michael Simonson disagreed. "My gosh, we just talked about single-family homes and affordability and here's an opportunity, and we're saying that's not good enough."

Before discussing Hubbell Realty Co.'s Grover Woods development, the commission listened for nearly an hour to people opposed to a portion of a proposed zoning requirement that homebuilders say would make it more expensive to build affordably priced houses.

Hubbell has proposed building about 60 single-family houses in the 4500 block of Hubbell Avenue on ground now zoned for a business park and multifamily residential. Hubbell wants to change the zoning to allow for houses, all of which would be smaller than guidelines in the proposed zoning code.

City staff told the commission the parcel is on a main traffic corridor where the city's comprehensive plan calls for multifamily housing. They said they suggested to Hubbell that 50% of the development include multifamily structures such as four- or eight-plexes. Hubbell officials did not approve of the suggestion, staff said.

Multibuilding apartment complexes line much of the nearly one-mile stretch of Hubbell Avenue between East 42nd and East 46th streets.

Joe Pietruszinski, Hubbell's senior vice president of development and construction, told the commission there is concern that not enough diversity of housing options exist in the area.

"You don't have an opportunity for someone in rental housing to move into housing that will allow them to set roots in Des Moines," Pietruszinski said. The development would provide "different housing options for growing families and different options for this area."

Ultimately, the commission voted 13-1 to approve the proposed development. The lone vote against the rezoning request came from Page. The commission also directed city staff to work on more of the development's details, such as building materials and sizes of houses, before the Aug. 5 City Council meeting.

Hubbell officials have said two-story and ranch houses in the development would have an average square footage of around 1,370 and sell for between $230,000 and $260,000. While ranch-style houses would be come close to meeting the proposed new zoning standards, about 400 square feet would need to be added to the two-story houses, boosting their costs by about $70,000, Hubbell officials said.

Pietruszinski, after the meeting, said the company is eager to get started on the project before winter so that costs for materials can be locked in before expected price increases next year. He also said he's optimistic the project will be approved by the City Council.
Facebook Notice for EU! You need to login to view and post FB Comments!