Hundreds of Des Moines properties aided by Invest DSM programs
Over $3.1 million provided in upgrades to commercial, residential properties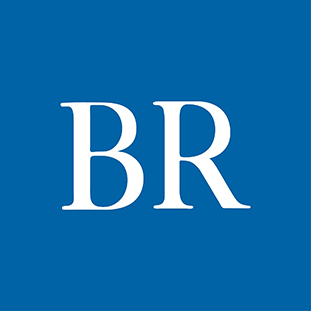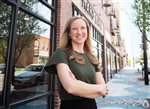 A few weeks after Melisa Nouchanthavong and her husband bought their first house, they discovered problems with its foundation, including a wall that was nearing collapse.
"We needed a basement gutter system and braces throughout the whole basement to level out the floor," said Nouchanthavong, who with husband Leon Paris bought the more than 110-year-old house in the Columbus Park neighborhood in January 2021. "If we didn't find the [problem] when we did, we had the risk of our basement wall collapsing."
The repairs cost more than $36,000, Nouchanthavong said. A program through Invest DSM, a nonprofit corporation that oversees efforts to revitalize Des Moines' neighborhoods, nearly cut in half the couple's out-of-pocket costs, she said.
Without Invest DSM's homeowner renovation program, Nouchanthavong said the couple likely would not have been able to afford to pay for a complete basement rehabilitation, a delay that could have resulted in walls collapsing.
Started in mid-2019, Invest DSM is a joint effort between the city of Des Moines and Polk County to expand revitalization efforts in the city's neighborhoods. The venture was launched after a study showed that 22 of Des Moines' 52 neighborhoods had a higher percentage of "slipping or bad" houses than "good or excellent" ones. The Des Moines City Council selected four neighborhoods – Columbus Park, Drake, Franklin and Highland Park/Oak Park – in which to begin a concentrated effort to renovate residential and commercial properties.
"We're really trying to empower and enable residents, business owners and property owners to improve their property in a way that gives them a return on their investment down the road," said Amber Lynch, executive director of Invest DSM, which has offices at 525 S.W. Fifth St. "It was a big undertaking to launch the programs and to get property owners interested in taking part in them."
Earlier this year, the Des Moines City Council voted to commit $5 million annually to Invest DSM for the next five years. Polk County is committed to contribute $5 million this fiscal year and in the fiscal year that ends June 31, 2023.
Over $3.1 million in aid provided
Since its inception, Invest DSM has started five programs:
Block Challenge Grants, which in 2021 had 217 participants and an investment of $580,000 by Invest DSM.

The Homeownership Renovation Program, which began in August 2020. According to the nonprofit's annual report, 68 projects have been completed through the renovation program, an investment of over $1.8 million. Another 150 projects are underway.

The Single-Family Developer Program, which in 2021 saw the completion of three projects. The program provides money to cover financial gaps between renovation costs and end sale prices of upgraded properties. Invest DSM provided $195,600 to the three projects.

The Rental Rehab Program, which started in late 2021. The program helps landlords with major capital improvements.
The Commercial Grant Program, which in 2021 saw three projects completed, including the renovation of a building at 3610 Sixth Ave. that is home to Chuck's Restaurant. Invest DSM provided $613,273 to the three projects.
One commercial project receiving financial assistance from Invest DSM is the renovation of a single-story building at 3523 Sixth Ave. in Highland Park. The building, constructed in 1929, has had numerous tenants over the years, including a bank, a jewelry store and a barber shop. It is being renovated to include six commercial bays, three of which have been leased.
"If we hadn't gotten the forgivable and low-interest loans [from Invest DSM], we wouldn't have been able to do the project," developer Joe Cordaro said. "The cost to renovate a historic building in Highland Park is no different than if it was located 2 miles south in downtown or in the East Village. But in the East Village, retail property is leasing for $28 to $32 a square foot. I can't ask for that in Highland Park. …
"But, because of the loans, we can provide a finished product at a very high standard of fitness and still bring tenants into a transitioning neighborhood."
The ripple effect of improvements
When upgrades are made on a property in a commercial district, other improvements tend to occur on nearby parcels, said Connie Boesen, a Des Moines councilwoman.
Examples can be found in commercial districts in both Highland Park and Drake neighborhoods, she said. Storefronts have been refreshed in an area along the east side of Sixth Avenue north of Euclid Avenue. Across the street, the building in which Chuck's is located received about $1.4 million in improvements including the replacement of an aged roof, upgraded plumbing and the installation of new ceilings and floors. A one-story structure at 3720 Sixth Ave. was refurbished and the building at 413 Euclid Ave. that once was home to French Way Cleaners is being renovated.
"When residential areas start being upgraded, then businesses want to be near them so then you start to see commercial buildings get improved," Boesen said. "There's a ripple effect that occurs. … We're starting to see private investors come in and ask, 'How can we be a part of this?'"
In the Drake neighborhood, investments are being made in structures along University Avenue and 24th Street. Among them are the $5 million rehabilitation of the Varsity Cinema, which received a grant from Invest DSM. In addition, cosmetic upgrades are occurring on the mixed-used property at 2300 University Ave. Around the corner, upgrades are being made to the mechanical system at the fire station-turned-office building at 1163 24th St. To the south at 1159 24th St., where the entertainment venue xBk is located, a door is being installed in the building that will open to a patio area.
"We're making headway in a lot of these neighborhoods," Lynch said.
What's next for Invest DSM
Invest DSM was created after a survey of Des Moines' housing stock showed that a growing number of residences were slipping into disrepair. Another survey will be conducted this summer, Lynch said.
Property conditions played a large role in determining what neighborhoods to launch the first round of revitalization programs and will likely be a determining factor again, Lynch said. "Where do we see that deferred maintenance creeping in but hasn't gotten out of hand yet and isn't outpacing the properties that are still in either average or good condition? … We'll also be looking for where we have assets in the community. … When we selected Oak Park/Highland Park, investment was happening in the Riverview Amphitheater."
A decision on what neighborhoods to expand Invest DSM's programs into will likely occur by the end of the year, Lynch said.
Property owners who live in a neighborhood selected to take part in Invest DSM's programs should take advantage of them, said homeowners Jarad and Lilianna Bernstein, who live along Rutland Avenue near Drake University, where they both are employed. Invest DSM's Block Grant program has likely had the biggest impact on the neighborhood, they said.
When the couple moved into their century-old house about eight years ago, they noticed neighboring houses were showing signs of their age. "There were some [houses] that were starting to get improvements made to them, but the pace was slow," Jarad Bernstein said. "The money Invest DSM has poured into our neighborhood has really put that on steroids."
The Bernsteins have participated in two Block Challenge Grants and the Homeownership Renovation Program. The programs helped pay for repainting the exterior of their house, replacing front steps to their porch and converting a room in the house into a nursery.
Neighboring houses have undergone similar improvements, Lilianna Bernstein said.
"Young people who moved into the neighborhood when we did are staying because they can afford to make these improvements," she said. "Instead of moving to the suburbs when they start having kids, they are staying [in Des Moines] because this is where they want to live and raise their families."
---
By the numbers
The following is from Invest DSM's annual report for 2021:
283 Number of projects completed
165 Number of residential projects in progress
$1.69 million Amount invested into the Columbus Park, Drake, Franklin and Highland Park/Oak Park neighborhoods
$5.93 million Amount of private investment leveraged
---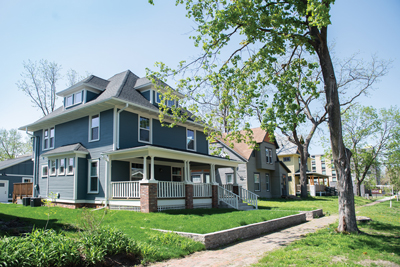 PHOTO BY DUANE TINKEY
Stabilizing neighborhoods with mix of owner-occupied, rentals
For years, residents of neighborhoods near Drake University have pushed to see rental properties converted back to owner-occupied housing.
The revolving door of rental occupants coupled with inattentive landlords resulted in unsightly properties. And while new developments like a hotel at 2650 University Ave. and a mixed-use project at 2530 University Ave. have brought new vibrancy to the area, many of the century-plus-old houses continue to be eyesores.
Enter Invest DSM, the nonprofit corporation overseeing Des Moines' revitalization efforts.
In April 2020, Invest DSM purchased property at 1126 26th St. that included a two-story house in disrepair. A few months later the group bought property at 1124 26th St., and in December 2021 it bought 1132 26th St.
The three houses on the properties included similar flaws: Aging roofs and unsightly siding. Missing screens from windows. Poor plumbing and electrical systems.
All three houses had been rentals, with continually changing residents. The houses at 1126 and 1132 26th St. were single-family rentals; the house at 1124 26th was a five-plex.
Invest DSM, with funds from the city of Des Moines and Polk County, renovated the house at 1126 26th St., spending about $200,000.
The house originally had four bedrooms with 1.5 bathrooms. It was redesigned to have three bedrooms and 2.5 bathrooms, including a full-size bathroom in the master bedroom.
The laundry room was moved from the basement to the first floor and a wall was removed to open up the kitchen into the dining room. A deck was added onto the back of the house and the front porch was rebuilt. A new roof was put on the house, the plumbing and electrical systems upgraded and a new mechanical system installed. The house's exterior and interior were repainted.
In March, the house was sold to a new homeowner.
"With some of the new multifamily developments coming to the Drake area, we can start getting some of these residences converted back to single-family," said Amber Lynch, Invest DSM's executive director.
Nearly all of the residences along 26th Street between University and Cottage Grove avenues were rentals, Lynch said. Invest DSM's goal is to rebalance the block to include 50% owner-occupied houses and 50% rental.
Similar efforts are occurring in other neighborhoods.
Since April 2020, Invest DSM has purchased 44 properties in the Drake, Columbus Park and Oak Park/Highland Park neighborhoods, paying a total of $4.1 million for the parcels. The house on 26th Street and one at 809 Euclid Ave. have been renovated and sold to new homeowners. Fourteen other houses are in various stages of renovation.
Additionally, houses on 16 properties have been demolished and new houses are planned on the lots. Home Inc., another nonprofit group, is building a house with an accessory dwelling unit on one of the lots and Neighborhood Finance Corp. is building a house on another lot. At least eight of the lots will be sold to area homebuilders who will construct affordably priced houses on the parcels.
"Hopefully in 2023, those houses will be completed and sold, [bringing] some new housing products into these neighborhoods," Lynch said.
More online: Check out an interactive online map that includes information about the properties purchased by Invest DSM: bit.ly/3lbWe6N
Facebook Notice for EU! You need to login to view and post FB Comments!