'I immediately knew that I wanted to be a part of it'
Drake's Bright College fosters new learning community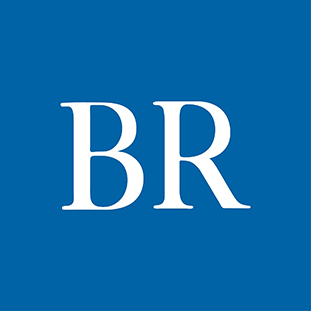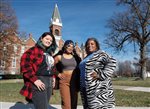 Having grown up in the Mondamin Presidential neighborhood in Des Moines, Abena Rudison-Imhotep lived close to the Drake University campus. However, three decades ago, when she was a young girl in the once-redlined area of the city, going to a prestigious university was not in her future.
"When the schools in Des Moines were on the tail end of desegregation, I remember being bused right past Drake University to go to my new elementary school," said Rudison-Imhotep, who is now 44. "So this place was in my window on the bus. And I recognized it as Drake. And I recognized it as the place where Drake Relays was, but not as someplace that I could actually attend."
Earlier this year, through the nonprofit Urban Dreams, Rudison-Imhotep learned about the new John Dee Bright College program that Drake was developing. In September, she joined the first cohort of 28 students who are helping to blaze a new pathway of opportunity and access to a Drake education.
Another member of Bright College's inaugural class, Kat Fortin, said the opportunity that she has been given at Drake has already proved to her that she is a leader. She serves as the Bright College senator in Drake's student senate. The 2021 Norwalk High School graduate, who struggled to finish high school due to a medical condition that has required multiple surgeries, said that the Bright College class is her first academic experience in which she is not the only Black student in the room.
"I was a little fearful coming here because it's really touch-and-go with my condition," Fortin said. "But being here made me more solidified in the fact that even if something were to happen, I have professors, academic advisers and people who are on my side, that I'm not alone in my journey of education. That is very powerful, and the connections that I've already made and the stuff I've already done proves that willpower does exist when you are given the opportunity."
Hailey Sisson, who heard about the program from her school counselor at Ankeny High School, said she was "really intrigued" about Bright College. "So I looked into what the program was saying I would be able to do, and I immediately knew that I wanted to be a part of it," she said.
"Drake was my dream school — I just never thought I would be able to go because of the cost," said Sisson, who graduated in May. Because her father had not graduated from high school and her mother just barely graduated, "my family really didn't expect me to further my education either, and they definitely didn't expect me to go to Drake. Everyone is surprised."
Bright College is designed to encourage greater diversity by attracting qualified students who may not have considered Drake attainable, whether for cultural, economic or other reasons. Students who graduate from the two-year Bright College program are guaranteed admission to Drake to complete the last two years for their bachelor's degree. The first cohort is age-diverse as well.
"In our incoming class, there are at least five decades of life represented among our students," said Craig Owens, dean of Bright College. Those students range from coming directly from high school all the way to retired individuals who are looking to do something different with their lives and their learning, Owens said.
The college is named for the late Johnny Bright, who in the early 1950s was a star student-athlete on the Bulldog football team. The 1952 Drake graduate, who had continued playing in a game after an opposing player intentionally injured him because he was Black, went on to play professional football in Canada and achieved a career as a beloved teacher and principal.
Owens said the program combines the best elements of several high-impact learning models from top universities across the country that similarly promote access to underserved communities. Pieces of Drake's program were derived in part from Oxford College at Emory University, the College of the Atlantic in Maine and the Arrupe College at Loyola University Chicago.
Owens, who previously chaired Drake's English Department, was involved in integrating courses in culture and identity into the English curricula, and also worked as a member of the faculty senate to revise the university's general education program several years ago.
"I've never had the opportunity to work in a program like this because, as far as I can tell, we invented this model," he said. "That said, aspects of what we're doing in Bright College have been part of my professional career development since I got to Drake." An English professor, Owens has taught at Drake for the past 18 years.
The program provides a long on-ramp to ensure that the students who enroll have time to decide whether Bright College will meet their needs and address their interests. Drake's admission counselors work closely with prospective students even before they apply, Owens said. The initial class was selected from about 50 applications received. After the students were admitted, they were each invited to a weeklong summer bridge program at Drake to get a feel for the culture.
"So we really had a long and very hands-on onboarding process for those students, so we were able to achieve a fairly high rate of acceptances on the students' part," he said. "They're applying essentially for not only the program but a package that is close to a full scholarship."
For Rudison-Imhotep, the high cost of tuition wasn't necessarily the largest barrier to higher education. Before Bright College, she had no mentors to guide her toward college, and she lacked testing skills to tackle college entrance exams. "But with Bright College you don't have to have that," she said. "You fill out your admission forms and they require that you write some essays, answer some questions in essay form. And one thing I can do is write."
She's confident that Bright College graduates are destined to become influential in the Greater Des Moines community.
"We're coming out of Drake someday 'swinging,' " she said with a broad smile. "We're going to be ready to be impactful citizens in whatever areas we decide to embark upon in the work world, and it's up to the business community to be ready. They have time to acclimate themselves to the benefits of diversity and inclusion. … I can speak for myself and say, 'We're here and we're coming out, and we hope you're ready for us.' "
We sat down with these three members of Bright College's initial cohort to ask a few questions about their experiences so far. Here are a few excerpts from the conversation.
How do you feel your different life experiences come together to contribute to the learning?
Kat Fortin: At least for me, I grew up in a predominantly white neighborhood and high school, being a person of color. And being a person with a medical condition … it was hard growing up. Towards the end of my high school years I really, really tried to change the institution I was leaving, because my brother was coming in. And I could not dare to imagine him going through the struggles that I had gone through throughout my high school experience. So I was really just trying to push and push and push till the tail end.
I didn't realize how much I changed myself to be respected by adults in my high school. Coming here, I'm the Bright College senator for student senate. I've attended meetings with faculty members and have made some changes that I can't, unfortunately, speak about. I have started [with those changes] hopefully a legacy that I will continue throughout my college years. But I couldn't have done that if I didn't have the community here in Bright College.
Hailey Sisson: I'm half Native American. And so I try to make sure that when we do talk about things, I bring more diversity to the conversation. I also believe — no, I know — that everyone else will also. . … I definitely think that it created a more enriching environment by being able to listen and just get a new perspective. [For instance], these [classmates] are people that I see every day and these [injustices] that we're reading about, maybe from textbooks or essays from people that experienced this 20 or 50 years ago, but these are still everyday experiences that we all come together and we talk about. I don't necessarily want to say that we try to solve these things, but I definitely think that we have this mindset of … really trying to better the future for the next generation and try to make sure that they have a more accepting and diverse lifestyle.
How does this tie in with your goals?
Abena Rudison-Imhotep: I have a personal mission, which is to create equitable spaces of education. So everything in my life has to align with that, or otherwise I won't do it. So my business, Sankofa Literary and Empowerment Group, is designed to do just that. We create spaces where people can gather and discuss books by Black authors, without judgment, without fear and without pretense; just have open and honest discussions. So coming into a classroom like this totally aligns with my personal mission.
Our first set of seminars was based around human rights, racial injustice, and we looked at those things through the lens of systems and institutions. And so all of our reading assignments were based in literature that was written by authors of color and scholars of color. Our professors are actually absolutely amazing at making an inclusive space where everybody's voice matters, and counts. We often talk about how we feel like a family, which is reinforced by the cohort style of learning that we're in.
Sisson: I want to major in psychology so that I can become a therapist. I don't necessarily know what kind of therapy I'd like to get into, but I know that I would like to do talk therapy and try to help others out.
---
Next class expected to be larger; internship pipeline under development

With its initial academic year not quite half over, Bright College's admissions cycle for its second cohort of students who will enter in the fall of 2022 is already in full swing.
"Our expectations are that it will be a larger class than the current class," said Craig Owens, dean of Bright College. "My goal is to see us consistently enrolling between 40 and 45 students in any single cohort. And it will not surprise me if in another year or two we find ourselves enrolling two cohorts simultaneously, in parallel, once word of the quality of the experience and the quality of the learning that these students are receiving and engaging in right now starts to get out."
Beginning in January, Drake will add a staff member whose responsibilities in part will include solidifying business relationships with Bright College and to start setting up internship pipelines and arranging for those opportunities for students. The university is currently in the process of filling that position.
Since announcing its Community Partnership Program in the spring of 2020, Drake officials have also been working quietly with a handful of organizations and businesses in Greater Des Moines to get their feedback on the way the university is shaping that program.
"I've been in talks with an organization that is both a for-profit organization and a community service organization about being [Bright College's] inaugural partner for those culminating practicums in the spring of 2023. We're not at the point where I can share who that is. But it is an organization that will provide a wide range of organizational and learning opportunities because their operations and their community involvement are wide-ranging."

Facebook Notice for EU! You need to login to view and post FB Comments!