In search of the big catch
The behind-the-scenes work that is done to get to the dance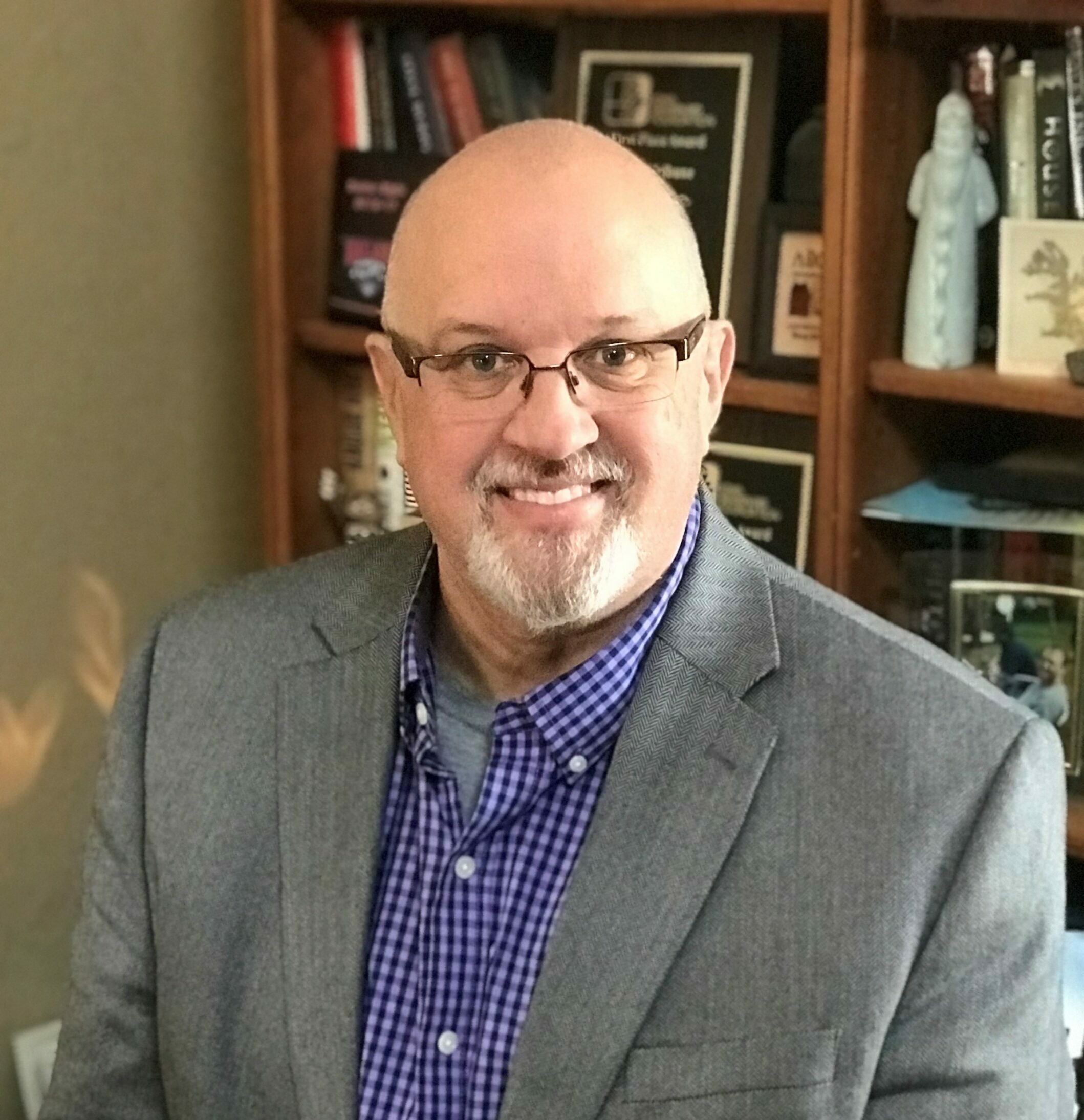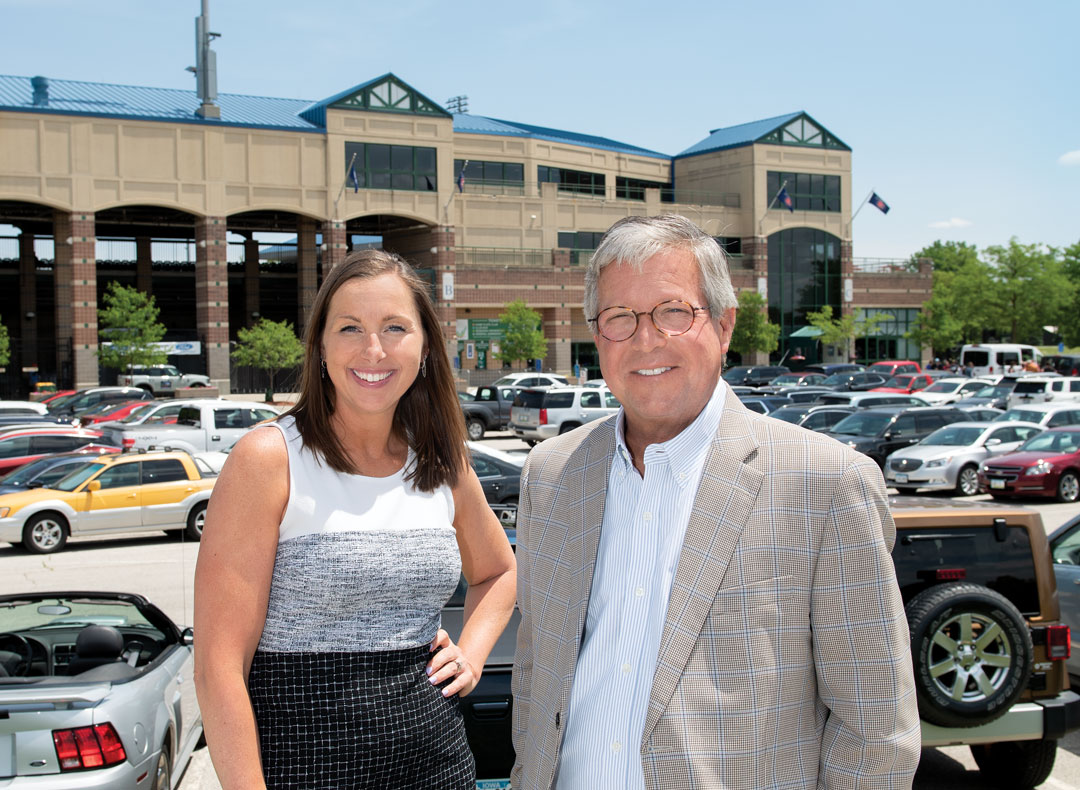 Editor's note: This is part two of a three-part series on what it takes to lure big-ticket events and business conferences to Des Moines. Read part one
Over the past two decades Central Iowa has seen a boom in not only the number and scale of events coming to the region, but also in the development of the infrastructure to support them.
From 2001 to last year, the money invested by the state and the Greater Des Moines region nearly doubled to $7.2 billion and $1.7 billion respectively. The number of hotels and the rooms they provide increased, too. In 2001 there were 8,475 hotel rooms in 77 hotels. In 2021 there were 13,924 rooms in 138 hotels. 
There was the development of Wells Fargo Arena and Hy-Vee Hall. There was the construction of Jordan Creek Town Center, the Principal Riverwalk, the transformation of the old Veterans Auditorium into the Community Choice Credit Union Convention Center, the Hilton Hotel downtown, the MidAmerican Energy Company RecPlex and the Lauridsen Skatepark. There was also the development of the John and Mary Pappajohn Sculpture Park and the Outlets of Des Moines in Altoona.
Combined, it all made Des Moines more attractive to event planners, whether it be sports, entertainment, trade shows or business conventions. That growth put Des Moines on the map for many organizations who before would not have looked at Central Iowa as a spot to host their event.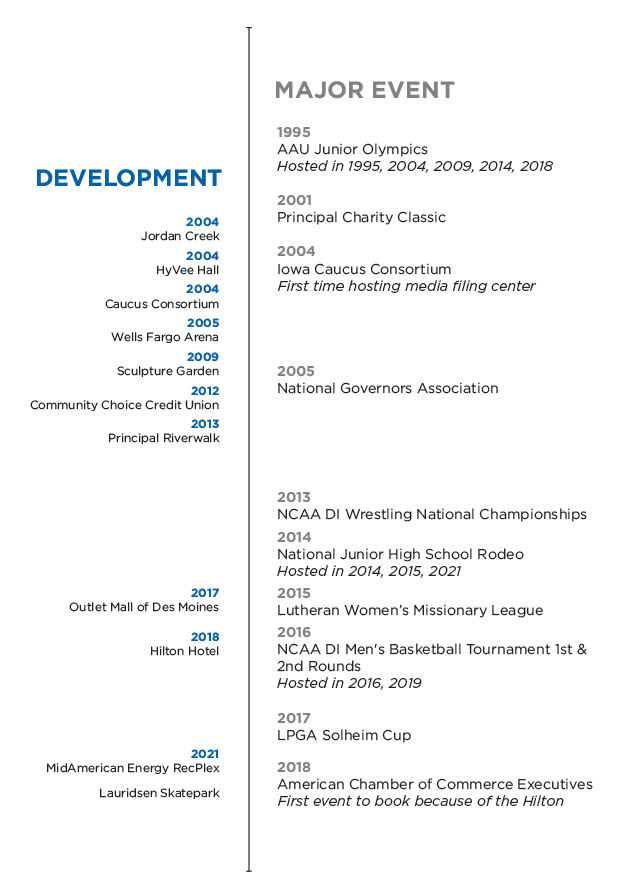 Even though Des Moines found itself on the map, it didn't make the Catch Des Moines team's job any easier.
"People aren't calling us saying, 'Hey, you got the dates, we're coming in two years,' " said Catch Des Moines President and CEO Greg Edwards. "We're calling them saying, 'Would you consider Des Moines?' Then we bring them in and show them we are a viable city and the facilities we have here."
Even when they catch someone's attention, it can be a multiyear process.
For example, the USA/Canada Lions Club, which came to Des Moines last year, only committed to the city after the headquarter Hilton Hotel was built south of Wells Fargo Arena.
"We had probably been soliciting that for 15 years," Edwards said. "They finally said, 'We only meet in cities that have a headquarter hotel connected to the convention center.' So we put them on hold and we were working on getting a headquarter hotel here, and that finally happened. We did the Lions bid and they were true to their word and they came. But we probably bid on that four or five times. When we get turned down, we maybe sulk for a day and then we get back at it. That's just part of our lives."
Another example is the NCAA tournaments.
Catch Des Moines first bid on the NCAA wrestling tournament in 2003 when Wells Fargo arena was still a hole in the ground with only architectural renderings to show tournament representatives.
"We did a video with Dan Gable and tried to lure the NCAA National Wrestling Championships to our new arena," Edwards said. "We showed the video and it showed the hole in the ground and what it would look like and we went out in person and did the bid, and of course we failed," Edwards said. "They said, 'Why don't you wait until your arena is built, and we'll decide from there.' "
Once Wells Fargo was built, the NCAA toured it and liked what they saw, but advised that the city try some other events first so they could get a better feel for the facility. Des Moines landed the first and second rounds of NCAA women's volleyball and later women's volleyball regionals. The NCAA was impressed and eventually Des Moines got the nod for wrestling in 2013.
"That was a huge success," Edwards said. "We filled Wells Fargo Arena and they praised us up and down, but unfortunately for us, wrestling grew so much that they started filling 20,000-seat arenas and they said we were no longer viable to bid on that."
In the meantime, Catch Des Moines was also paving the way to bring the NCAA men's basketball tournament to Wells Fargo. It successfully bid and the tournament first came to Des Moines in 2016 and again in 2019. It was announced last year that the tournament will return to Des Moines in 2023.
Edwards said there isn't an immediate need to have a bigger arena to accommodate the size of NCAA wrestling.
"The old saying is you don't build a cathedral for Easter Sunday," he said. "We've talked internally about it, but we are a good size arena for the size of our community. Are there days when we wished we had 20,000? Yeah, but they are few and far between. Now with the growth we're seeing, never say never because maybe 10 years from now we may be saying it's time to tear it down and build a 22,000-seat arena."
He also said discussions about adding more convention space could happen at some point.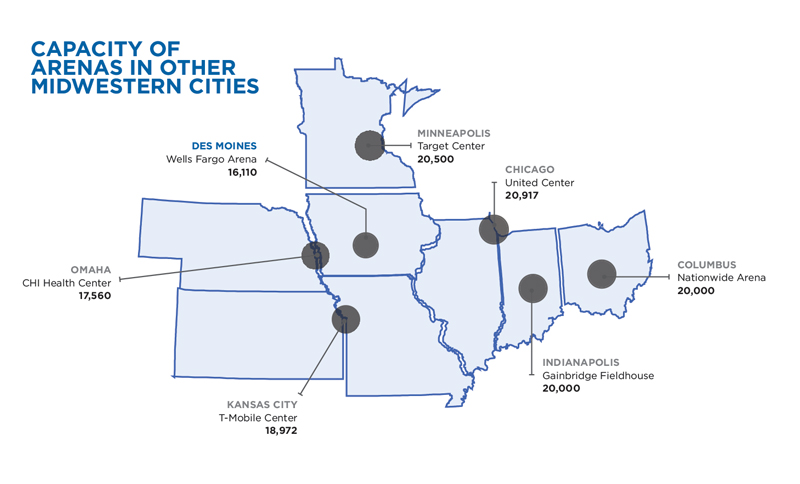 The team
Catch Des Moines has a sales team that follows the simple philosophy of filling the funnel as much as they can with the hope that some will trickle down and book events.
They make contacts with groups and organizations on a regular basis to see if they are looking to hold a meeting in the region. If they get positive feedback, they follow up in a year. Then there are about 10 different trade shows the team attends to hunt for new business.
Leading the way is Trina Flack, vice president of sales at Catch Des Moines, who has been with the organization for 14 years.
She leads a team of five full-time sales managers. There is also a three-member event experience team that helps groups with transportation, dinner reservations, golf outings and other activities including arranging welcome gift bags for event participants. Catch Des Moines also has a housing manager, who manages hotel reservations for groups.
Flack said her team will book one out of 100 groups that are prospected, resulting in about 350 events, large and small, in any given year. In many cases, Des Moines isn't the right size for an event, the scheduling rotation isn't right or maybe the group being solicited doesn't have a local association with a presence in Des Moines to support an event.
"So it's managing all of that," she said.
The industry, which virtually shut down in 2020 because of the coronavirus pandemic, has been slow to recover, and Flack said that maybe 200 events will be held in Central Iowa this year.
That doesn't include events that are booked independently of Catch Des Moines, she said.
"There are another whole series of events that come directly to a hotel or meeting facility that we don't know about," she said. "We don't handle everything. We don't book every single baseball tournament that happens. There's a lot of stuff that happens organically that we just don't even get involved in but still makes a huge impact."
The Catch Des Moines staff has about 85 leads in their system who are actively looking at space for anywhere from a couple of months from now through 2030. There are another 400 prospects who have said they would consider Des Moines and provide events and available dates.
"So we have a pipeline full of groups and events that are wanting and willing to be here that our team is selling hard on this city," Flack said.
When Des Moines lands a big event, like the NCAA tournament, the Dew Tour, the National Governors Convention or the AAU Junior Olympics, it raises the region's national profile and makes other groups who hadn't considered Des Moines before take another look, she said.
"You need those big-name groups; it buys you that prestige so that people see you have that capacity and we're at that level, too, so other groups see that they can meet here," Flack said. "People say, 'If a group of that caliber can meet in Des Moines, then my group can meet there, too.' "
Flack said the growth that has happened over the past two decades has helped change the perception Central Iowans have of themselves, but it's still a challenge to get the message of how much the region has grown to people on the coasts.
"You think about the changes and how it's changed our local perspective and our ability to sell, but what we see locally isn't what people see on the coasts, so there is still that perspective on a national scale, and while that's changed, there's still that 'Are you Idaho, are you Ohio, are you anything but a cornfield?' " she said. "There's definitely an education that goes with talking about the community."
People see us as a destination now. They're like, 'Wow, I had no idea you had all these businesses, that there were all these people, that there's so much going on.'

Trina Flack, vice president of sales, Catch Des Moines
But that has begun to change, especially in the past decade, Flack said.
"When you bring someone here and they see it firsthand, there's that wow factor now, and I would say that's really what has changed," she said. "Years ago when you brought people here it was, 'Yeah, you're a cool city and people are nice, and it's clean,' all the things we still talk about today, but people didn't see themselves here with an event with a major group. People see us as a destination now. They're like, 'Wow, I had no idea you had all these businesses, that there were all these people, that there's so much going on.' "
Flack said the addition of Wells Fargo Arena and Hy-Vee Hall, the renovation of Vets Auditorium into the Community Choice Credit Union Convention Center, and the opening of the downtown Hilton and other facilities have leveled the playing field for Des Moines.
"When you look at who we are competing against – Omaha, Kansas City, Chicago, Minneapolis, name any of those major cities – if we don't have a headquarter hotel, we're not even in the conversation," she said. "Adding that hotel has not only allowed us to fill that hotel but allowed us to fill downtown and the entire region. So think about those improvements. The notoriety of Drake University. The opening of Lauridsen Skatepark. The opening of the MidAmerican RecPlex in West Des Moines. 
"That's just been a game changer."
---
Catch Des Moines' Regional Representation
9 municipalities represented (2001):

Altoona, Ankeny, Clive, Des Moines, Johnston, Polk County, Urbandale, West Des Moines, Windsor Heights

15 municipalities represented (2021):

Altoona, Ankeny, Bondurant, Clive, Des Moines, Grimes, Indianola, Johnston, Perry, Pleasant Hill, Polk City, Polk County, Urbandale, West Des Moines, Windsor Heights
Hotel Inventory
2001

Hotel inventory was 8,475 rooms (includes cities represented by Catch Des Moines)
77 hotel properties in the metro (in metro cities represented by Catch Des Moines)

2021

Hotel inventory including new construction was 13,924 rooms (includes cities represented by Catch Des Moines)
138 hotel properties in the metro (in metro cities represented by Catch Des Moines)
State Data
Data from Iowa Tourism Economic Impact Report. 
2001

State of Iowa's expenditures were $4.3 billion. The Greater Des Moines region contributed to $953 million of the state's total in visitor expenditures.

2020

State of Iowa's expenditures were $7.2 billion. The Greater Des Moines region contributed to $1.7 billion of the state's total in visitor expenditures.
Development
2001 major projects and initiatives

Commitment to build the Iowa Events Center, opening of the Varied Industries Building at fairgrounds, new sports plex in Ankeny and Polk County Convention Complex.

2021 major projects and initiatives

RecPlex, ICON Water Trails, GrimesPlex, Johnston Ignit, Pro Iowa Stadium, USHL Bucs Hockey Arena and more.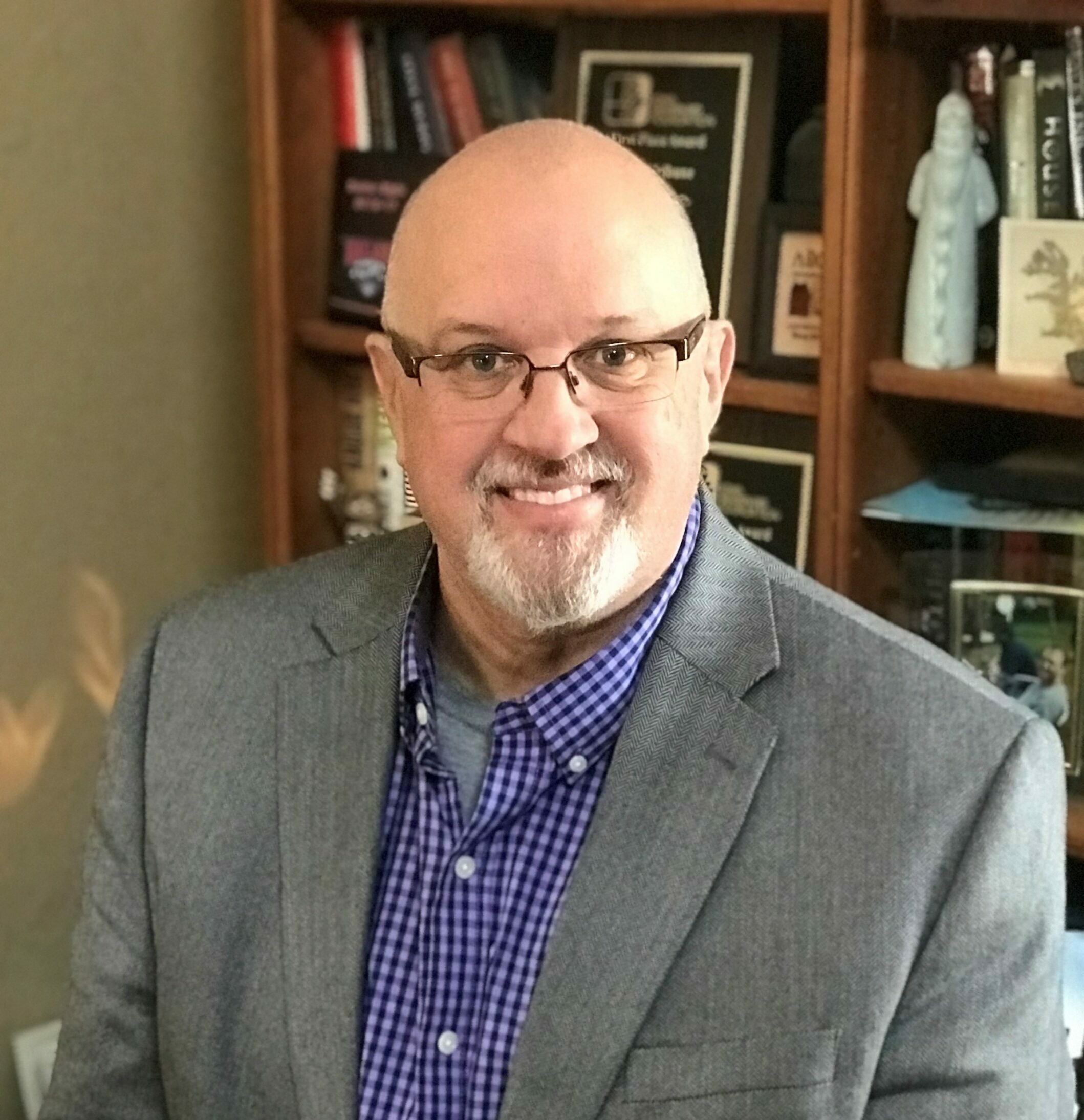 Michael Crumb is a senior staff writer at Business Record. He covers economic development, transportation, energy & environment, culture, sales & marketing.
Email the writer
Facebook Notice for EU! You need to login to view and post FB Comments!