Industry Report: TECHNOLOGY
Your QUICK Briefing on One Big Industry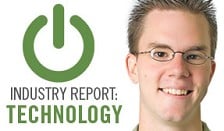 Put on your 'Thinc'ing caps
The local technology start-up community is buzzing over a new event that will come to Iowa in October. The ThincIowa conference, hosted by Silicon Prairie News (SPN), will take place Oct. 20-21. Based somewhat on a similar event the group runs called Big Omaha, the theory behind ThincIowa is to bring together small start-up companies with representatives from the traditional corporate world. "I think from the corporate side, a lot of people aren't even aware of the start-up community and how that's growing," said Geoff Wood, chief operating officer at SPN. Wood said he expects the 500 available event tickets to sell out. For more information, go to www.thinciowa.com.

Infrastructure improving
The support infrastructure for start-up technology companies is improving, according to Christian Renaud, a principal at StartupCity Des Moines and former CEO of Palisade Systems Inc. He has seen a change among businesses that can help start-ups – most notably places such as law firms, accounting firms and marketing firms. Notable examples include Davis Brown Law Firm, BrownWinick Attorneys at Law and Brick Gentry P.C., which now give start-up-friendly pricing for common legal services. "That's critical. You need to have all of the different infrastructure provided with some programs like that or else these start-ups are going to starve to death," Renaud said. Another way to look at it: Successful start-ups will look to companies on the coasts for help if they can't find it locally, which takes away business from Des Moines, he said.

Get ready for Google+
Businesses should be paying attention to Google Inc.'s Google+ social media website, but might want to hold off on signing up for a profile, said Nathan Wright, founder of social media consultant Lava Row Inc. "The No. 1 important thing that businesses need to know is don't go in there and set up a business page just yet through a personal Google+ profile, because the first thing that'll happen is Google will probably kick you out," Wright said. Business profiles are rumored to be on the way, he said. The website appears poised to make its way into the stream of consciousness in much the same way as Facebook and Twitter, which means businesses should start getting familiar with its features. Businesses should "go in and explore, and get to know the personality, understand the framework and features, and just play around with it," Wright said. "But hold off and wait" to sign up.

Is winter coming?
A recent CNNMoney article quoted start-up expert and author Eric Ries as saying: "Winter is coming. Entrepreneurs should be prepared." (For the full article, go to http://tinyurl.com/3w9a5mc). Uncertain economic conditions can have a negative impact on technology start-ups, Silicon Valley experts said. JD Geneser, senior partner at West Des Moines-based LWBJ Capital Advisors, acknowledged that uncertainty in the equity markets could cause local investors to take fewer chances. However, "My belief is good-quality deals can and will still get funded. It might extend the time period a little bit while investors are trying to get a look and see what's going to happen with the global markets … so resiliency is very, very important, maybe even more so now."
ONE question: What is one thing the corporate community could do better in the future to support technology start-ups?
"Invest. To really benefit the community and the up-and-coming ideas, it's how can they take their infrastructure and leverage their reach to benefit early-stage companies? If they can do that in addition to investment and partnership, that's a way they can seriously help the tech community or encourage like-minded ideas to come here and start." – Ben Milne, founder of Dwolla Corp.
New tech start-ups
• YouGoSocial.com, a website designed to be a one-stop shop for using Facebook, YouTube, Craigslist and other sites, started by Austin Mac Nab. The service has had about 26,000 people sign up since launching in March. www.yougosocial.com
• Social Decision is a joint venture by Tribe Effect and Innova Ideas and Services, which was launched just in time for the Ames Straw Poll. The website uses social media to give real-time information about the 2012 presidential campaign. www.socialdecision.com
• Introvio, a platform designed to help people make business introductions through people who already know a contact, created by Mike Templeton. www.introvio.com

• PikuZone, a parent-managed email system for children ages 6 to 12, created by Tej Dhawan, Erin Ginkens and Joseph Vande Kieft. www.pikuzone.com

Note: Silicon Prairie News contributed to this list