Innovative Companies – Workhound: An app for the road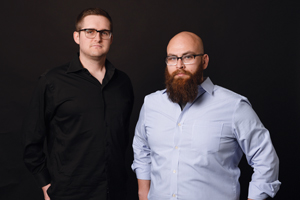 The problem: The U.S. trucking industry is facing a shortage of drivers and high turnover rates, driven by driver dissatisfaction. On an average annualized basis, trucking companies lose about 95 percent of their drivers to turnover. It costs a trucking company about $8,000 to hire and train a driver. WorkHound found that one of the biggest missing pieces is that drivers don't have a voice to address some of the issues that are affecting how they run their rigs.
The innovation: WorkHound developed an app that gives truck drivers a tool to anonymously air their grievances to their companies, which at the same time empowers the companies to more effectively retain drivers in an industry that's desperately short of them. The WorkHound app allows drivers to share feedback anonymously via their smartphones. Their trucking companies gather analytics from the feedback and then use tools through the app to increase communication and collaboration with the drivers. Although the key to the app's effectiveness is anonymous feedback to prevent company retaliation, the driver can agree to reveal his identity if there is an urgent issue the company could address.
How they did it: Co-founder Max Farrell, who worked for several years in business development for Dwolla before leaving to launch a corporate innovation consulting company, was looking for a big challenge to take on with his own startup. A mentor of Farrell's urged him to focus on the trucking industry because of its urgent need for improvement. "We believe you can build a product that's either a vitamin or a painkiller," Farrell said. "For both Andrew and me, we wanted to build a painkiller; we wanted to work where there was urgency." Trucking's importance to the national economy also caught their attention, said co-founder Andrew Kirpalani, who has worked in software development for four different startups.

The partners interviewed trucking companies and drivers about their needs and participated in focus groups. They even went on long-haul ride-alongs with drivers to gain a better understanding of drivers' needs and challenges. An important goal for the partners is increasing the level of engagement by drivers with the app. While a paper survey conducted by a trucking company might get a 10 percent response from drivers, WorkHound is engaging more than 50 percent of its clients' drivers and is aiming to improve that response rate, Farrell said. WorkHound also provides educational information for its client companies to pass on to drivers, as well as reaching out directly through the app with resources such as informational videos.
The payoff: WorkHound has attracted client companies in five states ranging from 100 to 1,100 drivers. It was named a best new business at the Great American Trucking Show last year. The partners were selected this year to participate in Dynamo, a 90-day transportation and logistics accelerator program based in Chattanooga, Tenn. WorkHound's long-term goal is to capture 20 percent of an initial target market of 7,000 trucking companies over the next five years. Although WorkHound has not yet attracted any Iowa trucking companies, it has established good relationships with the Iowa Motor Truck Association and several Iowa-based haulers. "There are a lot of companies here in Des Moines that are doing things right and really don't need our services," Kirpalani said. "But they've let us come in and see how they're doing their operation right and how we can productize them and share them with other companies in the industry that aren't doing as well."