Iowa college enrollment is up – for various reasons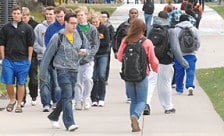 Attendance at Iowa's colleges and universities seems to be trending upward.
According to numbers released by the three state universities, Drake University, Des Moines Area Community College (DMACC) and Grand View University, more students are staying in Iowa and more out-of-state students are coming here to further their education.
Why? "There's not a short answer to this," said Michael Barron, associate provost of enrollment management at the University of Iowa.
Reasons cited to explain this trend range from a struggling economy to a stabilizing economy, recruitment efforts and what administrators feel is quality education.
Whatever the reasons, the numbers don't lie. Fall enrollment is up at the three state schools by 1,355 students, or 1.8 percent. DMACC has seen an astounding 2,300 increase in full-time students from fall 2009. Grand View has nearly doubled its enrollment since 2000. And though Drake isn't looking to grow, applications for admission have gone up more than 20 percent, one official said.
The implications of that growth differ by school. For the University of Iowa, more students can lead to more facilities and more jobs for faculty and staff, as is the case at Grand View. DMACC, on the other hand, foresees problems with not being able to keep up with student demand.
One result, though, is an influx of potential workers and interns in Des Moines and the rest of the state, enrollment officials said.
State universities seek growth
For the University of Iowa, Iowa State University and the University of Northern Iowa, there are multiple reasons for the increase, Barron said. Iowa and Iowa State reported record enrollment, and Northern Iowa grew for the fourth straight year.
The economy plays a part. On one hand, the recession makes staying in the state a more viable option for Iowa students. On the other hand, the stabilization of the economy helps make college a priority for families.
All three state universities saw increases in home-grown students.
"The economy has come to some new equilibrium for the time being, and people are saying we're still going to press forward with higher education," Barron said. "All the data suggest that people who complete a baccalaureate degree stand a chance of making a lot more money over a lifetime over people who don't."
Another reason for growth is an influx of international students. The University of Iowa saw a 46 percent increase in international undergraduate enrollment. Iowa State enrolled a record 3,327 international students this fall.
The overall growth is by design. The University of Iowa is in the first year of a five-year plan to increase enrollment and retention, and this year's numbers exceed the year one goals. Iowa State has a similar strategy that started five years ago.
The reasons for trying to grow are twofold, Barron said. At Iowa, the capacity existed to grow.
"It makes us a more vital place, especially if we grow with more forms of diversity: geographic diversity, ethnic diversity, et cetera," he said. "Then we better mirror the environment in which our graduates will work."
The other reason is financial.
"There's no doubt that increased students increases tuition revenue, and tuition revenue supports the overall mission of the institution," Barron said. "I know that expanding the number of students will also allow us to expand the faculty, and expand services for students to support them. There's sort of this synergy there."
A cost-effective option
In the case of DMACC, an increase in enrollment last year helped the college fight the recession.
State budget cuts would have forced DMACC to lay off faculty and staff, President Robert Denson said, had it not been for a 20 percent increase in enrollment. That, in addition to cutting down on travel expenses and memberships, helped the college go through the cuts without laying off anyone.
"Students, unless they read the newspaper, had no idea it even happened," Denson said. "We kept business as usual. No one lost their job, and we actually were able to serve more students."
The lagging economy actually helped with growth, because community colleges offer students looking to transfer to a four-year university a more affordable option for their first two years of higher education. Denson also believes community colleges are gaining more positive publicity. "People are starting to understand what we do," he said.
The problem with growth at DMACC, though, is space. Denson wants to add facilities to the school's existing campuses, but money is the issue. Unlike at the state universities, additional students don't pave the way for additional classrooms.
"It doesn't work that way, because we can't charge students enough," Denson said. "Every time gas goes up 10 percent, some of our students drop out of school. … Cost is an issue."
In the long term, DMACC expects to serve 40,000 credit students annually by 2016, and projects it will have served 37,000 by the end of this year. The vast majority – 98 percent – come from Iowa, though Denson said DMACC would like to recruit international students if and when extra room exists.
DMACC also has a good relationship with the state universities, Denson said, working together to make sure credits will transfer from a two-year to a four-year program.
Different strategies
Drake finds itself in a different place.
Demand is up, but space is down. The school could be experiencing enrollment growth in the same way that the three state schools are, but instead finds itself in a comfortable position with 5,653 graduate and undergraduate students, 15 fewer than a year ago.
"We got to a size that we felt was optimal," said Tom Delahunt, vice president of admission and financial aid at Drake. "Without making major changes on campus, this size works best for us, works best for our students, works best for our facilities."
The university also differs from the three state universities in that only around 30 percent of its students come from in-state. Delahunt noted that students in the past came primarily from Iowa and the Chicago area, but now Drake's draw has expanded to encompass St. Louis, Kansas City, Milwaukee, Denver and Houston.
Grand View is looking to grow, and has sought to increase its appeal by expanding its athletics program. School officials found it important to make sure the school was a viable option for students.
"We don't want to be a big university, but there's still a sweet spot, where because of your demands on salaries, and technology, there's sort of a size that helps you make sure you're viable," said Debbie Barger, the school's vice president for enrollment management.
State sees positive impact
When students attend Iowa schools, by default a lot of students stay in Iowa, at least for a time, after graduation.
"There's a lot of opportunities here economically," Barger said. "Iowa's not as bad off as other parts of the country."
Barger estimated that 90 percent of Grand View graduates stay and work in Iowa. At the University of Iowa, about 30 percent of out-of-state students get a job in the state after graduation.
At Drake, Delahunt believes the growth of the university has coincided with the growth of Greater Des Moines, and not by coincidence.
"Drake being vibrant and Des Moines being vibrant together has been a great combination," he said. "What Des Moines has to offer a young person right now, I think that helps us attract students. At the same time, once students get here, they give back to the community."
DMACC adds to that, as 94 percent of graduates stay in Iowa and either go on to four-year state schools or join the work force.