Iowa State University Ivy College of Business Woman Business Owner of the Year 2023 Honoree: Claudia Schabel
President, Schabel Solutions Inc.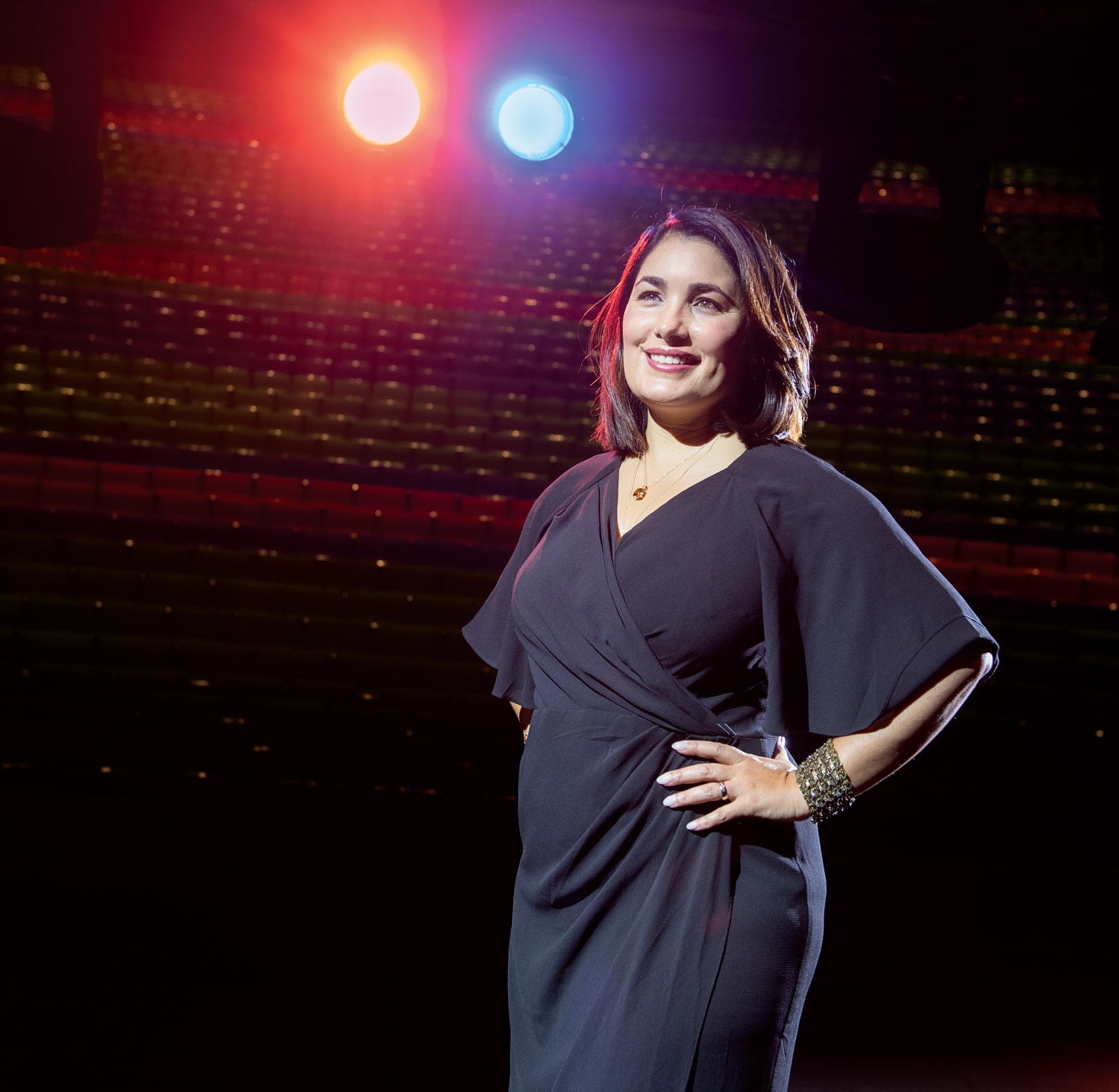 Click here to watch Claudia's video
Education: Bachelor of Arts in international relations from Drake University
Hometown: Des Moines
Family: Spouse, Brad Schabel and pet dog. Stormy
Hobbies: Reading, traveling and cooking
Words to live by: 1. Actions speak louder than words. 2. Action conquers fear.
Three notable accomplishments:
Having lived and worked in three continents, I'm a two-time immigrant. Since arriving in the U.S. in 1999, all of my volunteering and work has largely stemmed from a desire to help people from different backgrounds come together and thrive.
For many years, I've volunteered in the community. These efforts led to recognition such as Cityview Business Journal's 22 from 2022 Award (2022), the Business Record's Forty Under 40 Honoree (2008), State of Iowa's Robert D. Ray Iowa Latino Ambassador Award (2010), and the Iowa International Center Passport to Prosperity Award (2014).
I started Schabel Solutions Inc. almost seven years ago, and we've been very fortunate to be able to help clients across the nation achieve their overall strategic goals via our customizable DEI solutions.
How have you helped improve organizations you've been a part of?
I've been an active volunteer for many years. I'm a former commissioner of the city of Des Moines Civil and Human Rights Commission and now serve on the Iowa Society for Human Resource Management State Council as the director of diversity, equity and inclusion.
I'm also the director of diversity, equity and inclusion for Rotary District 6000 and serve on the boards of the National Alliance for Partnerships in Equity, Iowa Association of Business and Industry, Science Center of Iowa, Greater Des Moines Botanical Garden, Western Iowa Journalism Foundation and the Business Record's Racial Equity Advisory Board.
What motivates you?
I'm motivated by connecting with the community and by learning and growing as a human being.
Is there a memory or experience from your formative years that continues to influence your approach to life?
Living in three different continents helped me learn about human behavior and challenged my beliefs on many different topics. Brazil is a very diverse, multicultural country with immense socioeconomic gaps between the haves and have-nots. Growing up there certainly shaped my views about social justice and intercultural understanding early on.
What piece of advice would you give to others who hope to make a difference in their communities?
My advice reflects my own experiences and, fortunately, my experiences have been very positive. It started with the wonderful people in my life thinking of me and what I had to offer and asking me to be a part of what they were working on. Iowa has many great opportunities for volunteering. Show up with humility and enthusiasm, share your talents and learn.
What is a favorite book, show, movie, podcast, etc. that you'd encourage others to consume?
Book: Fiction: "I Know This Much Is True" by Wally Lamb. Nonfiction: "Mindset: The New Psychology of Success" by Carol Dweck. Movie: "Inside Out." Podcast: "Hidden Brain" hosted by Shankar Vedantam.
How do you try to find balance and joy in the many activities you take part in?
I find balance and joy by giving myself downtime during the weekend to decompress and refocus my energy. I often tell myself to be present and in the moment wherever I am. This helps me find purpose and joy in my daily activities.
What is one of your guilty pleasures?
Besides eating chocolate now and then, I can't resist watching videos of puppies and kittens – from time to time. (Shhh … don't tell anyone!)
What's something many people don't know about you?
I have a twin sister (and a younger brother).
What do you consider the greatest barrier to gender equity?
This is a complex question, and my answer might be a bit controversial. In my opinion, the greatest barrier to gender equity in the U.S. is the fact that our gains over the years seem so extraordinary that many of us seem to have forgotten that we have not yet achieved gender equity. Often, we are happy to celebrate the small wins and forget to fight for transformational changes such as equal pay. I know that we have made great progress over the years and that many women who came before me didn't have the access I have today. I'll never take my privilege for granted. However, I'd like for women of all ages and walks of life to discuss gender equity and paint a picture of what it could be in the future. Let's reimagine what our workplaces and communities can be without the shadow of our past limitations. Should we be happy with what we have achieved? Yes. Is the current state good enough? No.
Who is an empowering woman that you look up to?
Here are three: Lena Robison, Judy Conlin and Trudy Holman Hurd.
What will it take for women to achieve gender parity in leadership positions?
Vision, courage, commitment, leadership and allies. Leaders have to reimagine their leadership teams, understand and accept the value that gender parity brings. The research is clear. For some, it's easier to keep the status quo, but those who challenge the status quo and attain gender parity will outperform those who don't. Our clients understand this and are being intentional about making progress now in order to succeed in the near and long-term futures.
Fill in the blank: If gender equity were achieved, the world would look like ____________.
A more just and productive version of itself.