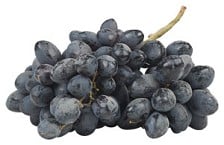 At barely 10 years old, the Iowa wine industry is showing signs of maturity.
For the first time, Iowa's 82 winemakers are selling more of their product at grocery stores and other retail outlets than at their own wineries, according to a report from Iowa State University's Midwest Grape & Wine Industry Institute.
And an economic impact study shows that every $1 spent on wine by consumers generates nearly $30 in economic activity, with an overall impact on Iowa's economy of $234 million in 2008, the year the study was conducted.
But the real clincher might be that the state is being eyed for a facility that would export wine grape juice. That might seem like a ho-hum detail to some, but to people who have helped develop the industry, it is a sign that Iowa is becoming a major player.
Mike White, an Iowa State University viticulture specialist, escorted a group of individuals on a fact-finding trip last week to take a look at wineries and their storage facilities in other states and learn more about how wineries with a longer history than those in Iowa approach the business.
Travelling with White were David Klodd, winemaker at Summerset Winery near Indianola, one of the oldest wineries in the state, Murli Dharmadhikari, director of the Midwest Grape and Wine Industry Institute, and an investor who is interested in opening a storage facility. White said he could not identify the investor.
The ability to store juice that is not converted to wine and sell it on the open market is a characteristic of wine producing states on the East and West coasts that have a more developed industry.
For Iowa winemakers, it means saving money on importing the juice from California, New York or Ohio, where White was visiting last week. It also means the ability to control the costs of purchased grapes and it opens markets outside the state to Iowa-grown grapes.
"This is good, because now we have a surplus of grapes in Iowa that are going to other states or falling on the ground," White said. "We have storage facilities, which would provide a buffer for the industry."
White's enthusiasm for a storage facility, which would be located in Indianola, is understandable, considering that he has been around the industry since its inauspicious beginnings, when a couple of vineyards were growing grapes and those vineyards were associated with the state's two wineries.
Now, there are more than 400 vineyards producing wine grapes on 1,200 acres and supplying raw product to 82 wineries.
When MKF Research LLC of California took a look at Iowa's wine industry two years ago, there were 74 wineries.
The group's report, released earlier this year, found that the Iowa wine industry generates $184.3 million in revenues and pays $50 million in wages to about 1,800 workers at wineries and vineyards and in related industries.
For White, those numbers, combined with increased sales at retail outlets, indicate that the industry is reaching the kind of scale where it can support more jobs and produce more wine.
Much of that is owing to the fact that Iowa law allows retail outlets to sell wine produced in the state and host wine-tasting events.
"Iowa is one of the few states where the native wineries can distribute themselves," he said. "When we hit above 51 percent at retail, I'd say that's good. The net margin is less – the most profitable wine you sell is over the tasting room counter – but it's good that we're distributing it now and anyone with a retail license can sell native wine by the bottle. It just says that the system is working, and it's good for the wineries."
The fact that wineries can ship directly to supermarkets helps overall sales and can attract more visitors to the wineries.
"It's just part of the mix," White said. "By putting their display cases in local businesses, not only are they selling, but it's a local advertising display that's directing people to their winery."
Another figure that White said is "huge" is the 5.7 percent of all wine sales in the state that is supplied by Iowa producers.
It is important that up until the 1920s, Iowa ranked sixth in the nation in terms of wine production. It isn't close to that ranking now, but White sees an industry that is attempting to repeat its own history and contribute to the economy.