ISU prof finds plenty of virtual workers here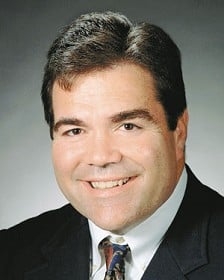 Anthony Townsend was sure that "dispersed work forces" would become more common, and he was right. He was wrong about the reason, though. "I thought it would be because of worker shortages," Townsend said. "I thought it would be 'I don't have the guy I need, so I'll bring him in from Boston virtually.'" But what has happened in the past several years is that more and more people have been working outside the traditional office because, basically, they like it.
"What I'm seeing is that virtual work has been overlaid onto the traditional workplace environment," he said. "People are working from a place of their own convenience."
Townsend is an associate professor of information systems at Iowa State University and has studied virtual teams and telecommuting for several years. It was in 1998 when he co-authored an article on virtual teams that has been cited about 700 times, he said. In the world of academic research, that's a "greatest hits" kind of number.
Like most of America's social trends, working remotely got its start on the coasts. Now it's a big part of corporate life in the Midwest. And even academic life. "We have a doctoral student who works for a large firm, and so does her husband; they moved from out west to the Des Moines area and continued to be productive senior people in the organization," Townsend said.
"Look at the flexibility for the individual worker," Townsend said. "I think everybody benefits from it."
A Virginia native, Townsend has been at Iowa State for eight years. As he began looking at Greater Des Moines, he was surprised to find that its conservative business community seems to be embracing these major changes in work habits.
"I have talked to a lot of folks with a variety of large firms there, and I'm seeing a surprising amount of virtual work," he said. The trend includes Des Moines' big insurance sector, which Townsend thought of as "a more structured-type industry."
Central Iowa companies "have teams working virtually from their homes and coffeehouses and who knows where. I'm surprised how prevalent it is even among a work force that could get together for a meeting," Townsend said.
Despite the obvious perks of telecommuting – it's faster, safer and cheaper than physical commuting – Townsend noted that virtual teams do have their problems.
"You hear from a lot of people 'I'm working really hard, but that guy isn't doing anything,'" He said. "The trust factor among virtual workers becomes all about deliverables. If people are consistently available, consistently productive, what do I care if they did it in their pajamas at 3 a.m.?"
Some employees still prefer the routine and surroundings of the traditional office, he said, and they can be expected to distrust the telecommuters. "You know how people look at their wrist if you're late, even if they're not wearing a watch; it's symbolic of the work virtues they believe they exhibit," he said. "In a virtual environment, you don't have easy signals to display that you're a hard worker."
The virtual approach may not be for everybody. Like Townsend, for example. "I'm not particularly good at virtual working," he said. "I don't have the organizational skills." r